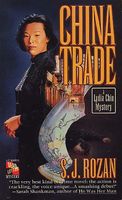 Length:

16 Books

First Book:

October 1994

Latest Book:

December 2020

Genres:

Private Investigator

Rating:
The Lydia Chin/Bill Smith Series in Order (16 Books)
Book Descriptions for series: A Lydia Chin/Bill Smith Mystery
China Trade

Book - 1


CRIMSON NEW YEAR'S BANNERS WITH GOLD LETTERS SNAP IN THE WIND. IN CROWDED STORE WINDOWS THERE ARE CHICKENS, DUCKS, AND CHAINS OF RED-WRAPPED FIRECRACKERS... It's a city within a city, of smells, sounds, dark shops and close-knit families; it's a w...

---

---

Mandarin Plaid

Book - 3


Elegant, porcelain-skinned Genna Jing is sure her latest designs are worth a fortune. That's why she is willing to pay the fifty grand being demanded by the person who stole her design book. But when Lydia--backed by her partner Bill Smith--makes the...

---

No Colder Place

Book - 4


NO COLDER CRIME Bill Smith goes undercover again as a favor to an old friend who wants him to investigate thievery on the 40-story Manhattan site of Crowell Construction's latest project. His bricklaying is a little rusty, but passable as he check...

---

A Tale About a Tiger

Book - 5


Private investigator Lydia Chin infiltrates New York's Chinatown to stop a dealer in valuable, and illegally obtained, animal parts - the sexual organ of the male tiger, to be exact - believed to have miraculous powers in the mysterious world of Chin...

---

A Bitter Feast

Book - 6


It's Lydia Chin's turn to go underground as the Chinese-American PI investigates a case that strikes at the heart of Chinatown's dangerously shifting power structure. Four restaurant workers, including a union organizer, have disappeared, and the uni...

---

Stone Quarry

Book - 7


Bill Smith's country cabin in upstate New York is far from the city's savage streets--a retreat where a weary P.I. can play Mozart on his upright piano and let nature heal him. But when Eve Colgate, a local farmer and painter, asks him to find stolen...

---

Reflecting the Sky

Book - 8


And now the celebrated master of mystery turns her keen eye to the bustling, crowded streets of Hong Kong, where nothing is as it seems... It's a great honor when Grandfather Gao, a family friend and elder in New York's Chinatown community, asks L...

---

Winter and Night

Book - 9


Private detective Bill Smith is hurtled headlong into the most provocative--and personal--case of his career when he receives a chilling late night telephone call from the NYPD, who is holding his fifteen-year-old nephew Gary. But before he can find ...

---

---

The Shanghai Moon

Book - 10


In Shanghai, excavation has unearthed a cache of jewelry dating from World War II, when the city was a safe haven for thousands of Jews fleeing Hitler's Europe. The jewelry was stolen soon after it was found by a Chinese official now believed to be i...

---

On the Line

Book - 11


P.I. Bill Smith is sent on a high stakes chase when an electronically modified voice on his cell phone informs him that Lydia Chin, his occasional partner, has been kidnapped. Now if Bill wants to keep Lydia alive, he'll have to play an elaborate gam...

---

---

Ghost Hero

Book - 12


American-Born Chinese PI Lydia Chin is called in on what appears to be a simple case. Jeff Dunbar, art world insider, wants her to track down a rumor. Contemporary Chinese painting is sizzling hot on the art scene and no one is hotter than Chau Chu...

---

---

---

The Art of Violence

Book - 14


In the latest mystery from S. J. Rozan, Bill Smith and Lydia Chin must track down a serial killer stalking women in New York's contemporary art scene.Former client Sam Tabor, just out of Greenhaven after a five-year homicide stint, comes to Bill ...

---
Awards
Concourse
1995 Shamus Award -- P.I. Novel
Ghost Hero
2012 Dilys Award -- Mystery Novel
No Colder Place
1998 Anthony Award -- Novel
Reflecting the Sky
2001 Shamus Award -- P.I. Novel
2002 Anthony Award -- Cover Art
Winter and Night
2003 Edgar Allan Poe Award -- Novel
2003 Macavity Award -- Mystery Novel
2003 Nero Wolfe Award -- Novel
Frequently Asked Questions (FAQ)
There are 16 books in The Lydia Chin/Bill Smith series.
The Lydia Chin/Bill Smith series does not have a new book coming out soon. The latest book, The Art of Violence (Book 14), was published in December 2020.
The first book in The Lydia Chin/Bill Smith series, China Trade, was published in October 1994.
The Lydia Chin/Bill Smith series primarily falls into the Private Investigator genre.