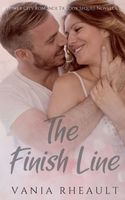 Newest Release
Bibliography:

12 Books - 2 Series

First Book:

July 2016

Latest Book:

October 2020

Rating:
Full Series List in Order
1 - His Frozen Heart (Feb-2020)
2 - His Frozen Dreams (Mar-2020)
3 - Her Frozen Memories (Jan-2020)
4 - Her Frozen Promises (Feb-2020)
1 - Don't Run Away (Nov-2017)
2 - Chasing You (Dec-2017)
3 - Running Scared (Feb-2018)
Book List in Order:
12

titles
The Corner of 1700 Hamilton

1700 Hamilton While drowning his sorrows in a small downtown bar, Ben Langdon meets Lila. Only problem? She's taken. Cutting his losses, he heads home. Intercepted by a phone call from a stranger pleading for help and an address he doesn't recog...

---

Don't Run Away

They say you can't run from your problems . . . But that doesn't stop Dane Montgomery from trying. Bitter, disillusioned, and burnt out, he needs a break and hires Nikki Halstead to be the manager of his running shoe store. Sparks fly, and despite h...

---

Chasing You

Frumpy, unhappy, and stuck in a rut, romance writer Alyssa Barnes needs a change. Tired of writing happily ever afters for her characters, she wants one for herself. When Brett Sommers offers her an opportunity to change her situation, she questions ...

---

Running Scared

You can't run away from yourself . . .Ian Butler never thought he'd see Marta Braddock again, and it's a dream come true when she moves back to Minnesota. In love with her for years, he finally has the chance to tell her -- until a phone call a...

---

Wherever He Goes

Aiden Price was minding his own business.


Hard to do when he resembles an A-list celebrity walking through LAX.


When a pretty woman stumbles into him, a paparazzo takes their picture . . .


. . . and all hell breaks lo...

---

All of Nothing

Jaxon Brooks is rich, sexy, and mean as a snake.


It's no surprise when his fiancé leaves him at the altar.


But now what is he going to do?


To save face, he blackmails the church janitor, forcing her to stand in ...

---

The Years Between Us

Zia Bishop is in love with an older man. On the night of her high school graduation, she persuades him to take her virginity, and the wrong person discovers their secret. Matthew Harcourt knew he should never have made love to Zia, his best friend'...

---

Her Frozen Memories

Logan Draper hates Rocky Point. He never intended to come back, but when his best friend asks him to be a groomsman in a wedding held in their hometown, Logan has to accept.His father's fists aren't the only thing he left behind.When he escaped to go...

---

Her Frozen Promises

Autumn Bennett still loves Cole McClure . . .despite the fact he made a terrible mistake.She can never forgive him . . .even though he still loves her, too.All Cole ever wanted was Autumn . . .but he wasn't the only one who made a horrible mistake.No...

---

---

---

---

The Finish Line

Running toward their futures . . . Eighteen months after the end of Running Scared comes a final look at how Dane and Nikki, Alyssa and Brett, and Marta and Ian are handling life's rockiest running paths. Managing The Finish Line, taking a step away ...

---
Frequently Asked Questions (FAQ)
Vania Rheault has published 12 books.
Vania Rheault does not have a new book coming out soon. The latest book, The Finish Line, was published in October 2020.
The first book by Vania Rheault, The Corner of 1700 Hamilton, was published in July 2016.
Yes. Vania Rheault has 2 series.