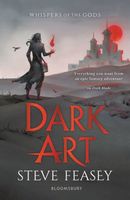 Newest Release
Bibliography:

9 Books - 3 Series

First Book:

May 2010

Latest Book:

October 2020

Rating:
Full Series List in Order
1 - Mutant City (Jan-2015)
2 - Mutant Rising (Apr-2016)
1 - Wereling (May-2010)
2 - Dark Moon (Feb-2011)
3 - Blood Wolf (Dec-2011)
4 - Demon Games (May-2012)
5 - Zombie Dawn (Jun-2011)
1 - Dark Blade (Sep-2019)
2 - Dark Art (Oct-2020)
Book List in Order:
9

titles
Wereling

Fourteen-year-old Trey Laporte is not a kid anymore. Not after the day he wakes up in agony--retina-splitting, vomit-inducing agony. His clothes are torn. His room is trashed. Enter Lucien Charron, the mysterious, long-lost uncle with freakish fir...

---

Dark Moon

A few short months ago, Trey Laporte learned the news that would change him forever: He is a werewolf, and the evil vampire Caliban wants him dead. The threat becomes real when Caliban attacks Trey's mentor, Lucien Charron, and leaves him fighting fo...

---

Zombie Dawn

The last instalment in the chilling CHANGELING series - in which Trey must face down the evil vampire Caliban in their most fearsome encounter yet. There will be evil spirits, zombies and complete and utter devastation in London! Will werewolf Trey a...

---

Blood Wolf

Trey Laporte had been told he was the only one. It was a lie. But some secrets he would have been better off not knowing. Trey, the last hereditary werewolf, has found his pack -- and they're vicious, bloodthirsty, and truly wild. All Trey wants is...

---

Demon Games

/ Fantasy

Teenage werewolf Trey is facing the most important and dangerous mission of his life. He must journey into the dark Netherworld and rescue Alexa, daughter of his vampire guardian Lucien, who is being held hostage by a powerful demon lord. But strengt...

---

Mutant City

Fifty years ago, the world was almost destroyed by a chemical war. Now the world is divided: the mutants and the pure, the broken and the privileged, the damaged and the perfect. Thirteen years ago, a covert government experimental facility was s...

---

Mutant Rising

The world has changed for Rush since he discovered that he wasn't the only one. A Mutant with powers that the Pure government would kill for, there are five kids like him on Scorched Earth, hidden from the world until now. Rush: telekinetic; Anya: sh...

---

Dark Blade

A sweeping epic fantasy perfect for fans of the Summoner trilogy by Taran Matharu and Shadow and Bone by Leigh BardugoWHEN GODS FAIL, WHO WILL KEEP THE DARKNESS OUT?Lann knows nothing of his mysterious past, but by his fifteenth birthday he will come...

---

Dark Art

The second book in the sweeping epic fantasy series Whispers of the Gods, perfect for fans of the Summoner trilogy by Taran Matharu and Shadow and Bone by Leigh Bardugo WHEN DESTINIES COLLIDE, WHO WILL EMERGE VICTORIOUS? Lann is hunting monsters. It...

---

---
Frequently Asked Questions (FAQ)
Steve Feasey has published 9 books.
Steve Feasey does not have a new book coming out soon. The latest book, Dark Art, was published in October 2020.
The first book by Steve Feasey, Wereling, was published in May 2010.
Yes. Steve Feasey has 3 series.