Description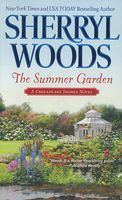 Falling for "Maddening Moira" O'Malley was the unexpected highlight of Luke O'Brien's Dublin holiday. So when she pays a surprise visit to Chesapeake Shores, Luke is thrilled...at first. A fling with this wild Irish rose is one thing, but forever? Maybe someday, but not when he's totally focused on establishing a business that will prove his mettle to his overachieving family.

Given Luke's reaction, Moira has some soul-searching of her own to do. Scarred by her father's abandonment, she wonders if Luke, with his playboy past, is truly the family man she longs for. Adding to her dilemma, she's offered an amazing chance at a dream career of her own.

Deep down, though, Moira knows home is the real prize, and that love can be every bit as enchanted as a summer garden.
Full Synopsis
About the Book
Published:

Feb-2012

Formats:

Print / eBook / Audio

Pages:

384

Purchase:
What Readers Are Saying
What do you think? Write your own comment on this book!
Write a Comment

Down to earth and family-oriented, "The Summer Garden" by romance writer Sherryl Woods values several time honored traditions such as meddling in someone else's affairs equates to caring, and compromise is the key to every marriage. In the center of the story is Luke O'Brien, a young man who is driven to build an authentic Irish Pub in the comfy alcove of Chesapeake Shores, outside of Baltimore, Maryland. The woman whom he desires to court but does so in an obtuse way is Moira O'Malley, a waitress from Ireland who comes to Chesapeake Shores with her grandfather Dillon for a short visit to see Luke's grandmother Nell.

The tugging and pulling between Luke and Moira has a realistic ring, like so many couples before them have been there and done that needing to work through the impasses they encounter if they have any chance of breaking through their personality differences. For Luke and Moira, their personality differences create familiar rifts and contention that many couples can relate to and wish, like Luke and Moira, to find a way around the frustration. Woods' book, at certain times, reads like a therapy session offering self-help advice that has practical use. It's a story that after awhile grows on readers making them see themselves from another perspective while allowing them to break through those impasses in their lives.

In the end, everyone realizes that family is the most important element in their lives and worth saving even at the expense of swallowing their pride.