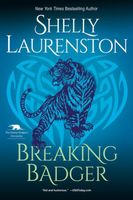 Newest Release
Bibliography:

30 Books - 6 Series

First Book:

September 2004

Latest Book:

September 2021

Rating:
About the Author
Shelly Laurenston is a former Long Island native that has moved to the West Coast where she has made peace with a lifestyle that includes lots of sunny days, healthy food, and half-naked men. Her many books focus on sexy shape-shifting characters and romantic relationships. Readers have called her stories "wildly funny...deeply sexy." Some of her books feature interracial and multiracial relationships. Her books have been translated in several languages for the European and Asian markets.

Shelly Laurentsen also writes under the pseudonym G.A. Aiken, creator of the popular Dragon Kin series and is a New York Times best-selling author.
Full Series List in Order
1 - The Unleashing (Apr-2015)
2 - The Undoing (Apr-2016)
3 - The Unyielding (Apr-2017)
1 - Hunting Season (2005)
1 - Hot and Badgered (Mar-2018)
2 - In a Badger Way (Mar-2019)
3 - Badger to the Bone (Apr-2020)
4 - Breaking Badger (Sep-2021)
1 - My Kind of Town (Jun-2007)
2 - The Wolf, The Witch, and Her Lack of Wardrobe (Sep-2009)
1 - Miss Congeniality (Jun-2008)
2 - Pack Challenge (Nov-2004)
3 - Go Fetch! (Nov-2004)
4 - Here Kitty, Kitty! (Aug-2005)
1 - The Mane Event (Oct-2007)
2 - The Beast in Him (Apr-2008)
3 - The Mane Attraction (Nov-2008)
4 - The Mane Squeeze (Nov-2009)
5 - Beast Behaving Badly (May-2010)
6 - Big Bad Beast (May-2011)
7 - Bear Meets Girl (Apr-2012)
7.5 - Like a Wolf with a Bone (Sep-2012)
8 - Wolf with Benefits (Apr-2013)
9 - Bite Me (Mar-2014)
Multi-Author Series List
0.25 -
Can't Get Enough
(Sep-2008)
0.75 -
Chains & Flames: A Dragon Love Story
()
1 -
To Challenge a Dragon // Dragon Actually
(Sep-2004)
2 -
The Distressing Damsel // About a Dragon
(Aug-2006)
Book List in Order:
30

titles
---

---

---

---

---

X Marks the G-Spot

in Bewitched, Bothered & BeVampyred

Welcome to Brokenoggin Falls, population 567 (sometimes) where: - The housewives are not only desperate, they're Witches - The skeletons in the closet are as real as the bodies in the cellars - The spells cast by moonlight frequently go awry -...

---

---

---

My Kind of Town

in Sun, Sand, Sex

Deputy Kyle Treharne of seaside Smithville, North Carolina, hates Yankees--even exotically beautiful ones like Emma Lucchesi. The sexy New Yorker's got trouble written all over her, and she knows more than she's telling about the increasingly strange...

---

---

The Mane Event

One of the hottest new voices in paranormal romance, Shelly Laurenston knows how to do it all, delivering tales that are wickedly funny, action-packed, and scorch-your-fingers sexy. With The Mane Event, she proves just how delicious love can be once ...

---

The Beast in Him

In The Mane Event, Shelly Laurenston introduced a whole new breed of heroes--sexy, shape-shifting hunks who redefine the term Alpha male. Now, in The Beast In Him, one gorgeous lone wolf is about to meet his match... Some things are so worth waiting...

---

---

Can't Get Enough

in Everlasting Bad Boys

Even for a dragon, Ailean the Wicked has a bad reputation. For 150 years he's been renowned for his fighting prowess, but now he's got a new conquest in mind--a gorgeous dragoness known as Shalin the Innocent. Ailean suspects she's anything but. And ...

---

The Mane Attraction

Ready for something wild? Shelly Laurenston's sensual, shape-shifting heroes are definitely a breed apart. But even the king of the beasts can find himself unexpectedly tamed by the right woman... Weddings have the strangest effect on people. How...

---

The Wolf, The Witch, and Her Lack of Wardrobe

in Belong to the Night

Jamie Meacham has enough trouble controlling her supernatural abilities. There's no time for lust, or for Tully Smith, even with his smoldering amber eyes. But Tully's grappling with his own animal instincts as a powerful shifter-wolf, trying to prot...

---

The Mane Squeeze

In Shelly Laurenston's laugh-out-loud funny, deliciously sexy novel, a shape-shifting Grizzly and a single dangerous feline collide -- and discover untamed, unstoppable attraction... Growing up on the tough Philly streets, Gwen O'Neill has learned...

---

Beast Behaving Badly

Some men just have more to offer. Like Bo Novikov, the hard-muscled shape-shifter hero of this wildly funny, deeply sexy new novel from Shelly Laurenston -- part polar bear, part lion, pure alpha... Ten years after Blayne Thorpe first encountered ...

---

Big Bad Beast

When it comes to following her instincts, former Marine Dee-Ann Smith never holds back. And this deadly member of a shifter protection group will do anything to prove one of her own kind is having hybrids captured for dogfights. Trouble is, her too-c...

---

Bear Meets Girl

He's big, burly, and way smarter than your average shapeshifting bear. He's also about to get trapped by own his game... Lou Crushek is a reasonable, mellow, easygoing kind of guy. But once someone starts killing the scumbags he works so hard to b...

---

---

Like a Wolf with a Bone

in Howl for It

They hunger for your pleasure. They growl for your touch. These sexy wolf shapeshifters are lust at first bite… Quiet little Darla Lewis couldn't be happier when the most-feared member of the South's rowdiest pack kidnaps her. A girl gets re...

---

Wolf with Benefits

There's nothing like a good-ol'-boy wolf. And ace security expert Ricky Lee Reed serves, protects and seduces with all the right moves… Sure, Toni Jean-Louis Parker has to be the responsible oldest sister to a crazy-brilliant clan of jackal ...

---

---

The Unleashing

Winging It Kera Watson never expected to face death behind a Los Angeles coffee shop. Not after surviving two tours lugging an M16 around the Middle East. If it wasn't for her hot Viking customer showing up too late to help, nobody would even see ...

---

The Undoing

No one would ever accuse Jace Berisha of having an easy life--considering her husband…you know…killed her. But that was then! Now she fights for mighty Viking gods with the spectacular and vicious Crows. But things are turning very bad, very q...

---

The Unyielding

Stieg Engstrom, Angriest Viking Ever, has got big problems. The human Viking Clans of earth are in danger of being obliterated -- along with the rest of the world -- and the only one who may be able to save them is a super pain-in-the-ass Crow. Most ...

---

Hot and Badgered

It's not every day that a beautiful naked woman falls out of the sky and lands face-first on grizzly shifter Berg Dunn's hotel balcony. Definitely they don't usually hop up and demand his best gun. Berg gives the lady a grizzly-sized t-shirt an...

---

In a Badger Way

Petite, kind, brilliant, and young, Stevie is nothing like the usual women bodyguard Shen Li is interested in. Even more surprising, the youngest of the lethal, ball-busting, and beautiful MacKilligan sisters is terrified of bears. But she's not te...

---

Badger to the Bone

She's the woman he's been hired to kidnap. But ZeZé Vargas has other ideas . . . like getting them both out of this nightmare alive. Just one problem. She's crazy. Certifiably. Because while he's plotting their escape, the petite Asian beaut...

---

Breaking Badger

Fans of Thea Harrison and Nalini Singh won't want to miss this exciting, funny, and sexy novel in the mega-popular series. It's instinct that drives Finn Malone to rescue a bunch of hard battling honey badgers. The Siberian tiger shifter just ...

---

---

---
Award-Winning Books by Shelly Laurenston
The Undoing
2016 RT Reviewers Choice Award -- Paranormal Worldbuilding
Frequently Asked Questions (FAQ)
Shelly Laurenston has published 30 books.
Shelly Laurenston does not have a new book coming out soon. The latest book, Breaking Badger, was published in September 2021.
The first book by Shelly Laurenston, To Challenge a Dragon // Dragon Actually, was published in September 2004.
Yes. Shelly Laurenston has 6 series.