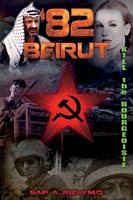 Newest Release
Bibliography:

7 Books - 1 Series

First Book:

June 2011

Latest Book:

March 2020
Full Series List in Order
1 - Black Shark Valley (Jun-2011)
2 - Solomon: Demon King (Sep-2012)
Book List in Order:
7

titles
Black Shark Valley

Sepp Dietrich, a time-traveling Waffen SS General in Afghanistan, 2011. Colonel Kilgore, leading a "Black Ops" SOCOM team hunting Ahmed Qassim, a British Taliban group-leader, in the snowy forests of Northern Ferghana, Uzbekistan. Natasha, a troubled...

---

Solomon: Demon King

THE CHRONICLES OF SEPP
 
  A Psychedelic Thriller that brings back, Sepp Dietrich, in another riveting adventure that threatens to overload the mind with adrenaline and unimaginable action, after "Black Shark...

---

---

SS Death Star

A music festival in Northern Germany spins unexpectedly out of control as a mysterious Ring there activates to a dark Future set 25,000 years away. Caught up in all this is a bourgeois couple from Atlanta, Georgia celebrating their successful Audi de...

---

Flight 777 to Atlantis

A Malaysian Airliner disappears into thin air as a stunned world rushes to search for it. Secretly, Russian Marines storm a French island deep in the Indian Ocean to wipe out two mysterious survivors of Flight 777 to cover up a vast Kremlin conspi...

---

'82 BEIRUT

"I was the best drummer in Palestine!" boasted Abu Nidal, one of the most wanted terrorists in the World.

 

 

'82 Beirut

Kill the Bourgeoisie

 

Gunter Storm is a young East-German KGB spy sent to USA i...

---

BLUE I.C.E.

BLUE I.C.E. Tor Krush, ex-Delta-Force, and now I.C.E. Operator is chasing MS-13 illegals across California, when out-of-the-blue, a sinister alien empire invades Earth. The Pzyklo Empire is searching for a mysterious human, whom a beautiful Oracle ha...

---
Frequently Asked Questions (FAQ)
Saif Rizvi has published 7 books.
Saif Rizvi does not have a new book coming out soon. The latest book, BLUE I.C.E., was published in March 2020.
The first book by Saif Rizvi, Black Shark Valley, was published in June 2011.
Yes. Saif Rizvi has 1 series.