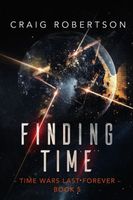 Newest Release
Bibliography:

43 Books - 5 Series

First Book:

April 2003

Latest Book:

April 2021

Rating:
Full Series List in Order
1 - The Forever Life (Mar-2016)
2 - The Forever Enemy (Jul-2016)
3 - The Forever Fight (Nov-2016)
4 - The Forever Quest (Dec-2016)
5 - The Forever Alliance (Jan-2017)
6 - The Forever Peace (Apr-2017)
1 - Embers (Nov-2017)
2 - Flames (Nov-2017)
3 - Firestorm (Jan-2018)
4 - The Fires of Hell (Jan-2018)
5 - Dragon Fire (Mar-2018)
6 - Ashes (Apr-2018)
1 - Return of the Ancient Gods (Oct-2018)
2 - Rage of the Ancient Gods (Dec-2018)
3 - Torment of the Ancient Gods (Jan-2019)
4 - Wrath of the Ancient Gods (May-2019)
5 - Fury of the Ancient Gods (Jun-2019)
6 - Fall of the Ancient Gods (Jul-2019)
1 - The Galaxy According To Gideon (Aug-2019)
2 - The Earth According To Gideon (Nov-2019)
1 - Ryan Time (Oct-2019)
2 - Lost Time (Jan-2020)
3 - Fragmented Time (Mar-2020)
4 - Shattered Time (Oct-2020)
5 - Finding Time (Apr-2021)
Book List in Order:
43

titles
Buckley's Hope

This is a historical novel, based on the true story of a young English convict named William Buckley who, on Boxing Day 1803, escaped from Victoria's abortive first settlement at Sorrento and then survived in the wilderness for thirty-two years, ma...

---

---

The InnerGlow Effect

There's a new drug on the market, but it's not everything it seems to be.For ER doctor Paul Hunter, strange things are afoot. Patients near death are having visions of the afterlife, convinced their souls have been escorted away during trauma. The so...

---

---

The Prisoner of NaNoWriMo

Piers Langland is a mild mannered paint salesman with one burning passion. He aspires to be a famous author. Each November he looks forward to entering The National Novel Writer Month competition, or NaNoWriMo. To be a winner in NaNoWriMo he must wri...

---

Snapshot

/ Police/Detective/Law Enforcement

A taut and gripping thriller, expertly plotted, that is anything but a case of good guys vs. bad guys A series of high-profile shootings by a lone sniper leaves Glasgow terrorized and police photographer Tony Winter -- a man with a tragic hidden p...

---

Cold Grave

FROM THE HIGHLY ACCLAIMED AUTHOR OF RANDOM AND MURDERABILIA, a murder investigation frozen in timebegins to melt. November 1993 . Scotland is in the grip of an ice-cold winter and the Lake of Menteith is frozen over. A young man and woman walk ...

---

Witness the Dead

A chilling thriller from Scotland's hottest crime writer—based on actual events that terrorized Glasgow in the 1960s.A message from the grave. A case still unsolved. A city haunted by its sins. Scotland 1972. Glasgow is haunted by a murderer nick...

---

Time Diving

Fans of Somewhere In Time and Slaughterhouse-5 will be spellbound by the convoluted twists in time Mathew Dunsratty's life takes. What if you could go back in time and change some of the regrets which haunted your past? Matt has found a way to change...

---

---

The Undying Light

/ Mystery

FROM THE BESTSELLING AUTHOR OF RANDOM AND MURDERABILIA - John Callum is fleeing his past, but has run straight into danger. When John Callum arrives on the wild and desolate Faroe Islands, he vows to sever all ties with his previous life. He desperat...

---

In Place of Death

The fifth chilling and atmospheric thriller in the Tony Winter series from the Sunday Times bestselling author of Cold Grave—perfect for fans of Stuart MacBride and Jo Nesbo.A young man enters the culverted remains of an ancient Glasgow stream,...

---

The Corporate Virus

Noah Taylor is a gifted physician and a brilliant researcher. But, in the harsh new world of medicine, these qualities are not respected. They are, in fact, a threat. Conformity, group thought, and the loyalty to the corporation trump integrity and t...

---

The Forever Life

Immortal, alone, and broken. To live forever, love must die. Major Jon Ryan is a cocky fighter pilot turned astronaut. He volunteers for the most ambitious, desperate mission ever conceived. The planet Jupiter, thrown off orbit, will destroy Earth in...

---

The Last Refuge

Sunday Times bestselling author Craig Robertson delivers an atmospheric and smartly written thriller about a man with a dark secret who tries to escape his past—but finds that no matter how far he runs he cannot hide from himself…When John Callum...

---

The Forever Enemy

Yesterday, he lost everything. Today, his list of enemies grows. Tomorrow, they all want him dead. Jon Ryan did the impossible. After being uploaded to an android host, he successfully journeyed for decades to far away star systems. Before the Earth ...

---

Murderabilia

*** LONGLISTED FOR THE THEAKSTONS OLD PECULIER CRIME NOVEL OF THE YEAR 2017 *** *** LONGLISTED FOR THE McILVANNEY PRIZE 2017 *** 'I can't recommend this book highly enough' MARTINA COLE The first commuter train of the morning slowlyrumbles awa...

---

The Forever Fight

/ Science Fiction

Endless fighting. Hopeless odds. Then things got worse. Jon Ryan has beaten the odds so far. He saved humanity from a sinister alien threat and he stopped the insane android president of the United States three separate times. But the president won't...

---

The Forever Quest

Life is the cure for happiness. Someone always wants what you have. If you have a lot to lose, you better watch your back very closely. Jon Ryan has lived two centuries. He has save humanity, bested hostile alien races, and helped create an ideal soc...

---

The Forever Alliance

There is hope, but first you must find it. Jon Ryan has saved humanity time and again. But he is called upon by fate to once again defend his species. As He prepares for an horrific war with the vicious and ruthless Berrillians, a new, more deadly th...

---

---

The Forever Peace

Sometimes, in order to live you have to die first. Jon Ryan has met and won many insurmountable challenges. Now he faces one he never expected and seems unable to master. All the fighting, all the death, and all the suffering are changing him. He's g...

---

Embers

Jon Ryan was supposed to be dead. He wanted to be dead. But Jon wakes up in the far future with an alien burrowing in his chest for salvage. Someone was going to pay for this. Check that. Lots of people were going to pay for this.Jon was the first as...

---

Flames

For Jon Ryan it always seems to be the hard way. But he likes it like that. When he finally wins it's all the more satisfying. A cataclysmic fight with his evil twin leaves Jon marooned on a desolate planet. He has no ship, no radio, and no one knows...

---

The Photographer

'Craig Robertson's Narey and Winter series goes from strength to strength, and this latest instalment is the most compelling. Brace yourself to be horrified and hooked' Eva Dolan The sergeant took some from each box and spread them around the floo...

---

The Fires of Hell

/ Science Fiction

Never make a deal you can't finagle. As the unstoppable Adamant war machine stomps across the galaxy, Jon and the teens must part ways again. This time it may be for good. They must learn the ways of their lost race. Jon must find a way to stop the l...

---

Firestorm

If you can't be dead make sure someone pays for that fact dearly. When he was a human, Jon Ryan always looked forward to a better future. We all do. But his tomorrows turned out poorly. Ripped from his original time, he's being tested severely two-bi...

---

Dragon Fire

The galaxy is on fire. The ruthless Adamant Empire is sweeping across all of space leaving only chard ashes in their wake. No civilization can withstand their firestorm of conquest. But they made one serious mistake along their path to galactic domin...

---

Ashes

For the first time in millions of years the Adamant Empire finds itself shaken and on the ropes. The alliance established by Jon Ryan dealt them their first major defeat. But a wounded animal is all the more dangerous. If the splintered power structu...

---

The Forever, Part 2

Endless fighting. Hopeless odds. Then things got worse. Jon Ryan has beaten the odds so far. He saved humanity from a sinister alien threat, and he stopped the insane android president of the United States three separate times. But the president won'...

---

The Forever

Who is Jon Ryan? The Earth is doomed. Jupiter has been thrown out of its orbit and in less than a century it will collide with our planet. A desperate scheme is hatched. Jon, a fighter pilot, volunteers to be the first human to transfer to an unteste...

---

---

Return of the Ancient Gods

If it's peace you want don't ever be Jon Ryan. He's lived two billion years in the android host he transferred to when asked to save humankind. Darn thing won't wear out. Since successfully ensuring the survival of the population of doomed Earth, Jon...

---

Rage of the Ancient Gods

The more contact Jon Ryan has with the ancient gods the more he loses all hope. Every contact with the Cleinoids in out universe ends in complete destruction. And Jon's assault team in the Cleinoid universe is constantly half a step ahead of absolute...

---

Torment of the Ancient Gods

In Jon Ryan's life, two billion years down his time stream, he's see many an odd thing. But mixing in the bizarro world of the Ancient Gods has burdened him to the brink with the crazy, the inexplicable, and the just plain wrong. But he remains true ...

---

Wrath of the Ancient Gods

Only Jon Ryan could make such a mess out of the afterlife. Almost a year into his battle against the Ancient Gods, Jon Ryan has little to show for his herculean efforts. The angry gods are surging viciously in our universe. No society can even slow t...

---

Fury of the Ancient Gods

Just when you thought it was safe to go to hell. Jon was successful at forcibly resurrecting the most evil and treacherous Ancient God from hell, Jéfnoss tra-Fundly. Now, in possession of EJ's powerful android body, the former Cleinoid leader is...

---

Fall of the Ancient Gods

It's all coming to a head. Against ever increasing odds, Jon Ryan and his crew must do what no one has ever done before. Either Jon, along with our entire universe, or the Cleinoid gods, will end. The odds began as bad for our heroes, and have only g...

---

The Galaxy According To Gideon

Gideon is that close to striking it rich—again. The flaw that always seems to trip him up is that he is a con man, a swindler, and a thief. The entire galaxy seems to have it in for the poor crook. Of course, his task of staying alive isn't made an...

---

Ryan Time

There is a time for everything under the heavens. A time to kill and a time to heal. A time to love and a time to hate. But when it's a time war you're looking at, it's Ryan Time. Jon is called back two billion years to save the Earth from an unprece...

---

The Earth According To Gideon

Gideon's at it again. That's never a good thing! This time out he is dragging Zebah and Rigel to Earth, that backward rock layered with smelly humans. His goal, as always, is to get rich quick without falling back on any legal tools to do so. Gideon,...

---

Lost Time

The Earth - all her history, all her life - never existed. The Clan, the evil time thieves of the universe, sucked the time energy out of our home world. That which never was can never again be. Obviously. Well unless, of course, there's a Jon Ryan o...

---

---

Fragmented Time

Time is tearing apart. The Earth and every soul on it are not just gone -- they never even existed. Jon Ryan's hopes of pulling off yet another miracle are evaporating like drops of rain on hot desert sands. His improbable team that has to work toget...

---

Watch Him Die

NOMINATED FOR THE McILVANNEY PRIZE 2020 FOR SCOTTISH CRIME BOOK OF THE YEAR 'Truly difficult to put down' Daily Mail  'High-concept plot keeps the 'tecs and the reader on their toes' Sunday Times Crime Club 'Robertso...

---

Shattered Time

Time has not been kind to Jon Ryan. It almost seems personal between the two of them. His mission to resurrect a lost Earth gets more complicated, more dangerous, and less likely to succeed with each new barrier thrown in his path. No sooner does he ...

---

Finding Time

The time war keeps rolling on and Jon is unable to get a controlling handle on the Juggernaut. Jon, with Tank by his side, has infiltrated the Claxeon Citadel, home of the Brother-Sisterhood of Time. There he hopes to learn some clue, some scrap of i...

---
Frequently Asked Questions (FAQ)
Craig Robertson has published 43 books.
Craig Robertson does not have a new book coming out soon. The latest book, Finding Time, was published in April 2021.
The first book by Craig Robertson, Buckley's Hope, was published in April 2003.
Yes. Craig Robertson has 5 series.