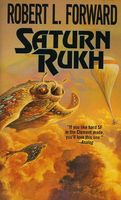 Newest Release
Bibliography:

15 Books - 1 Series

First Book:

April 1980

Latest Book:

March 1997

Rating:
Full Series List in Order
Return to Rocheworld (Feb-1993)
Rocheworld (Sep-1993)
Ocean Under the Ice (Jun-1994)
Rescued from Paradise (Apr-1995)
Book List in Order:
15

titles
Dragon's Egg

ONCE IN A WHILE, A NOVEL APPEARS THAT HAS EVERYTHING UNIQUE TO SCIENCE FICTION -- A BRILLIANT NEW IDEA HONEST EXTRAPOLATION OF REAL SCIENCE, A GRIPPING STORY WITH FASCINATING ALIEN CHARACTERS, AND THE INDEFINABLE BUT ESSENTIAL SENSE OF WONDER. SUCH ...

---

Flight of the Dragonfly

MISSION TO A DOUBLE PLANET. Powered by a revolutionary, laser-driven lightsail, the first manned interstellar probe would reach the bizarre double planet that circled Barnard's Star in a mere twenty years. The world's finest scientists had fought des...

---

---

---

---

Martian Rainbow

Welcomed as a hero after he successfully defeats Mars's Russian invaders, General Alexander Armstrong lets the adoration turn him into a power-hungry demagogue, and it is up to his twin brother, Gus, now Governor of Mars, to stop him. Reprint....

---

Timemaster

Billionaire industrialist Randy Hunter communicates with aliens, achieves interstellar flight, and explores the universe in a novel that explores the technological possibilities of the future. Reprint....

---

---

Return to Rocheworld

Teamed up against a second aquatic race, the flouwen--the water-dwelling creatures found on a bizarre double planet--and an expedition of humans find that these new creatures are as unfriendly as they are intelligent...

---

---

Marooned on Eden

Just what is it that makes us human? Just what quality impels us out to the stars, to search for meaning in our cold universe, to struggle against entropy and discover the nature of things? The scientists on the first mission to Barbard's Star and...

---

---

Ocean Under the Ice

INVASION When the first interstellar expedition reached Barnard's Star they found Rocheworld, and discovered therein the flouwen, giant amoeboids with a flair for math. Almost immediately, the medium-brained but high-tech humans from Earth forged ...

---

Rescued from Paradise

TERRANS GO HOME! The first interstellar expedition successfully reached Barnard's Star and its amazing double-planet -- Rocheworld --and made contact with the flouwen, intelligent aquatic beings with a talent for higher mathematics and a love of s...

---

Indistinguishable from Magic

Antigravity Machines! (six kinds) Space Warps! Black Holes! Strange Matter! Time Machines! Reactionless Drives! Faster than Light Drives! All the known ways to build real starships! Finally, someone who, puts the science back in science fiction! Robe...

---

Saturn Rukh

In the near future five intrepid men and women have been paid a billion dollars each to risk the first voyage into the upper atmosphere of Saturn. The goal: to convert atmospheric chemicals into fuel to power interplanetary spaceships. But no one ...

---
Award-Winning Books by Robert L. Forward
Dragon's Egg
1981 Locus Award -- First Novel
Frequently Asked Questions (FAQ)
Robert L. Forward has published 15 books.
Robert L. Forward does not have a new book coming out soon. The latest book, Saturn Rukh, was published in March 1997.
The first book by Robert L. Forward, Dragon's Egg, was published in April 1980.
Yes. Robert L. Forward has 1 series.