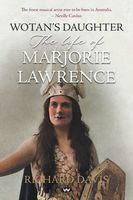 Newest Release
Bibliography:

11 Books - 1 Series

First Book:

January 1993

Latest Book:

June 2021

Rating:
Full Series List in Order
1 - Mosquito Lagoon (Aug-2012)
2 - Banana River (Aug-2012)
Book List in Order:
11

titles
Vermin Blond

Set in an English public school in the late 1960s, this is a tragi-comic coming-of-age novel. It shows how a psychological trauma sustained in adolescence can resonate thoughout an adult life, with profound and ruinous consequences....

---

---

The Female of the Species and Other Terror Tales

A collection of eleven horror stories by Richard Davis (1935-2005), famed anthologist whose books include The Year's Best Horror Stories, the Space, Spectre and Tandem Horror series and many others. The author was the story editor for the BBC La...

---

Great Australian Ghost Stories

From gore-spattered convicts and elegant women out of our colonial past to the mysterious ghost lights of the outback and angry poltergeists that wreak havoc on modern homes, Australia seems to be teeming with the restless spirits of our ancestors.Y...

---

Banana River

/ General Fiction

Thirty feet and I slow my pace down; not much but I want to be silent. Twenty. I can hear a radio playing CapCom"s public countdown. I hear "sixty seconds" when I"m no more than a couple of yards from the boat and one of them feels the backwa...

---

Mosquito Lagoon

A thrilling ride through the tidal flats of east Florida. Follow two fishermen as they elude an international band of ruthless criminals along with threats all too close to home. All in the shadow of Pad 39B at Kennedy Space Center....

---

Last Indian Summer

Three years after the Little Bighorn massacre, the American Indian Wars ended. The Colorado Utes were scattered in four relatively small bands. Then the appointment of an Indian agent steeped in the acquisitive philosophy of Manifest Destiny ignited ...

---

False Prophet

What would you do if your son was taken by a cult?

America's East Coast has been set alight by three of the most bizarre murders in law enforcement history: in each instance, the victims have been forced to kill themselves. For ex-con-...

---

Never Forget

The unputdownable new thriller

Saul Marshall is on the run.

As a wave of seemingly random assassinations engulfs California, Marshall finds himself drawn into a situation spiralling out of control.

He soon discovers some of the...

---

---

A Star on Her Door

For four decades June Bronhill was a household name in Britain and Australia. Whilst her name, her face and her voice became synonymous with the title role in Lehar's The Merry Widow and Maria in The Sound of Music, Bronhill's career covered grand op...

---

Wotan's Daughter

Wotan's Daughter recounts the turbulent life and career of Marjorie Lawrence, one of Australia's most renowned opera stars. From humble beginnings in rural Victoria, Lawrence rose to become one of the pre-eminent Wagner singers of her generation, acc...

---
Frequently Asked Questions (FAQ)
Richard Davis has published 11 books.
Richard Davis does not have a new book coming out soon. The latest book, Wotan's Daughter, was published in June 2021.
The first book by Richard Davis, Vermin Blond, was published in January 1993.
Yes. Richard Davis has 1 series.