Description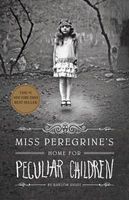 A MYSTERIOUS ISLAND.
AN ABANDONED ORPHANAGE.
A STRANGE COLLECTION OF VERY PECULIAR PHOTOGRAPHS.

It all waits to be discovered in Miss Peregrine's Home for Peculiar Children, an unforgettable novel that mixes fiction and photography in a thrilling reading experience. As our story opens, a horrific family tragedy sets sixteen-year-old Jacob journeying to a remote island off the coast of Wales, where he discovers the crumbling ruins of Miss Peregrine's Home for Peculiar Children. As Jacob explores its abandoned bedrooms and hallways, it becomes clear that the children were more than just peculiar. They may have been dangerous. They may have been quarantined on a deserted island for good reason. And somehow -- impossible though it seems -- they may still be alive.

A spine-tingling fantasy illustrated with haunting vintage photography, Miss Peregrine's Home for Peculiar Children will delight adults, teens, and anyone who relishes an adventure in the shadows.
Full Synopsis
About the Book
Published:

Jun-2011

(Hardcover)

Jun-2013

(Paperback)

Formats:

Print / eBook / Audio

Pages:

382

Age Level:

14-17

Purchase:
What Readers Are Saying
What do you think? Write your own comment on this book!
Write a Comment

The cover of the book and the front book jacket wording looked very promising for those of us who love a good creepy tale, however, the creep factor just never materialized enough to make this a compelling read.  The relationship that Jacob and his grandfather had was special, but not enough to really draw the reader in for the long haul.  I just sort of got bored in the middle.  The story seemed to go on too long before any real action took place and I'm not sure how I really felt about the growing love interest towards the end.  While Ransom Riggs is a good writer in that there was a promising premise and the use of the photos along with the story was very creative, it just didn't come together. As one wise friend who read this said "Ransom could have used a much better editor."