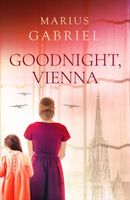 Newest Release
About the Author
Marius Gabriel Cipolla studied Shakespeare in the University of Newcastle in northern England. To finance his postgraduate research, he began writing romance fiction. He sold his first novel to Mills & Boon, published in 1983 under the female pseudonym Madeleine Ker. He left his academic pursuits to become a full-time writer.

Marius Gabriel (born 13 November 1954 in Mafikeng, South Africa) is an international romance and mystery writer, and artist. Under the pseudonym Madeleine Ker, he is a popular writer of over 30 romance novels since 1983. As Marius Gabriel he has written mystery best-sellers and historical novels. He has also written and illustrated children's books, including Smartypig, the tale of a genetically modified piglet.

He has lived in Cairo, Egypt and in London.