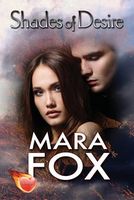 Newest Release
Bibliography:

5 Books

First Book:

July 2004

Latest Book:

November 2014

Rating:
Multi-Author Series List
41 -
Letting Go!
(Jun-2006)
42 -
Letting Loose!
(Jan-2007)
Book List in Order:
5

titles
I Shocked the Sheriff

When Roxy Adams shows up in her bright yellow Porsche, Sheriff Luke Hermann knows he and his small Texas town will never be the same. Within twenty-four hours he's pulled her out of a catfight, almost hauled her off to jail and spent the most incredi...

---

---

---

---

Shades of Desire

Jake McKee doesn't have prophetic dreams. Not anymore. He no longer dreams of the dead and he can't afford to dream of being with Kendall Waite because there's a human predator in the Texas desert that's targeting the women in his life. Kendall Waite...

---
Award-Winning Books by Mara Fox
I Shocked the Sheriff
2004 RT Reviewers Choice Award -- First Series Romance
Frequently Asked Questions (FAQ)
Mara Fox has published 5 books.
Mara Fox does not have a new book coming out soon. The latest book, Shades of Desire, was published in November 2014.
The first book by Mara Fox, I Shocked the Sheriff, was published in July 2004.
No. Mara Fox does not write books in series.