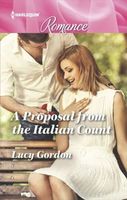 Newest Release
About the Author
Lucy Gordon's personal life reads like one of her novels. While traveling in Italy, she met a handsome man at a cafe who promptly asked her to dinner. They had a magical evening and a mere 24 hours later, he proposed. Gordon's family thought she was crazy to marry a man she barely knew, but twenty years later they are still married and very much in love.

Living in England, Gordon worked as a journalist at major women's magazine for many years. She was able to travel all over the world while writing features. After quitting journalism to write romance novels, Gordon says her extensive travel and experiences in Italy have influenced her work. She has written many novels for Harlequin Romance with a majority set in Italy. Gordon has won the Romance Writers of America's RITA award twice and been nominated four times. She and her husband return to Italy every year.
Full Series List in Order
1 - The Venetian Playboy's Bride (Apr-2003)
2 - The Italian Millionaire's Marriage (Jun-2003)
3 - The Tuscan Tycoon's Wife (Aug-2003)
1 - A Mistletoe Proposal (Dec-2010)
2 - His Diamond Bride (Jan-2011)
1 - Rescued by the Brooding Tycoon (Sep-2011)
2 - Miss Prim and the Billionaire (Feb-2012)
3 - Plain Jane in the Spotlight (Jun-2012)
4 - Falling for the Rebel Falcon (Jun-2013)
5 - The Final Falcon Says I Do (Jan-2014)
1 - Rinaldo's Inherited Bride (Jun-2004)
2 - Gino's Arranged Bride (Aug-2004)
1 - Wife by Arrangement (Jun-2001)
2 - Husband by Necessity (Jul-2001)
3 - Bride by Choice (Jan-2002)
1 - Wife and Mother Forever (Feb-2006)
2 - Her Italian Boss's Agenda (Mar-2006)
3 - The Wedding Arrangement (Apr-2006)
4 - The Italian's Wife By Sunset (Aug-2007)
5 - The Mediterranean Rebel's Bride (Oct-2007)
6 - The Millionaire Tycoon's English Rose (Dec-2007)
7 - Accidentally Expecting! (Jan-2010)
Multi-Author Series List
His Brother's Child
(Mar-1997)
16 -
Italian Tycoon, Secret Son
(May-2009)
Be My Girl!
(Nov-1998)
4 -
The Diamond Dad
(Aug-1998)
6 -
And the Bride Wore Red
(Dec-2009)
Instant Father
(Aug-1993)
The Greek Tycoon's Achilles Heel
(Jun-2010)
3 -
A Family for Keeps
(May-2005)
16 -
The Italian's Cinderella Bride
(Jun-2008)
19 -
The Italian's Miracle Family
(Dec-2008)
9 -
Rebel in Disguise
(Sep-1996)
Accidentally Expecting!
(Jan-2010)
Farelli's Wife
(Jul-1999)
6 -
The Secret That Changed Everything
(Dec-2012)
5 -
Vengeance Is Mine
(May-1989)
2 -
On His Honor
(Oct-1991)
Beauty and the Boss
(Apr-1999)
The Pregnancy Bond
(Jan-2003)
The Italian's Baby
(Jan-2004)
16 -
The Italian's Passionate Revenge
(May-2008)
Veretti's Dark Vengeance
(Aug-2009)
The Sheikh's Reward
(Dec-2000)
Daniel and Daughter
(Nov-1997)
The Stand-In Bride
(Dec-2001)
A Convenient Wedding
(Aug-2002)
Heaven and Earth
(Dec-1992)
Book List in Order:
108

titles
---

Legacy of Fire

As a child, Karen Conway had seen her mother fall in love with a man who could never be hers. Now Karen herself was in love with that same man's son, Riccardo Tornese. Rik's father had left Karen an interest in the family company, and Rik was furi...

---

The Carrister Pride

PURPOSE AND PASSION From the outside, Carrister Hall looked as it had for generations--a magnificent survivor of England's baronial past. But the old days were gone, and Jenny Carrister was forced to accommodate paying guests. The Carristers had f...

---

Enchantment in Venice

Hollywood superstar Adam Wakeman was the man of every woman's dreams. And he took full advantage of that fact. He had made love to many glamorous, gorgeous women, but he depended on only one: discreet, dependable, unflappable Susie Chadwick. Other...

---

Take All Myself

"DID MY HEART LOVE TILL NOW..." For Bryce Trafford and Beverly Darwin, it was exactly that sense of awesome inevitability that hit them with their very first glance. Fate it may have been, but that didn't make it easy. Beverly was an actress i...

---

The Judgement of Paris

THE TOSS OF A COIN "Heads, you come to Paris with me. Tails, you don't." Myles' eyes held their usual mischievous gleam, but Paula knew he was serious. Once Myles had been no more than her late husband's devil-may-care younger brother. Paula h...

---

Island of Dreams

NO MAN IS AN ISLAND ... When hard-edged businessman Jarvis Dacre bought Morag Lewis's beloved Scottish birthplace of Brannock Island and promised to begin "improving" it immediately, Morag resolved to do whatever was necessary to protect it. She a...

---

Virtue and Vice

TRADING PLACES Julia and Cindy were identical twins -- but different as night and day. Their family called them Virtue and Vice, and Julia was the good twin. She would I never do anything as foolish as to agree to impersonate her sister--especiall...

---

A Coldhearted Man

GUILTY AS CHARGED Helena Catesby had made many mistakes in her life, but she'd never broken the law. Now she was bedridden in a Venetian hospital, accused of drunk driving, possibly worse. She couldn't remember the accident, but she'd been behind...

---

Once Upon a Time

CAUTION: DANGER AHEAD Once upon a time Bronwen Montorsoli, a young widow, struggled to support her son with odd singing jobs. But then a social worker accused her of filling her boy's head with grandiose fantasies of being related to an Italian pr...

---

---

My Only Love, My Only Hate

TURNABOUT IS FAIR PLAY Giles Blake's reputation as a prosecuting attorney had been established eight years ago when he put Adam Haines behind bars. Though Haines had been guilty, his daughter had never forgiven the charismatic lawyer for twist...

---

A Fragile Beauty

FRAGILE DREAMS Maurizio Varelli shattered her dreams of love. With businesslike efficiency, the family patriarch informed Vicki the marriage she had come to Italy for would never take place--and that she must marry him instead. Maurizio's s...

---

A Pearl Beyond Price

A TRUSTING HEART Lynette Hallam despised Italian men. Her brief marriage to one had been a fraud. She could never forget the pain and guilt she felt after learning that her "husband" had another wife. But she found herself wanting to make an excep...

---

Just Good Friends

CURTAIN CALL The marriage was over. The time had long passed in which Antonia could survive in actor Flynn Rawley's shadow, and she'd set out to create her own role as director Toni Locksley. Now, four years later, she still couldn't figure how sh...

---

Golden Boy

A NEW LIFE They called him the "Golden Boy"--until the split second when race car driver Lance Hamilton's dreams were shattered and he was plunged into darkness.... Sent to restore him to life--in both body and spirit--nurse Connie Denver found...

---

Eagle's Prey

PRISONER OF LOVE... Sara was a wildlife photographer determined to brave the desolate cliffs of Farraway Island to capture the golden eagles on film. Instead, Sara was captured by Rorke Calvin, a man as fierce and untamed as the eagles Sara was s...

---

For Love Alone

MEMORIES When Philippa Davidson awoke in an attractive, sunny bedroom, she realized she had no idea where she was--or who she was, either. A face had haunted her, but when she opened her eyes she knew that the dark Italian man beside her was more ...

---

A Night of Passion

A NIGHT TO REMEMBER... Veronica Grant would have done anything to save her daughter's life--even become indebted to mesmerizing Jordan Cavendish, the man who'd left her without learning of the child they'd created. It had been an evening she'd nev...

---

A Woman of Spirit

IF THE SPIRIT MOVES YOU ... Paranormal investigator Dr. Damaris Sherwood believed an old Victorian castle was the perfect place to find a fascinating phantom. What she encountered instead was over six feet tall, ruggedly real--and intent on sabota...

---

A True Marriage

A TEMPORARY MARRIAGE Her fiance had postponed their wedding again -- this time indefinitely -- and Gail Lawson vowed to marry the first man she bumped into. While making a dramatic exit, she promptly slammed into the suspicious, darkly handsome stra...

---

---

Vengeance Is Mine

MAN OF THE MONTH Who? Luke Harmon. What? A strong and ruthless man. With? A scar over his right eye, a broken heart and a determination to destroy the Drummond family's empire. Why? The only woman he had ever loved had betrayed him...or so he ...

---

Bought Woman

Faye Stafford was being held prisoner as surely as if she were locked in a tower. A powerful man had discovered a condemning secret, and he'd forced her to become his fiancee. Then virile, cynical Jason Royce was assigned as her bodyguard, and Faye k...

---

Convicted of Love

PRISONER OF LOVE Lawyer Diana Waldman had a soft spot for anyone in need, and when she first met infuriating Lee Fortuno, she thought he was just another hard-luck case. But Diana quickly learned that this man was different. The tough undercover ...

---

Song of the Lorelei

SIREN'S SONG Laurel Blake had grown up on magical tales of the Rhine's Lorelei Rock and the maiden whose sweet melody lured sailors to their doom. Spellbound by the romantic mission that had brought her to the enchanted land, Laurel arrived at von...

---

The Sicilian

FIRE FLOWER The instant cool, calm Melanie Carlyle saw raven-haired Vittorio Farnese she knew she'd never be the same. She had come to sun-drenched Sicily to claim her inheritance -- Terrafiore. But Vittorio said the land was his, and when he took M...

---

On His Honor

MR. ITALY Name. Carlo Valetti Address: Rome's ancient Appian Way Occupation: CEO of an internationally renowned race-car manufacturer. Reason for living. The little daughter who'd warmed his cynical heart. Along with his father's name ...

---

Outcast Woman

Whispered rumors swirled like the bitter snow sweeping the desolate moors, cloaking Kirsty Trennon in scandal. Two men dead for love of her, the villagers grumbled, while she, notorious wanton, still cast her fatal enchantments. And now the shameless...

---

Heaven and Earth

Sagittarius man Bruce Venables seemed like a proper English schoolteacher, but Helena Walker knew better. He was a footloose and fancy-free bachelor at heart, and agreeing to become temporary headmaster of Easthaven School was the only kind of commi...

---

Married in Haste

A MATCH MADE IN ...HEAVEN? Blazing passion had brought sexy industrialist Demetrio Corelli and fiery reporter Reva Borden to the altar. But pride and ambition had pulled them apart--sending Reva away, heartbroken, and leaving Demetrio alone and fi...

---

Instant Father

Hunter and son Driven by ambition and power, Gavin Hunter had sacrificed everything that mattered--including his wife and child--to success. Now his son, Peter, needed him, and Gavin dropped everything to rush across the country to the desolate mo...

---

---

A Kiss for Mr. Scrooge

Once upon a Christmas past, Dawn and Ben had become engaged. Then he drove off into the snowy night and never came back... until now. Only a miracle would transform the bitter, hardened man into the carefree lover Dawn had lost, and change a bittersw...

---

Royal Harlot

With hair that flowed like a river of gold and eyes of depthless allure, Leonie, Dowager Duchess of Conistan, was irresistible. And Klaus could not control his passion in the presence of this woman ruled by the gypsy vows of earth, air and fire! ...

---

Uncaged

SHE WANTED HER CHILD BACK Daniel Keller never should have handled that homicide case. Still grieving over the accident that had stolen his wife and son, the dazed policeman had nevertheless testified--and unwittingly convicted--an innocent woman o...

---

Seduced by Innocence

Terri Wainwright's ice-princess fake hid a depth of passion that do man had ever touched--but that Maurizio Vanzani could set afire with a look from his intense eyes. Still, Terri had no time to get involved with any man. She had cone to Venice to fi...

---

This Man and This Woman

WEDDINGS WERE HER BUSINESS Gail Rivers worked wonders with flowers and tulle...for other brides. She had no intention of walking down an aisle and saying, "I do." Certainly not with Alex Medford, who insisted on meddling with Gail's happily engaged ...

---

Two Faced Woman

PARTNERS IN CRIME... Private investigator Debbie Harker had had her share of tough assignments -- and going undercover as a notorious gangster's moll was certainly one of them. But tougher still was her self-appointed coconspirator, Detective Inspec...

---

This Is My Child

A FATHER'S DILEMMA Giles Haverill adored his adopted son, though he couldn't seem to show it. He knew the boy longed for his lost mother, just as Giles himself ached for a woman's gentle touch. But how did you tell a child that he'd been abandoned b...

---

For the Love of Emma

A little girl in need of a mom... Carlyle Brackman is Briony's boss--and what an ogre she finds him! Until she sees him in another light, as a tender father devoted to his daughter. This transformation in Carlyle almost melts Briony's hear...

---

Rebel in Disguise

Love me, love my dog! Until the moment Gil Wakeham casually strolled into her office, Jane had enjoyed being the youngest branch manager at Kell's Bank. But when Gil asked her to share his carefree existence with him, it was goodbye to stuffy ...

---

His Brother's Child

Whose baby? When Donna discovered she was pregnant, and Toni Mantini proposed, she was overjoyed. But Rinaldo Mantini wasn't. He suspected Donna of latching on to his younger brother to secure herself a wealthy life-style. Then Toni was ...

---

---

Forgotten Fiancee

THE WOMAN HE COULDN'T REMEMBER Not long ago, Justin Hallwood had been a hard-driving, big-city executive. Now he was inexplicably drawn to the little village of Haven - especially to Sarah Conroy, a lovely single mother with an adorable baby son. Wh...

---

Daniel and Daughter

"Daniel Raife was devoted to Phoebe, his teenage daughter. He'd brought her up single-handedly, and he wanted her to be a lawyer. But Phoebe dreamed of being a model. Lee Meredith knew all about being sixteen and headstrong--she had eloped. These day...

---

The Diamond Dad

Daddy's last chance! Garth Clayton had a beautiful wife and two gorgeous children--and if he didn't do something quick, he'd lose them! He decided to become a better husband. He even promised Faye diamonds for their tenth wedding anniversary. F...

---

Be My Girl!

The bachelor needs a wife.... As a teenager, Katie Deakins had caused Nick Kenton nothing but havoc and had even ruined his love life! Now, years later, she was coming to stay and Nick felt obliged to look after her.... Nick was shocked to disc...

---

Anything, Any Time, Any Place

She was about to say 'I do' to the wrong man...When the right one whisked her away! To save the neck of her ne'er-do-well brother, Kaye Devenham had agreed to marry a man she despised. But right before the ceremony, in raced Jack Masefield, the man s...

---

Beauty and the Boss

Craig Locksley thought he couldn't be charmed by his beautiful business associate, Delia, because he couldn't see. However, temporarily parted from his young daughter and his beloved dog, Craig was forced to accept Delia's offer to act as...

---

Farelli's Wife

Wanted: wife or mother? Joanne graciously stepped aside when Franco Farelli married her cousin four years before--her love for him kept a secret. Now Franco is a widower with an adorable little boy, Nico, and Joanne can't resist paying them a ...

---

Tycoon for Hire

She got more than she paid for! Jennifer Norton asked the agency that her escort be tall, dark and good looking. And her was. Only Steven Leary wasn't officially an escort, he was simply standing in for a friend. In real life, he was a millio...

---

Taming Jason

A MAN TO CARE FOR... Elinor knew it would be difficult to stay calm and professional while nursing Jason Tenby back to health; he was used to calling the shots. Also, she couldn't forget the time years ago when Jason had kissed her passionate...

---

Rico's Secret Child

An Italian man... Julie Hallam is in Rome to work-but she's shocked to discover the identity of her new boss. Surely Rico Forza has brought her here for other reasons--perhaps to make her pay for the past... Eight years ago they'd been deliriou...

---

---

For His Little Girl

BACHELORHOOD LOST Once, years ago, Pippa Davis and Luke Danton had been everything to each other. Then fate had led Luke one way... and Pippa and their unborn child the other. Now she had to find her way back to Luke. For her daughter's sake, of c...

---

The Sheikh's Reward

The beautiful Englishwoman had brought him such good luck that Sheikh Ali Ben Saleem wanted to reward her. But Frances refused his valuable gifts. All she wanted was an interview for a newspaper. Ali decided to oblige -- on one condition: She must ac...

---

The Loving Spirit

On her death-bed, Amelia makes her husband promise to marry the children's governess. He reluctantly accepts. As does the governess, Kate. For Amelia was her only friend who protected her and concealed her guilty secret. Over time both Justin and Kat...

---

For the Sake of His Child

Single father in need of a wofe! High-flying businessman Carson Page loves his young son, but Joey is deaf -- and Carson is unable to communicate with him. Gina Tennison feels for Joey -- she was once in his position herself. So for his sake, ...

---

Wife by Arrangement

Heather felt humiliated when Lorenzo Martelli jilted her at the altar. She blamed his brother Renato for what had happened and was astonished when everyone insisted Renato make amends by taking his brother's place in an arranged marriage with her! ...

---

Husband by Necessity

At her best friend's wedding, Angie Wendham met the groom's half brother, Bernardo Tornese, and fell instantly in love with this gorgeous, brooding Sicilian! Only, he wasn't planning to walk up the aisle himself, events in his past having...

---

The Stand-In Bride

Don Sebastian Santiago's fiancee may have publicly betrayed him at the town's Christmas celebrations -- but that doesn't mean his wedding is off. He blames his fiancee's tutor, Maggie, for what has happened -- so it's Maggie who will be his stand-in ...

---

Bride by Choice

Gorgeous Sicilian Lorenzo Martelli had proposed to Helen in front of his whole family! How could she say anything other than...yes? Now the Big Day was getting alarmingly close -- and the bride-to-be was getting cold feet! The groom, however, was ...

---

His Majesty's Marriage: The King's Bride

A life of duty and protocol had made King Daniel of Voltavia seem aloof. But after one kiss, Lizzie Booth could sense that underneath his cool exterior lay a passionate man. A man who was falling in love with Lizzie despite his best intentions.......

---

A Convenient Wedding

It was a grand white wedding that would make the society pages the world over -- handsome British aristocrat Jarvis Larne was marrying beautiful American oil heiress Meryl Winters. But behind the lavish ceremony, their vows were a sham. Marrying f...

---

Princess Dottie

A head-to-toe makeover, fancy balls, and royal consorts had never been part of Dorothea Hebden's plan. The London barmaid had reckoned on a normal life and family with her very common childhood sweetheart. Then former royal Randolph waltzed into Dott...

---

Christmas in Venice

After months apart from her Italian husband, Francesco Bartini, Sonia returns to Venice knowing she will inevitably see Francesco. Sonia has accepted that their marriage is over. But when Francesco realizes she's eight and a half months pregnant, he'...

---

The Pregnancy Bond

Her husband's secret baby... On the night of the party, Kelly's estranged husband, Jake Lindley, had been as gorgeous and charismatic as ever. It had been impossible for Kelly to resist him -- and now she was pregnant! Kelly didn't want Jake back i...

---

The Venetian Playboy's Bride

Dulcie Maddox is in Venice to work -- but she finds herself wanting to spend every day with a tall, handsome gondolier.... Guido Calvani is no gondolier -- he's actually one of the wealthiest aristocrats in Venice. He hasn't told Dulcie that, thou...

---

The Italian Millionaire's Marriage

Harriet d'Estino isn't interested in netting a rich husband -- but her little shop is thigh-deep in debt, so she's tempted when gorgeous Italian millionaire Marco Calvani makes her a proposal. If Harriet returns to Rome with him, Marco will lend her ...

---

The Tuscan Tycoon's Wife

Selena is tough and independent, scraping just enough money to survive. When she falls for Leo Calvani she thinks he's a kindred spirit -- apparently he lives a simple life in rural Italy and, like her, he's illegitimate.... But she arrive...

---

The Italian's Baby

He's come to find her -- because he wants a baby... The man Becky Hanley nearly married has just walked back into her life! It's been years, but Italian Luca Montese is just as desirable as ever.... The attraction is overwhelming and she can't res...

---

Rinaldo's Inherited Bride

Rinaldo lost some land...and gained a wife! Rinaldo Farnese and his brother, Gino, had just discovered an Englishwoman had inherited part of their farm. There seemed only one solution to reclaim their missing land: they would toss a coin and the w...

---

Gino's Arranged Bride

A convenient marriage -- all because of a very special little girl... Laura knows that all her little girl wants is a daddy to love her unconditionally. So for Nikki's sake, Laura marries Italian Gino Farnese for convenience.... But there...

---

His Pretend Wife

Andrew Blake is the heart surgeon who will operate on Elinor's daughter, Hetta. He's also the man Elinor nearly married.... Andrew has helped them so much -- saving Hetta's life and finding them a new place to live. Elinor finds she st...

---

The Millionaire's Christmas Wish

This Christmas grab a steamy mug of hot chocolate, wrap yourself in a cozy blanket and join some of Harlequin's bestselling authors in three delicious tales of home and holidays. Curl up with Helen Bianchin's tale of a woman who returns home to fi...

---

The Monte Carlo Proposal

MEET SASSY, BRAVE AND BEAUTIFUL DELLA MARTIN: "Why on earth did I agree to this crazy plan? This multimillionaire Jack Bullen had a proposal for me: to pose as his girlfriend so he could avoid an unwanted marriage. I said yes -- it was a whole lo...

---

A Family for Keeps

Vincenzo could see the woman known as Julia had clearly been to hell and back. But he could tell that she needed him -- to help her enjoy life and to find out how wonderful the world could be. She needed him to help her find her beloved daughter.... ...

---

The Italian's Rightful Bride

Joanna had been head over heels in love with her convenient fiance, Gustavo Ferrara, when he fell in love with -- and married -- someone else! Now, twelve years on, Gustavo Ferrara, now single, is thrown into turmoil at seeing Joanna again. He'...

---

Wife and Mother Forever

Evie Wharton is a free spirit -- the complete opposite of millionaire and single dad Justin Dane -- but she wants to help his troubled son. Evie soon discovers, however, that behind Justin's dark and brooding demeanor hides a painful past. And, again...

---

Her Italian Boss's Agenda

LOVE ISN'T ON HER AGENDA Olympia Lincoln is so relieved when her new assistant shows up, she sets him to work immediately. What she doesn't realize is that he is none other than Primo Rinucci, her new Italian boss! BUT HE HAS OTHER IDEAS! Primo ...

---

The Wedding Arrangement

A GORGEOUS ITALIAN WITHA PROPOSAL... Luke Rinucci is startled to discover that the tenant of his Rome residenza, Minnie Pepino, is young, blond and sensational! There is an immediate attraction between them, but despite her family's premature plan...

---

Married Under the Italian Sun

A new life... The world knew her as a glamorous, glitzy blonde, famous for being famous. Until her unfaithful husband divorced her...and Angel Clannan was glad to be a nobody once again. She couldn't wait to start her new life in Italy, in the Villa...

---

One Summer In Italy...

It was supposed to be just a holiday... But somehow Holly became enchanted by the pleading eyes of a motherless little girl and entranced by the girl's mysterious father, Matteo. Before she knew what was happening, she had been swept away to t...

---

Wedding in Venice

/ Contemporary Romance

---

The Italian's Wife By Sunset

Her Italian playboy! Intelligent, sensible Della Hadley should've known better than to embark on an affair with a playboy Italian six years her junior, but vibrant and sexy Carlo Rinucci was just too hard to resist.... Della knows that a fiery...

---

The Mediterranean Rebel's Bride

Plain Jane and the Italian rebel... Polly Hanson must go to Naples to find Ruggiero Rinucci, and what she has to tell him will surely end his bachelor ways--he is the father of her late cousin's baby! But nothing quite prepares Polly for Ruggiero'...

---

The Millionaire Tycoon's English Rose

Swept into the Italian's arms... Independent and strong-willed, Celia Ryland never lets her blindness affect the way she lives her life--she thrives on feeling free! Gorgeous Italian Francesco Rinucci has never met a woman with such a zest for...

---

The Italian's Passionate Revenge

He will bed her... Elise Carlton is looking forward to having her freedom. Years as a trophy wife have left her wary. But there is one man to whom she is not immune.... For revenge and for pleasure! Vincente Farnese is rich and devastatingl...

---

The Italian's Cinderella Bride

Italian count...English waif In a flash of lightning, Count Pietro Bagnelli sees a young woman standing outside his palazzo, a battered suitcase at her feet. This solitary count has turned his back on the world, but he can't turn his back on this ...

---

The Italian's Christmas Miracle

The miracle of love? Brooding Italian Drago di Luca and reserved lawyer Alysa Dennis are brought together by a shocking shared betrayal -- their partners have been having an affair! Against all the odds they strike an unlikely friendship, and forb...

---

The Italian's Miracle Family

Their Christmas gift: a family! Brooding Italian Drago di Luca and reserved lawyer Alysa Dennis are brought together by a shocking, shared betrayal--their late partners had been having an affair! But against all the odds, they strike an unlikely fr...

---

Italian Tycoon, Secret Son

Stranded after an avalanche, Mandy Jenkins and Renzo Ruffini awaited rescue and found comfort in each other's arms. A year on, Mandy still longs for the carefree Italian she fell in love with but believed was lost forever--until now! Discovering t...

---

Veretti's Dark Vengeance

He'll ruin her in the boardroom... Arrogant Italian nobleman Salvatore Veretti is furious to hear that a young, beautiful model has inherited the company that was rightfully his. Clearly she's after the family gold! Salvatore will heartlessly reclaim...

---

And the Bride Wore Red

The Silk Road... Olivia Daley's travel itinerary might be unusual, but she believes the best cure for a broken heart is a radical change of scenery. Exotic, vibrant China is far enough from rainy gray England to be just that! to romance...? ...

---

Accidentally Expecting!

The baby that saved him... On a trip to Italy Ferne Edmunds is dazzled by lighthearted charmer Dante Rinucci. What she doesn't realize is that it's easy for Dante to live for the moment when every day could be his last.... But when Ferne discovers ...

---

The Greek Tycoon's Achilles Heel

The Greek tycoon who has everything -- except a heart? Lysandros Demetriou: shipping magnate and Athens' most-sought-after bachelor. Glamorous women compete for this brooding playboy's attention, but his focused ambitions ensure that they don't outs...

---

A Mistletoe Proposal

Romancing Miss Contrary... Solicitor Pippa Jenson is stunning, intelligent and successful -- and she just wants a man who sees beyond her looks! Her new client, brooding, levelheaded stockbroker Roscoe Havering, seems more interested in setting he...

---

A Winter Proposal

A Winter Proposal Solicitor Pippa is stunning and successful, and she wants a man to want her for who she is! Her new client, brooding stockbroker Roscoe, is frustrated by her spirited, independent nature. Should he just kiss her senseless or can he ...

---

His Diamond Bride

An eternal love against all odds Dee Baines is sensible and plain compared to her outgoing, flirty sister. So she's amazed when pilot Mark Sellon chooses to pay attention to her! Mark has a reputation as a risk-taking rogue who has an eye for the l...

---

And Baby Makes Three: Playboy's Surprise Son

Five years ago, racing star Jared held Kaye in his arms, only to leave after discovering how innocent she was. But their one night had lasting consequences.... Now an older, wiser Jared will discover that the child he longs for exists, and the mother...

---

Rescued by the Brooding Tycoon

Who's rescuing whom? Darius Falcon needs a fresh start -- and what better place than his inherited island, sleepy Herringdean? But his ruthless reputation precedes him, and the locals fear he'll change their home. Harriet Connor is no different. ...

---

Miss Prim and the Billionaire

When first love has a second chance Tycoon Marcel Falcon appears to be a man who plays love like a game. But deep in his heart lies a despair that has never left him since he was betrayed by Cassie, his one true love. The past has changed Cassi...

---

Plain Jane in the Spotlight

Actor and serial dater Travis Falcon photographed with yet another woman! Travis Falcon, TV heartthrob, has given the press one too many salacious headlines and his management team wants him to clean up his reputation... So when plain-Jane Charlen...

---

The Secret That Changed Everything

One night in Rome... Tired of being in the shadow of her prettier, more popular sisters, Charlotte Patterson decides to leave Manhattan behind and discover just what Italy's la dolce vita has to offer-good food, fine wine...delicious men? But e...

---

Falling for the Rebel Falcon

Getting the scoop on the rebellious Falcon! Journalist Perdita Hanson has a reputation for getting the best scoops in the business! She's on a mission to get the gossip at the Falcons' latest glitzy wedding when she bumps into one of the notorious...

---

The Final Falcon Says I Do

Mr. Right under her nose… When Freya Falcon is jilted on her wedding day, the notoriously stubborn and brooding Jackson Falcon discovers a protective side brought out by this newly vulnerable woman. Freya is surprised by Jackson's behaviour...

---

Crown of Laurel

/ Historical Romance

---

Not Just a Convenient Marriage

Wedded in Venice… Starting again is meant to be the purpose of Sally Franklin's trip to Venice. Not finding herself spontaneously married to enigmatically handsome Damiano Ferrone! Maybe it was the magic of Venice or simply Damiano's captivatin...

---

The Devil's Bride

/ Historical

---

The Unromantic Lady

/ Historical

Against the glittering background of Regency society, two people contract a 'reasonable' marriage, only to find that passion is beyond reason, and desire opens a glorious new world. But disaster lies in wait for them....

---

Reunited with Her Italian Ex

Her real-life Romeo… Freelance journalist Natasha needs to find work -- fast! When a job comes up in Verona she jumps at the chance. Her heart might have been broken by a charming Italian, but with few other options, promoting the city seems li...

---

Expecting the Fellani Heir

And baby makes three… It was a night she should never have surrendered to, but Ellie can't regret the blissful hours she spent in Leonizio Fellani's arms. The steely businessman showed her his softer side and it melted her heart…but working t...

---

A Proposal from the Italian Count

To repay an old debt… Deliciously handsome Count Vittorio Martelli's promise to repay his late father's debt leads him to penniless and unemployed Jackie Benton. So to start with, he offers her a prestigious job in Rome working for him! He'...

---
Award-Winning Books by Lucy Gordon
Beauty and the Boss
1999 RT Reviewers Choice Award -- Harlequin Romance
Bride by Choice
2002 RT Reviewers Choice Award -- Harlequin Romance
For the Love of Emma
1996 RT Reviewers Choice Award -- Harlequin Romance
His Brother's Child
1998 Rita Award -- Traditional Romance
Song of the Lorelei
1991 Rita Award -- Traditional Romance
Frequently Asked Questions (FAQ)
Lucy Gordon has published 108 books.
Lucy Gordon does not have a new book coming out soon. The latest book, A Proposal from the Italian Count, was published in October 2017.
The first book by Lucy Gordon, Legacy of Fire, was published in February 1984.
Yes. Lucy Gordon has 6 series.