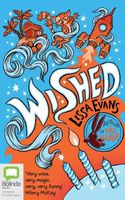 Newest Release
Bibliography:

11 Books - 1 Series

First Book:

October 2004

Latest Book:

April 2022

Rating:
Full Series List in Order
1 - Horten's Miraculous Mechanisms (Apr-2012)
2 - Horten's Incredible Illusions (Sep-2012)
Book List in Order:
11

titles
Odd One Out

Some are born odd, some achieve oddness, and some are just in the wrong place at the wrong time The Devon family's a good example: there's thirty-nine-year-old Glenn, whose main interest in life is rubbish collection; his mother, Bel, who teaches tap...

---

Horten's Miraculous Mechanisms

Enter a wonderful world filled with real magic, mystery, and danger. As if being small and having S. Horten as his name isn't bad enough, now 10-year-old Stuart is forced to move far away from all his friends.But on his very first day in his new h...

---

Small Change for Stuart

Stuart Horten, 10 years old and small for his age, is about to have the strangest adventure of his life. After moving to the boring town of Beeton, he finds himself swept up in an incredible quest to find his great-uncle's lost legacy - a magician's ...

---

Horten's Incredible Illusions

This magical follow-up to Horten's Miraculous Mechanisms continues Stuart's amazing adventures--with more enchantment, more surprises, and more thrills. When we last left 10-year-old Stuart, he had just recovered his great-uncle Tony's long-lost magi...

---

Big Change for Stuart

Stuart Horten (ten, but looks younger) is now the owner of a magician's workshop - except that without his Great-Uncle's Last Will and Testament, he can't actually prove it. Which is a problem, since someone else wants it as well; someone who has a l...

---

Crooked Heart

Paper Moon meets the Blitz in this original black comedy, set in World War II England, chronicling an unlikely alliance between a small time con artist and a young orphan evacuee. When Noel Bostock -- aged ten, no family -- is evacuated from Londo...

---

Their Finest

From the author of the acclaimed Crooked Heart comes another smart, funny, ingenious, revealing tale of London life during the Second World War. It is 1940. France has fallen, and only a narrow strip of sea lies between Great Britain and invasion....

---

Wed Wabbit

Your name is Fidge and you're nearly eleven. You've been hurled into a strange world. You have three companions: two are unbelievably weird and the third is your awful cousin, Graham. You have to solve a series of nearly impossible clues. You n...

---

Old Baggage

What do you do next, after you've changed the world? It is 1928. Matilda Simpkin, rooting through a cupboard, comes across a small wooden club - an old possession of hers, unseen for more than a decade. Mattie is a woman with a thrilling past a...

---

---

V for Victory

In this witty, charming follow-up to the acclaimed Crooked Heart, the life of lies a small time scammer and her adopted son have constructed in London becomes endangered during the tumultuous final months of World War II. 

It's la...

---

---
Frequently Asked Questions (FAQ)
Lissa Evans has published 11 books.
Lissa Evans does not have a new book coming out soon. The latest book, Wished, was published in April 2022.
The first book by Lissa Evans, Odd One Out, was published in October 2004.
Yes. Lissa Evans has 1 series.