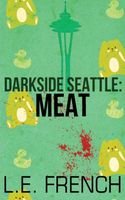 Newest Release
Bibliography:

5 Books - 1 Series

First Book:

October 2016

Latest Book:

January 2020

Rating:
Full Series List in Order
1 - Street Doc (Oct-2016)
2 - Fixer (Jun-2017)
3 - Mechanic (Jan-2018)
Book List in Order:
5

titles
Street Doc

On the run for a crime he committed, Hideo has onlythe shirt on his back and memories of a beautiful wife,a great job, and an exclusive view from his bedroom.The once-respected surgeon has to learn to live on thestreets of Darkside Seattle, a place n...

---

Fixer

Victoria Godhand, the unflinching chief negotiator for her father's megacorp, wants a lot of things. Respect tops the list. Ross Lynch, her father's hand-picked successor and the company's COO, also wants a lot of things. Victoria top...

---

Mechanic

Isabella Acosta has lived in the barrio half of the Darkside her entire life. No cops, no laws, no way out.Respected for surviving so long, she keeps her head down and doesn't make waves. Until someone puts a gun to her nephew's head. She'll do anyth...

---

---

---
Frequently Asked Questions (FAQ)
L.E. French has published 5 books.
L.E. French does not have a new book coming out soon. The latest book, Meat, was published in January 2020.
The first book by L.E. French, Street Doc, was published in October 2016.
Yes. L.E. French has 1 series.