Description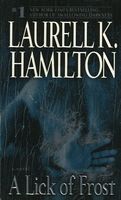 I am Meredith Gentry, princess and heir apparent to the throne of faerie. To be crowned queen, I must become pregnant and continue the royal bloodline. If I fail, my aunt, Queen Andais, will be free to do what she most desires: install her twisted son, Cel, as monarch...and kill me.

My royal guards surround me, and Ty best loved -- my Darkness and my Killing Frost -- are always beside me, sworn to make love to me and protect me. Even now, we are forced into exile in the mortal world, hoping to outrun the gathering shadows of court

intrigue. But King Taranis, powerful and dangerous ruler of faerie's Seelie Court, has leveled accusations against my noble guards of a heinous crime. I know that Taranis's true target is me. He tried to kill me when I was a child, and now I fear his intentions are far more terrifying.
Full Synopsis
About the Book
Published:

Nov-2007

(Hardcover)

Oct-2008

(Paperback)

Formats:

Print / eBook / Audio

Pages:

375

Purchase: