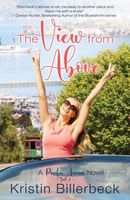 Newest Release
About the Author
Kristin Billerbeck is the author of more than 30 novels, including "What a Girl Wants" and the Ashley Stockingdale and Spa Girls Series. She is a fourth-generation Californian, who loves her state and the writing fodder it provides.
Full Series List in Order
1 - What a Girl Wants (Mar-2004)
2 - She's Out of Control (Jul-2004)
3 - With This Ring, I'm Confused (May-2005)
4 - What a Girl Needs (Oct-2014)
1 - She's All That (Oct-2005)
2 - A Girl's Best Friend (Apr-2006)
3 - Calm, Cool & Adjusted (Oct-2006)
1 - The Trophy Wives Club (Sep-2007)
2 - Back to Life (Sep-2008)
1 - Perfectly Dateless (Jul-2010)
2 - Perfectly Invisible (Jul-2011)
3 - Perfectly Ridiculous (Jul-2012)
Multi-Author Series List
2 -
Julia - Small Town, Big Dreams
(Jun-2012)
6 -
Make Me a Match
(Jan-2013)
10 -
Shelved Under Romance
(Jan-2014)
Book List in Order:
36

titles
---

Strong As the Redwood

Forced by an overbearing stepfather to take a teaching position in the wilds of California's logging country, Rachel Phillips vows to make the best of her situation. But, when she innocently peaks the interest of the town's most eligible bachelor, ha...

---

To Truly See

Brenda Turner has achieved huge success as vice president of marketing for a large company in the Silicon Valley. She works hard every minute to maintain her position and doesn't have time for the neurological disease that is attacking her muscles an...

---

Meet My Sister Tess

Clark is everything Tess Ellison thinks she wants in a husband. He is stable, a good provider, the kind of man who can allow Tess to fulfill her mother's dying wish: that her mentally-handicapped brother, Robby, will never be put into an institution....

---

Collette

Friendship is forever as four modern women will discover in this collection of novellas. Amanda is waiting out a long engagement, Brittany is widowed with a young daughter, Collette is returning home from the mission field, Danielle is focused on sta...

---

The Landlord Takes a Bride

Stefani Willems is about to reach her ambitious goal of buying the land that her family's orchard once occupied just outside Silicon Valley. But a handsome cowboy from Colorado saunters in and buys the brand-new duplex which now occupies the property...

---

Love Lessons

School has never been as fun as when some special teachers fall in love. Enjoy modern classroom settings in these four inspirational romance novellas by authors Kristin Billerbeck, Linda Goodnight, Kristi Hickman, and Yvonne Lehman....

---

Bayside Bride

Join brave women who take on wars, social injustices, and westward expansion, living to find love and build a legacy in these nine stories of historical romance. From Virginia west to Oregon, meet Lucy, a nurse; Helen, a bookkeeper; Permelia, a farme...

---

The Prodigal's Welcome

Nathaniel Pemberton left his Mississippi plantation upbringing to seek a golden fortune in California. He assumed nothing at home would change--that the place he remembered and the people he loved would endure forever. But then the War Between the...

---

Far Above Rubies

HeartQuest brings together three original novellas that will stir readers to treasure their own keepsakes of life, love, and romance. These Victorian-era stories will touch hearts with the beauty of new love at Christmastime.

Story list:

---

---

Grace in Action

Grace Brawlins struggles to get by as a single mom. A solitary mistake created her greatest joy--her son--but it also tore her away from the Lord. Abandonded by the man she thought loved her, she has learned to be fiercly independent. Firefighter ...

---

Sweet as Apple Pie

If it's true that the way to a man's heart is through his stomach, then what better way to entice the typical American male than with apple pie? Talia believes An Apple a Day and a few herbs are the key to healthy living, but Dr. Coridan scoffs at th...

---

Mattie Meets Her Match

Mattie Stevens has forgotten about Jeff Weatherly. After all, it's been years since the two were an item...but Grandma certainly remembers. What can Mattie do when Jeff returns to town and Grandma pushes her back toward "the one who got away"? As a s...

---

An Unbreakable Hope

Emily Jensen has always longed for marriage and a family of her own. She has her ideals - or at least those imposed by her mother - of how the right man will look and act. But life doesn't always work the way it should. Darin Black was blessed to ...

---

What a Girl Wants

Ever felt like the last item left on the clearance rack? As a successful patent attorney, Ashley Stockingdale has all the makings of a perfect catch--the looks, the brains, even a convertible. But at 31, she's beginning to wonder if she's been pas...

---

She's Out of Control

Ever been on the verge of buying your own engagement ring? Ashley Stockingdale, the charming but always-in-over-her-head patent attorney from What a Girl Wants, has finally found the man she wants to marry. But after nine months of dating, it seem...

---

With This Ring, I'm Confused

She's got the rock, so when does happily ever after kick in? At long last, Ashley Stockingdale--patent attorney, fashionista, and homeowner--can finally add "fiancee" to her spirited resume. That means the next four months will be a dizzying and d...

---

She's All That

With her two best friends, Lilly Jacob is contemplating life, love, and the pursuit of the perfect pedicure. When Lilly Jacob's coveted promotion as a fashion designer is given to a less-talented co-worker and her boyfriend develops issues with mo...

---

A Girl's Best Friend

Three friends. One spa. And an infinite amount of oversharing! From the outside, Morgan Malliard has it all: diamonds at her disposal, a willowy figure, a doting daddy and all the elegance that money can buy. But money can't buy happiness--or an i...

---

Calm, Cool & Adjusted

Best friends since Johnny Depp wore scissors for hands, "The Spa Girls" live very separate lives, but stay in touch with routine visits to California's Spa Del Mar. The third novel in the Spa Girls Series focuses on Silicon Valley chiropractor Poppy ...

---

---

Split Ends

She's armed--with hot irons, sharp shears, and a flair for color. She's dangerous--truly bad news for bad hair. And she's going to do whatever it takes to make a place for herself in the exclusive Beverly Hills salon. Even if that means swee...

---

The Trophy Wives Club

BECAUSE SOMETIMES PRINCE CHARMING ISN'T... Haley's role as an L.A. princess is canceled when her producer husband finds someone younger for the part. Haley Cutler is the consummate trophy wife. Perhaps was is the more accurate term. Haley marri...

---

Back to Life

Lindsay took to marriage like a starlet to stilettos, but her husband had a deeper love for his business. Left alone after his death, Lindsay must find out who she is when there isn't a party to plan or another person's life to be organized. Can she ...

---

Perfectly Dateless

Daisy Crispin has 242 days to find the right date for the prom. There's only one problem--her parents won't let her date or even talk to a guy on the phone. Oh, and she's totally invisible at school, has to wear lame homemade clothes, and has no soci...

---

A Billion Reasons Why

There are a billion reasons Kate should marry her current boyfriend. Will she trade them all to be madly in love? Katie McKenna leads a perfect life. Or so she thinks. She has a fulfilling job, a cute apartment, and a wedding to plan with her soon-...

---

Perfectly Invisible

It's Daisy Crispin's final trimester of high school, and she plans to make it count. Her long-awaited freedom is mere months away, and her big plans for college loom in the future. Everything is under control. Or is it? Her boyfriend is treating her ...

---

Julia - Small Town, Big Dreams

When a group of friends devise a plan to turn Smitten, Vermont, into the country's premier romantic getaway, Julia finds her own true love along the way.With the local lumber mill closing, residents wonder if their town can stay afloat. T...

---

Perfectly Ridiculous

Daisy Crispin is at a crossroads. In one direction lies the promised land--life at college, away from her embarrassing and overprotective parents. In the other direction is reality--her strapped bank account, an ailing father, and family priorities. ...

---

The Scent of Rain

Could it be that the life Daphne's always wanted is right under her nose? Daphne Sweeten left Paris -- and a job she loved -- to marry the man of her dreams in the U.S. But when he stands her up on their wedding day, she's left reeling and sensele...

---

Swimming to the Surface

She was tired of life…He was tired of death…Can one miracle restore them both?Kelsey Mitchell's dreams of happily ever after were washed away when her emotionally abusive husband succumbed to the pride of his religious illusions and abandoned h...

---

---

Make Me a Match

Summer, fall, winter, spring -- Smitten, Vermont, is the place for love . . . and mystery! There's a secret in Grandma Rose's attic -- a forgotten set of dog tags belonging to her first love. But David Hutchins was killed in action and never r...

---

Shelved Under Romance

The century-old Gentlewoman's Guide to Love and Courtship is no ordinary book club choice. But for the little book club in Smitten, Vermont, it might be their best pick yet! The thick, leathery tome Heather pulled out of the dusty cardboard box ...

---

What a Girl Needs

Ashley Wilkes Stockingdale Novak, patent attorney extraordinaire, has found the love of her of her life inDr. Kevin Novak. The problem is, she's lost everything else -- her job, her friends and maybe just a little of her excitable, headstrong spiri...

---

The Theory of Happily Ever After

According to Dr. Maggie Maguire, happiness is serious science, as serious as Maggie takes herself. But science can't always account for life's anomalies--for instance, why her fiance dumped her for a silk-scarf acrobat and how the breakup sent Maggie...

---

The View from Above

Brinn Wentworth's life has been shattered.A broken ankle has stolen ballet from her. Her beloved grandfather was taken too early in mysterious circumstances...while the conditions of his will have forced her back to San Francisco and the elitist life...

---

---

Room at the Top

Sophia Campelli likes the structure of her predictable life in a rundown Victorian house in San Francisco's North Beach. She's always told herself that her estranged father can keep his wealth and his legitimate daughters. Surrounded by her noisy but...

---
Award-Winning Books by Kristin Billerbeck
What a Girl Wants
2004 Carol Award -- Contemporary
With This Ring, I'm Confused
2006 Carol Award -- Lits
Frequently Asked Questions (FAQ)
Kristin Billerbeck has published 36 books.
Kristin Billerbeck does not have a new book coming out soon. The latest book, The View from Above, was published in July 2022.
The first book by Kristin Billerbeck, Strong As the Redwood, was published in January 1997.
Yes. Kristin Billerbeck has 4 series.