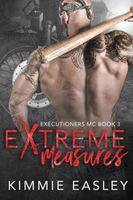 Newest Release
Bibliography:

21 Books - 4 Series

First Book:

July 2013

Latest Book:

May 2019

Rating:
Full Series List in Order
1 - X Marks the Spot (Apr-2016)
2 - Exacting Revenge (Nov-2017)
1 - Gutter Princess (Jun-2016)
2 - Bourbon Street Royalty (Jul-2016)
3 - Queen of NOLA (Jun-2018)
1 - Verse (Mar-2017)
2 - Refrain (Mar-2017)
3 - Bridge (Mar-2017)
4 - Outro (Mar-2017)
1 - Tasting Texas (Jun-2014)
2 - Tasting New York (Aug-2014)
3 - Tasting Nashville (Sep-2014)
4 - Tasting Los Angeles (Nov-2014)
Book List in Order:
21

titles
Souls Set Free

Emma had a life that most people would happily trade for: a beautiful home on the beach, a loving husband, two wonderful daughters. But she went to bed most nights hoping to not wake up in the morning. Pills and alcohol were the only ways Emma could ...

---

Tinsel, Tidings, and Temptations

/ Contemporary Romance

Naomi Compton has spent her entire life making everyone else happy, only to drive her husband into the arms of his busty, blond assistant, finding herself alone and divorced.Now it's time for her second chance. Needing to get out of town for the holi...

---

---

Tasting New York

*** STANDALONE in the Tasting Series.Hope Fairbanks is ready to cut the purse strings. She longs for the day that her affluent family will quit trying to buy off her dream of traveling the world as an art broker. When she lands an internship at an el...

---

Tasting Nashville

*STANDALONE in the Tasting Series. When Joselyn Tillman finds herself alone, she decides to throw caution to the wind and shoot for the stars. After packing up everything she owns, Joselyn wrangles herself a job at The Bone Picker, which just happens...

---

Tasting Los Angeles

*STANDALONE in the Tasting Series* A woman struggling to stand on her own two feet. A man who refuses to let her stand alone. Will she manage to look beyond his muscular surface, or miss finding her soul mate altogether? After years of living by her ...

---

---

X Marks the Spot

Jolene Miller barely escaped the dark underworld of being the president's daughter of a notorious motorcycle club. After having her heart broken by Ronin, the MC's Sargent at Arms, she tried to navigate a normal life as an up and coming criminal ...

---

Whiskey Bent

/ Contemporary Romance

'Fate can kiss my big, country ass' is the only thought that music sensation, Joselyn Tillman, can string together as she kicks the cold, hospital bed. Country music heartthrob, Dean Covington, watches the love of his life go from the vibrant, health...

---

---

Gutter Princess

Baby Jade is a New Orleans stripper who struggles with a slimy boss, coked out dancers, and an addiction to the club's drug dealer, Slade. Her mother resides in a mental institution and she's never known her father, leaving Baby with zero options. ...

---

Bourbon Street Royalty

Baby Jade has only ever known heartache and loss. When fate steps in, Baby finds a glimmer of hope with the love of her life, Lucky Gauthier, only to have it snuffed out once again. Now, alone in New Orleans, she's back to living the life she fough...

---

Whiskey Wedding

/ Contemporary Romance

Joselyn and Dean have experienced loss, fame, heartache, and cancer. Now, as life settles around them, will they be able to truly experience one another - or will it be last call? *Tasting Nashville*Whiskey Bent*Whiskey Wedding...

---

Bridge

/ General Fiction

Sammie and Trace are back as Nervein is finally blowing up the music scene. The two make strides as the new duo on and off stage, fighting off the unwelcome influences of Ginger and Charles. Will Sammie stand by Trace as he struggles to overcome his ...

---

Outro

/ Contemporary Romance

Sammie can't open a magazine or watch TV without seeing her ex, Trace from the band, Nervein. His face is sullen and dull. His voice is crappy. It's difficult, but she finally faces the music, he chose his addiction over her. She struggles to mov...

---

Refrain

/ Contemporary Romance

Sammie's been burned one too many times, but listens to her heart and gives Trace Connor a second chance. The two heat up the music scene as well the bed. Life is good. That is until Trace's band, Nervein, shows back up in Portland with his ex, G...

---

Verse

/ General Fiction

When Sammie Harrington runs into Trace Conner, the lead singer of Nervein, her world is flipped upside down. Especially when his band decides they're tired of him and leave him behind to work the bar, right alongside Sammie. The two find out they c...

---

Exacting Revenge

/ Romantic Suspense

Ronin grows hungrier. Only two things can feed his appetite. Jolene and power. With a rogue soldier and an enemy club fast on their wheels, the Executioners are left with little option to keep their family whole. Now, away from home territory, Ronin ...

---

---

Queen of NOLA

Don't go shining that crown up just yet… Everything in New Orleans is fleeting. NOLA is known for quick flashes of gold and silver. Riches that vanish into the loud, gaudy streets. Jewels during the day lead to cardboard box shelters at night, an...

---

---

Extreme Measures

Family doesn't always mean blood when you're the President of the Executioners MC. And the past doesn't always stay buried when you're the President's old lady. Jolene replaces her leather cut for courtroom heels, and Ronin comes face to face with th...

---

---
Frequently Asked Questions (FAQ)
Kimmie Easley has published 21 books.
Kimmie Easley does not have a new book coming out soon. The latest book, Extreme Measures, was published in May 2019.
The first book by Kimmie Easley, Souls Set Free, was published in July 2013.
Yes. Kimmie Easley has 4 series.