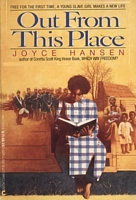 Newest Release
Bibliography:

15 Books - 3 Series

First Book:

August 1980

Latest Book:

September 2020

Rating:
Full Series List in Order
The Gift-Giver (Aug-1980)
One True Friend (Nov-2005)
Yellow Bird and Me (Nov-2005)
Home Is With Our Family (Dec-2010)
Which Way Freedom? (Jan-1992)
Out From This Place (Mar-2013)
Multi-Author Series List
I Thought My Soul Would Rise and Fly: The Diary of Patsy, a Freed Girl, Mars Bluff, South Carolina, 1865
(Oct-1997)
Book List in Order:
15

titles
---

Which Way Freedom?

Obi had never forgotten the sounds of his mother's screams on the day he was sold away from her. Making plans to run away to find her was a secret game he played with friend Buka, an old African who lived at the edge of the farm.

When the Civil War...

---

The Captive

In a novel based on a true story of an African-born slave in the early nineteenth century, Kofi Kwame Paul's extraordinary life extends from his native village, to a New England town, and back to Africa....

---

---

One True Friend

Amir has finally landed in a good place. His new foster parents, the Smiths, are loving and kind, and he has been reunited with his youngest brother, whom the Smiths have raised since babyhood. Amir knows he should be happy, but he is uncomfortable a...

---

Yellow Bird and Me

In a sequel to THE GIFT-GIVER, Doris reluctantly starts helping Yellow Bird, the class clown, with his reading problem. To her surprise, Doris finds that in caring for and helping Bird, she develops a new friend....

---

---

Home Is With Our Family

MARIA PETERS is looking forward to turning thirteen. She imagines enjoying new adult prestige and responsibility, such as attending abolitionist meetings and listening to inspiring speakers like Sojourner Truth. She doesn't bank on all the unexpected...

---

The Heart Calls Home

Living in the past . . . When Obi left South Carolina, he was a runaway slave. Five years later, in 1866, he has returned as a freed man and a Union Army officer, determined to find the only family he has ever known: his beloved Easter and Jason,...

---

---

Out From This Place

After their daring run for freedom, Obi and Easter were separated in the confusion of the Civil War. But now that the war is over and the slaves are free, Easter sets out to find her old friend and take control of her life, in the powerful sequel to ...

---

---

---

---

---

---
Frequently Asked Questions (FAQ)
Joyce Hansen has published 15 books.
Joyce Hansen does not have a new book coming out soon. The latest book, Black Pioneers #3, was published in September 2020.
The first book by Joyce Hansen, The Gift-Giver, was published in August 1980.
Yes. Joyce Hansen has 3 series.