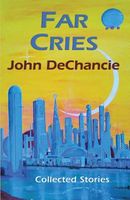 Newest Release
Bibliography:

25 Books - 1 Series

First Book:

December 1983

Latest Book:

July 2015

Rating:
Full Series List in Order
1 - Castle Perilous (Mar-1988)
2 - Castle for Rent (Jun-1990)
3 - Castle Kidnapped (Jun-1991)
4 - Castle War! (Nov-1990)
5 - Castle Murders (May-1991)
6 - Castle Dreams (Apr-1992)
7 - Castle Spellbound (Nov-1992)
8 - Bride of the Castle (Dec-1994)
9 - The Pirates of Perilous (May-2015)
Multi-Author Series List
Talons
(Feb-2002)
Book List in Order:
25

titles
Starrigger

Independent space trucker Jake McGraw, accompanied by his father Sam, who inhabits the body of truck itself, his "starrig," picks up a beautiful hitchhiker, Darla, and a trailer-load of trouble. One of the best of the indies, Jake knows a few tricks ...

---

Paradox Alley

The conclusion to the classic Skyway series by the award-winning author of Castle Perilous.

Jake McGraw, independent space trucker, has been shanghaied. He and his crew, fresh off their adventures in Starrigger and R...

---

Castle Perilous

YESTERDAY HE WAS AN UNEMPLOYED PHILOSOPHY MAJOR. TODAY HE LIVES IN A CASTLE... ...that's worlds away from home. His best buddy looks like seven feet of walking shag carpet, and the girl in his life's from California. In Castle Perilous, everyone has...

---

Castle for Rent

When the king of a magical castle ventures into the realm of the dead, creatures of all kinds vie for the throne in the sequel to Castle Perilous. Who will claim the throne now that Lord Incarnadine, King of the Realms Perilous, is dead? Under a mys...

---

Castle War!

A year after Castle Perilous' battle with the Hosts of Hell, an evil mirror-version of the Castle materializes, complete with a hostile army of alter egos drawn from the computerized cosmos' 144,000 inverted worlds...

---

Red Limit Freeway

Space trucker Jake McGraw hits the road on a perilous race through the universe as the Skyway story continues. Jake McGraw is a man on the run from half the universe. After stumbling upon what seems to be the fabled roadmap to the stars, Jake must ou...

---

Castle Murders

At Castle Perilous, a magical party ends in murder and the hunt begins for whodunit in this "fast-moving and funny" fantasy novel (Barbara Paul, author of Kill Fee). Partying to death? A parlous party at the Castle Perilous comes to a dea...

---

Castle Kidnapped

When the magical Castle Perilous goes haywire, guests find themselves venturing into bizarre other worlds that could bring the castle crumbling down. Castle Perilous is a magic castle full of mystery and adventure, but sometimes even magic castles ca...

---

Castle Dreams

Everyone is in line to the throne of Castle Perilous in the series that's "thought-provoking . . . crazy . . . weird . . . [and] unexpected" (TV Tropes). Who will claim the throne now that Lord Incarnad...

---

---

Castle Spellbound

When a malfunction in the magical defense system of Lord Incarnadine's Castle Perilous strikes during the lord's party, gladiators, thieves, painted ladies, and hairy beasts find themselves spinning through space. Original....

---

The Kruton Interface

Laughs abound when a planet of (literally) slimy lawyers prosecutes an unemployed space captain—from the bestselling author of the Castle Perilous series. Captain David Wanker thought his career had hit rock bottom. Then he was assigned to the...

---

---

Masters of Spacetime

Dr. Demopoulos and his ragtag crew of time and space travelers face a terrifying new challenge that threatens the entire universe after they crashland their spaceship on a giant trash planet. Original....

---

Bride of the Castle

Preparing for his marriage to Linda, groom Gene dreads facing his wedding guests and swears he would rather face a horde of barbarians until an unexpected shift across a portal into a bizarre world makes his haphazard wish come true. Original....

---

From Prussia with Love: A Castle Falkenstein Novel

A swashbuckling romp through the 19th century court of Mad King Ludwig, in an alternate history where dragons, elves, and dwarves share the stage with Sherlock Holmes, Fu-Man Chu, and Doc Holiday, among others. From the author of MagicNet and Living ...

---

Living With Aliens

Thirteen-year-old Drew could not be happier with his alien friends, Zorg and Flez, who help raise his IQ, find him a girl-friend, and travel to Mars, until the ornery Blog comes to arrest them for treason. Original....

---

---

Castle Fantastic

Sixteen short stories that take place within legendary castles include the writings of such popular authors as Roger Zelazny, Charles de Lint, Jane Yolen, David Bischoff, and Nancy Springer. Original....

---

Innerverse

Twenty years after the eastern third of the United States is mysteriously cut off and transformed into a police state of passive humans ruled by a ominous technology, agent Frank Sutter becomes the region's only hope. Original....

---

---

Other States of Being

These tales explore strange and alien modes of existence led by a diverse universe of beings: a compulsive gambler who wins a fortune and loses his world; a clone of Hitler who plots the retaking of the Falklands; the man who is jailed for his profes...

---

Talons

Her name is Sara Pezzini. A New York City homicide detective with a deadly secret: A few years ago, she came into the possession of the Witchblade, a mystic weapon of unknown origin that has existed for centuries. Grateful to have first used it when ...

---

The Little Gray Book of Alien Stories

Continuing the first series of Little Books from Borderlands Press is A Little Gray Book of Alien Stories. This mini-collection of short fiction is by science fiction writer John DeChancie, the creator of the popular Castle Perilous series.Stories i...

---

---

The Pirates of Perilous

The long-awaited 9th book in the beloved CASTLE PERILOUS fantasy series. Castle Perilous is a dangerous place to live. But some of its Guests are danger addicts. It's been years since Gene Ferraro, champion swordsman, has had a real adventure. He fin...

---

---
Frequently Asked Questions (FAQ)
John DeChancie has published 25 books.
John DeChancie does not have a new book coming out soon. The latest book, Far Cries, was published in July 2015.
The first book by John DeChancie, Starrigger, was published in December 1983.
Yes. John DeChancie has 1 series.