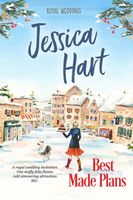 Newest Release
About the Author
Jessica Hart was born in Ghana, and grew up around Africa, she has suffered from itchy feet ever since. She has traveled by Tanganyika, South Africa, Papua New Guinea, Oman, Australian Outback, Kathmandu, India, Pakistan, Afghanistan, Iran, Turkey, Cameroon, Algeria, USA, Egypt, Kenya, France, Belize, Turkey, Sri Lanka, Spain, Italy, Greece… many of these countries have featured as settings in her books in one way or another. She obtained a degree in French from the University of Edinburgh, Scotland, where her mother continues living.

After some years spent working and traveling around the world, she stumbled into writing as a way of funding her Ph.D. in medieval history, obtained in 2004, and she is now a full-time author based in York, England dividing her time between Yorkshire and Wiltshire, where her partner, John, lives. The more she writes, the more interested she is in how and why romance works, and in spite of much grumbling about the writing process, suspects she is now hooked! Jessica has written more than 50 books and is winner of the two most prestigious awards in romance writing, a RITA® award for the best traditional romance of 2005, and the coveted Romance Prize, awarded by the U.K.'s Romantic Novelists' Association in 2006, an award for which she was also short-listed in 2007 and 2009.
Full Series List in Order
1 - Outback Boss, City Bride (Sep-2007)
2 - Appointment At The Altar (Nov-2007)
1 - Fiance Wanted Fast! (Jul-2003)
2 - The Blind-Date Proposal (Aug-2003)
3 - A Whirlwind Engagement (Sep-2003)
1 - Outback Bride (Jul-1999)
2 - Outback Husband (Feb-2000)
3 - Baby at Bushman's Creek (Jan-2001)
4 - Wedding at Waverley Creek (Mar-2001)
5 - A Bride for Barra Creek (May-2001)
1 - Ordinary Girl in a Tiara (Jun-2011)
2 - The Secret Princess (Aug-2011)
Multi-Author Series List
The Wedding Challenge
(Feb-2003)
21 -
Inherited: Twins!
(May-2002)
25 -
Juggling Briefcase & Baby
(Oct-2010)
3 -
Birthday Bride
(Jul-1998)
Under the Boss's Mistletoe
(Nov-2009)
1 -
Honeymoon with the Boss
(Jun-2009)
1 -
Oh-So-Sensible Secretary
(Mar-2010)
4 -
The Right Kind of Man
(Apr-1996)
2 -
Cinderella's Wedding Wish
(Mar-2009)
Temporary Engagement
(Mar-1999)
30 -
Contracted: Corporate Wife
(Sep-2005)
33 -
Business Arrangement Bride
(Oct-2006)
Her Boss's Baby Plan
(May-2004)
2 -
The Baronet's Wedding Engagement // Best Made Plans
(Oct-2017)
Legally Binding
(Oct-1995)
The Honeymoon Prize
(Aug-2002)
Marriage Reunited
(Apr-2006)
Working Girl
(Oct-1996)
Book List in Order:
71

titles
---

A Sweeter Prejudice

Abby instantly disliked Nick And Nick Carleton found it amusing! Ever since he'd roared into the quiet country village of Stynch Magna, he'd been making waves in Abby's pool. Abby knew from the start that she couldn't possibly g...

---

The Trouble With Love

"You're the distracting type," he said Coming from any other man it would have been a compliment.  Poppy was perfectly aware, however, that Dr. Keir Traherne definitely wasn't flirting with her.  Keir made it clear he wanted no distra...

---

Woman at Willagong Creek

Born and bred in the outback! A hard man, a typical outback man--that was Guy Richardson. And he had no intention of letting David, his cousin's orphaned son, be uprooted and dragged off to some strange country. Olivia Bridewell might have been Da...

---

No Mistaking Love

Hard to forget Impossible to work for And hell to love It had been ten years, but Kate would have known him anywhere. Luke Hardman. The first man who had ever kissed her. Luke didn't remember Kate, of course, which was just as well, or h...

---

Poseidon's Daughter

Was he a twentieth-century pirate? It had been a dream come true--until Callie discovers that the villa she's supposed to house sit on the tiny Greek island of Pikos is already occupied. Not that Jack Kingsley minds sharing the place.... It...

---

The Beckoning Flame

"I didn't realize how far you'd go for a story." Strachan McLeod's words stung. After all, Gisella was only doing her job. A journalist, her assignment was to spend a night in the supposedly haunted Candle Tower of Kilnacroish Castle to see if a g...

---

A Sensible Wife

Was it only a business arrangement? Deborah had lost her money and her passport and she hadn't eaten in twenty-four hours. But should she accept the help of a stranger, especially one who exuded such total confidence in himself? Gil Hamilto...

---

Oasis of the Heart

Spoilt little rich girl! Max Falconer didn't have a very high opinion of Cairo. In fact, she was just the kind of woman that he wanted to avoid, Glamorous, beautiful, immaculately dressed... He couldn't think of anything worse! Cairo K...

---

Defiant Love

Simply irresistible! Gussie was determined to challenge Hunter Scott's plans for a leisure complex. It was time that developers like him learned that they couldn't just ride roughshod over the countryside! Hunter, however, took her protests ...

---

---

---

Legally Binding

If these terms are agreeable, would you please confirm your acceptance of the contract? Jane was a sensible girl--everyone said so. Ten years ago she'd been far too sensible to run away with the local rebel, Lyall Harding. Now Lyall was bac...

---

---

The Right Kind of Man

A working relationship? Lorimer wanted an efficient, reliable PA, preferably one who could type! Skye Henderson didn't seem to fit any of these criteria, but he didn't have any other options. Skye had run away from man trouble in one town only ...

---

Love's Labyrinth

"I haven't seen anything of the nice girl you claim to be. How are you going to persuade me?" Lefteris Markakis despised English girls, and now Courtney had stepped into his vendetta by intending to entertain tourists at the Villa Athina ...

---

Working Girl

Saturday's child works hard for a living! Just when executive Phyllida Grant thought she'd hit rock bottom she met Jake Tregowan.... Having lost her job and her fiance all in one day, it looked as if Jake's offer was her only option. Jake knew...

---

Moonshadow Man

Would Carey get away with it? Carey had agreed to impersonate her cousin Camilla Cavendish. Would Dr. Drew Tarrant discover the deception? it would certainly be difficult to fool him, because they were to spend the next fortnight alone together on...

---

Wife-To-Be

The bridesmaid and the best man When Serena met Leo Kerslake at a wedding, sparks flew! Wearing a frilly bridesmaid's dress was bad enough, but coping with Leo, the devastatingly attractive best man, was sufficient to make her lose her cool. A...

---

Part-Time Wife

I need a wife! If only Homer hadn't broken Ran Masterson's antique vase...but the devoted mongrel wasn't to know that his mistress couldn't afford to pay for the damage, except by offering her services to the new owner of Kendrick Hall. This would...

---

Partner For Love

She was here to stay--whether he like it or not! Darcy discovered that the remote outback ranch she'd inherited came complete with a hostile partner--Cooper Anderson. It seemed he'd go to any lengths to get back his family home--even suffe...

---

---

Bride for Hire

For better and for worse! Seth Carrington needed a girlfriend and Daisy needed a ticket to the Caribbean...it seemed like a fair exchange! But having survived Seth's extremely thorough interviewing technique--which included kissing--Daisy bega...

---

Birthday Bride

Thirty--the age for marriage Sexy, glamorous...Claudia tried to think of three good things about being thirty as she sat on the plane on her way to celebrate her birthday. Well, her fellow passenger, David Cool-as-a-Cucumber Stirling, certainly wa...

---

Temporary Engagement

Nine-to-five fiancee Bubbly Flora Mason had had plans to temp and travel--her plans had not included being engaged to her sexy boss, Matt Davenport! But Flora had needed to save face with an ex-boyfriend and Matt had needed a temporary fiancee. So...

---

Outback Bride

"Are you going to marry me -- yes or no?" Matthew Standish--or Mal to his friends--arrived back into Copper's life with a marriage proposal that sounded just about as romantic as sheepshearing! But then, the situation required practica...

---

Kissing Santa

Amanda had a mission: to convince Blair McAllister to sell his home to her company. In order to get close to him she took the job of live-in nanny to his boisterous three children. But her plan backfired. Although Blair was as grouchy as a bear with ...

---

Married for a Month

A wife for life? Michael Brooke wanted to hate rich society girl Rosalind for rejecting his marriage proposal five years ago, so he was furious to find himself rescuing her from danger by disguising her, and her three-year-old brother, as his wife ...

---

Outback Husband

Juliet Laing couldn't bring up twin toddlers rand run her beloved cattle station single-handed. She needed a manager -- and quick. Cue Cal Jamieson. With cocky self-assurance, the irritating Australian claimed the post as his, and promptly moved into...

---

The Convenient Fiancee

Two-week fiancee! Family 'friends' Polly Armstrong and Simon Taverner had never seen eye to eye! She'd grown up thinking he was a stuffed shirt, and he'd always disapproved of her reckless ways. When Simon tried to rescue her from a...

---

Baby at Bushman's Creek

For the baby's sake? Gray Henderson doesn't want some city-bred Englishwoman staying on his cattle station -- especially with a baby! But he can hardly refuse them shelter when Clare Marshall claims the little girl is his brother's child.... Cl...

---

Wedding at Waverley Creek

A WEDDING FOR THE BABY's SAKE... Jack Henderson was impossibly handsome, dangerously charming and way out of Ellie Walker's league! Women like her beautiful, outgoing sister were more the type to capture his attention... but now Jack had noticed E...

---

---

A Bride for Barra Creek

Self-made millionaire Tye Gibson has come home to the Outback -- to find himself a bride! Lizzy Walker is delighted when Tye offers her a job. Working for his company could be just what her career -- and her bank account -- need. Only the job is ...

---

Assignment: Baby

Gabriel Stearne might be a brilliant businessman -- but there's nothing on his illustrious resume about children! So the unexpected delivery to the office of a baby leaves him only one place to turn -- his personal assistant, Tess Gordon.... Gabri...

---

Inherited: Twins!

Strong, silent Outback rancher Nat Masterman doesn't know the first thing about babies. Yet he's just become the guardian of eight-month-old twins -- and he has to go to London to collect them! Prue wishes she'd never told her English family she w...

---

The Honeymoon Prize

Freya is determined to sort out her life before she hits thirty -- if only to prove to her best friend, Max Thornton, that she's perfectly capable of meeting a suitable man! Freya has the ideal candidate in mind: gorgeous hotshot reporter Dan Fre...

---

The Wedding Challenge

City girl Bea is stranded in the Outback -- without a shoe shop or department store in sight! At least she's stuck there with a gorgeous man who seems ready for a challenge...so to make her stay a little more bearable, Bea sets him three of them!...

---

Fiance Wanted Fast!

Phoebe is facing her worst nightmare: an invitation to her ex-fiance's wedding! About to put on a brave face and pretend her life is just perfect, she's rescued by her best friend's brilliant idea: Phoebe can hire their gorgeous new flatm...

---

The Blind-Date Proposal

Kate Savage has landed herself with the boss from hell -- he may be gorgeous in a brooding sort of way, but he's on her case 24/7! Kate's friends try cheering her up by arranging for her to go on a blind date with an eligible widower. Only, when Kate...

---

---

Her Boss's Baby Plan

Stand-in father... Single mom Martha Shaw has a gorgeous new boss -- Lewis Mansfield. She's nanny to his niece and is about to spend six months on a tropical island with him and the babies! Martha quickly falls deeply in love with her sexy boss. B...

---

Christmas Eve Marriage

The only thing Thea's looking for on her vacation on the Greek island of Crete is a little R and R -- she certainly doesn't expect to find herself roped in to being Rhys Kingsford's pretend fiancee! It definitely isn't relaxing being ...

---

---

Billionaire's Blind Date

Single mom Nell is struggling to meet new men, but her friends have lined up a blind date with the man Nell should have married all those years ago. Now, he's got one day to persuade her to be his! ...

---

Here Comes the Bride: The Billionaire's Blind Date

Single mom Nell is struggling to meet new men, so her friends have decided to give her a helping hand. They've lined up a blind date for Nell and it is none other than the man she should have married all those years ago. Now, he's got one day to pers...

---

Contracted: Corporate Wife

Patrick Farr is perfectly happy with his bachelor life, wining and dining beautiful young women. If only he could make them understand that he will never marry for love.... Louisa Dennison is the perfect PA. She's also a single mom, bringing up tw...

---

Mistletoe Marriage

A CHRISTMAS WISH... For Sophie Beckwith, Christmas this year means having to face the ex who dumped her and then married her sister! Only one person can help -- her best friend Bram. A YULETIDE PROPOSAL... Bram Gill used to be engaged to Sophie...

---

Marriage Reunited

Four years ago Georgia Henderson had a fantastic job and a loving husband. But his demanding career often kept him away from home. Now, with her marriage behind her, Georgia's life has changed completely. She relishes her new role as mother to her ad...

---

Business Arrangement Bride

Tyler Watts is rich, gorgeous and at the top of his game--except someone just moved the goalposts! Now Tyler realizes he is sorely lacking the one status symbol that everybody seems to have...the perfect wife and family. Tyler needs help, so he hi...

---

Her Ready-Made Family

From city hotshot...to country wife As a successful businesswoman, she has millions in the bank, but Morgan Steele has decided her life is empty.... So she's giving up her career and moving to the country! When handsome Alistair Brown meets his...

---

Barefoot Bride

High heels and high earnings--or barefoot and beloved? Alice Gunning thinks she has a perfect life. She loves her job and her swanky city apartment, and she's about to get engaged. Until one day her boyfriend leaves her, she's fired--and her lotte...

---

Outback Boss, City Bride

Meredith West Likes: coffee shops, nice shoes, London Dislikes: spiders, the Outback, Hal Granger! Hal Granger Dislikes: cool, unflappable, distracting city girls Likes: one city girl in particular... Meredith's been forced to take a job on...

---

Appointment At The Altar

Three steps to the altar! Monday--Buy stylish suit Bubbly Lucy West has always thought she can handle anything. That's before she meets charismatic and utterly irresistible tycoon Guy Dangerfield, who challenges her to find a "real" job for a cha...

---

---

For His Baby's Sake

Drew Pemberton is footloose and fancy-free; how on earth will he cope with a tiny baby? In desperation, he turns to Rose, the woman he loved and lost. She's now a busy single mother, but she can't stop herself from softening when she sees sexy, haras...

---

Promoted: To Wife And Mother

Perdita James is thrilled with her new job, until a personality quiz reveals she's an attention-seeking peacock! Her boss, Edward Merrick, is a panther--forceful, decisive and more than a little ruthless. Perdita's head tells her to ignore her att...

---

Newlyweds Of Convenience

For Better? Corporate wife Mallory McIver has promised her new husband a businesslike marriage, with no messy emotions involved. For Worse? Then Torr announces he's moving to the Highlands of Scotland to restore the derelict castle he's inherite...

---

Last-Minute Proposal

Single city girl... Cake-baker Tilly is taking part in a charity job-swap, and when she's paired with ex-military maverick Campbell Sanderson, they get off to a rather sticky start.... Rugged billionaire tycoon... Campbell is all hard angles...

---

Cinderella's Wedding Wish

WHEN A PLAIN JANE... Efficient, witty and prim Miranda Fairchild has always blended into the background -- her two beautiful sisters have seen to that! But that hasn't stopped Miranda secretly dreaming of finding her fairy-tale prince.... ...IS HI...

---

Honeymoon with the Boss

Top tycoon Tom Maddison is used to calling the shots--until his convenient marriage falls through. But rather than waste his honeymoon, he'll take his boardroom to the beach and bring his oh-so-sensible secretary, Imogen, on a tropical business trip!...

---

Under the Boss's Mistletoe

Contracted: One kiss with the tycoon In high school, Jake Trevelyan was Cassie Grey's dream rebel. He surfed, rode a motorbike -- now he's her new boss! It's events planner Cassie's job to transform Jake's mansion into a snow-kissed wedding venue. ...

---

Oh-So-Sensible Secretary

You know when you meet the most gorgeous guy and get butterflies in your stomach? Well, that's what it felt like the first time I, Summer Curtis, laid eyes on my movie-star-gorgeous boss Phin Gibson. I was starstruck! I've got to get a grip! Phin ...

---

Juggling Briefcase & Baby

Lex Gibson is...nervous. The prospect of spending a weekend working with Romy, the only woman to ever touch his legendary guarded heart, has the lion of the corporate world...unsettled. The tension between free-spirited Romy and buttoned-up Lex si...

---

Ordinary Girl in a Tiara

Newly single Caro Cartwright has decided that when it comes to life (and men), ordinary is good. Until her best friend, Princess Lotty, begs her to stage a diversion by masquerading as Prince Philippe of Montluce's latest squeeze.... Playboy Phili...

---

The Secret Princess

Royal Exclusive: "Perfect" princess goes AWOL! Frustrated with the merry-go-round of political dinners and enforced good behavior, Lotty's determined to try a normal life on for size. However, she's completely unprepared for her se...

---

We'll Always Have Paris

I've done it! Thanks to my awesome powers of persuasion, elusive-but-dreamy TV star Simon Valentine is starring in our new romance documentary! It wasn't easy, though -- Simon thinks his status as prime-time financial guru turned celebrity...

---

Hitched!

Planning the most talked about wedding of the year is enough to make engineer Frith Taylor break out in a cold sweat. She's used to construction sites, not wedding fairs! But estate manager George Challoner's offer of help is one that's too good to r...

---

Mr. (Not Quite) Perfect

What do women really want? Journalist Allegra Fielding has a problem. She's pitched a story to her boss -- how to transform a not-so-perfect man into Prince Charming -- and now she has to deliver! But where is she going to find a man willing to t...

---

Confessions of a Bad Bridesmaid

She should never have agreed to be a bridesmaid! Bridesmaid Olivia Matthews has arrived at her best friend's glamorous society wedding -- and stepped into her worst nightmare! From her cleavage to her attitude, nothing about Livvie is welcome -- ...

---

An American Hero of Forbidden Love

Joshua Langdon is a part of the United States Coast Guard. He's home between missions but about to deploy again. He's kind, caring and loyal. He's also completely and happily single. The happenstance of danger throws Abigail Preston right in hi...

---

Industrialist Finds His Girl Friday

An industrialist makes the decision to pursue the call to a woman. One only available to him. He doesn't share. She makes a decision to save the most important person in her life, her dying mother. She is young, impoverished and driven to rescue th...

---

Wounded Heart

*ALSO CHECK OUT "An American Hero of Forbidden Love" by Jessica Hart.* Read about all of the Riley Rose and Jessica Hart books in the Uber Bookstore at www.UberBookstore.com. Once unmasked, can beauty love the beast…? Kayla Mistry's new home is n...

---

Rebecca's Awakening

All is fair in love and war... Twenty three year old Rebecca, feels left behind after she's dumped for her inexperience in reaching orgasm. She gets advice from a group of friends during a one-week get away. Rebecca begins by looking for some tende...

---

Finding You Beneath

Recovering her memories... Will release his driven desires. He had the perfect life. Then…KA-BOOM…everything was gone in one shocking moment that left him broken inside. He's the proven psychiatrist who helps the oh so many who need to loose a ...

---

The Baronet's Wedding Engagement // Best Made Plans

/ Contemporary Romance

Chef Flora Deare; royal wedding caterer! When Flora's childhood friend Hope asks her to design the menu for her upcoming royal wedding, Flora is quick to say yes. Hasebury Hall, the wedding venue may be dilapidated but it has all the kitchen space ...

---

---
Award-Winning Books by Jessica Hart
Christmas Eve Marriage
2005 Rita Award -- Traditional Romance
Contracted: Corporate Wife
2006 RoNA -- Rose
Mr. (Not Quite) Perfect
2014 All About Romance Reader Award -- Best Category Romance
Frequently Asked Questions (FAQ)
Jessica Hart has published 71 books.
Jessica Hart does not have a new book coming out soon. The latest book, The Baronet's Wedding Engagement // Best Made Plans, was published in October 2017.
The first book by Jessica Hart, A Sweeter Prejudice, was published in December 1991.
Yes. Jessica Hart has 4 series.