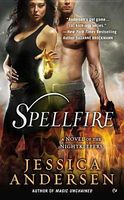 Newest Release
About the Author
Jessica S. Andersen was born in 1973, she has lived in New England all her life, growing up in Massachusetts, and today she lives in a smal farm in eastern Conneticut with her own personal hero, Brian, as well as the corgis, two cats and a handful of young horses, who she claims are investments but never seem to get sold.

She obtained a PhD in Genetics, but when she finally settles on a single career, she will have been many things: a doctor of molecular genetics, a patent agent, a freelance editor, a professional horse trainer and riding coach, a fiancée and the proud owner of a pair of corgis. But if you ask her who she is, Jessica will say, "I'm a writer. The rest is all background research."
Full Series List in Order
1 - Ricochet (Jan-2006)
2 - At Close Range (Apr-2006)
3 - Rapid Fire (Jul-2006)
4 - Manhunt In The Wild West (Oct-2008)
5 - Mountain Investigation (Jul-2009)
6 - Internal Affairs (Oct-2009)
7 - Bear Claw Conspiracy (May-2011)
8 - Bear Claw Bodyguard (Dec-2011)
9 - Bear Claw Lawman (Jul-2012)
1 - Dr. Bodyguard (Oct-2003)
2 - Secret Witness (Mar-2004)
3 - Intensive Care (Aug-2004)
4 - Body Search (Dec-2004)
5 - Covert M.D. (Mar-2005)
6 - The Sheriff's Daughter (Jun-2005)
1 - Dolphin Friendly (Feb-2003)
2 - Seal With a Kiss (Dec-2003)
1 - Night Keepers (Jun-2008)
2 - Dawn Keepers (Jan-2009)
3 - Sky Keepers (Aug-2009)
4 - Demon Keepers (Apr-2010)
5 - Blood Spells (Nov-2010)
5.1 - Crystal Skull (Feb-2011)
6 - Storm Kissed (Jun-2011)
7 - Magic Unchained (Apr-2012)
8 - Spellfire (Nov-2012)
Multi-Author Series List
Bullseye
(Sep-2005)
Classified Baby
(Aug-2007)
2 -
With The M.D....At The Altar?
(Jun-2008)
Snowed In With The Boss
(Mar-2009)
Meet Me At Midnight
(Sep-2007)
3 -
Lord of the Wolfyn
(Nov-2011)
3 -
Twin Targets
(May-2008)
Book List in Order:
40

titles
---

The Stable Affair

When Sarah Taylor returns to her aunt's horse farm, she sees it as a perfect place to recover from her fiancé's death and the loss of her beloved job at Boston General's Genetic Testing Unit following an allegation of carelessness in a young woman's...

---

Dolphin Friendly

When Cape Cod innkeeper Maddy Jamison takes in a group of marine biologists called Dolphin Friendly, she has no idea that they--and particularly their handsome leader Brody Davenport--will turn her life upside down. Ever since the deaths of her marin...

---

Dr. Bodyguard

PROTECTOR...LOVER She'd been a prodigy since birth, a woman for whom no puzzle was unsolvable. But when she was attacked in her very own research lab, brilliant, reserved Dr. Genie "Genius" Watson quickly discovered that this time she didn't have ...

---

Seal With a Kiss

For the past eight years, Smitty and Violet have formed the core of the marine mammal conservation group, Dolphin Friendly. The friction between them has been buffered by the presence of their boss and friend, Brody. But Brody's marriage removes him ...

---

Secret Witness

BETWEEN DANGER AND DESIRE Lab technician Stephanie Alberts was terrified. A crazed killer was threatening her. He'd been in her house, he'd taken her daughter. He wanted her to falsify important DNA evidence -- or else. Stephanie could comply with...

---

Intensive Care

HOT BODIES After another patient mysteriously turned up dead, Dr. Ripley Davis began desperately seeking answers. Until radiation safety officer Zachary Cage stormed into her office with an array of accusations and brimming with male sex appeal. R...

---

Body Search

THE PRODIGAL SON HAD RETURNED Dale Metcalf had spent fifteen years running from his past. Then a string of suspicious deaths linked to a fierce epidemic forced the outbreak specialist to return to his boyhood home on Lobster Island with Dr. Tansy ...

---

Covert M.D.

SHE COULD TRUST HIM WITH HER LIFE...BUT NOT WITH HER HEART Something sinister was taking place in the shadowy basement of Boston General Hospital -- and Dr. Nadia French was determined to stop it. A transplant specialist, Nia French was called in ...

---

The Sheriff's Daughter

CODE OF HONOR Dr. Logan Hart was just passing through Black Horse Beach, but when gunshots sent country veterinarian Samantha Blackwell ducking for cover beneath his rock-hard body, she instinctively knew that the macho medical investigator would ...

---

---

Bullseye

TOUGH. TENACIOUS, TRUE BLUE. Secret Service agent Isabella Gray thought those traits described bounty hunter Jacob Powell to a T. When the secretary of defense's family was ambushed on her watch, she knew she needed to recruit the sexy ex-Special ...

---

Ricochet

TIME WAS RUNNING OUT Bear Claw Creek's young girls were disappearing and forensics expert Alissa Wyatt was in way over her head. Now her only choice was to partner with Detective Tucker McDermott -- the very same man she'd sworn to keep her distance...

---

At Close Range

UNFINISHED BUSINESS A killer was loose in Colorado, and evidence specialist Cassie Dumont was determined to prove her expertise to the skeptical local cops. So the arrival of FBI agent Seth Varitek, a man she'd clashed with before, didn't sit well...

---

Rapid Fire

A KILLER SHE COULD HANDLE... With her badge and her reputation on the line, criminal psych specialist Maya Cooper vowed to catch the serial killer whose attacks plagued Bear Claw Creek. She had no choice -- she was his next target! BUT NOT THE R...

---

Dr. Protector

/ Contemporary Romance

---

Red Alert

PROTECTING HER BECAME HIS JOB...AND HIS OBSESSION Dr. Meg Corning detested the way Erik Falco stormed the halls of Boston General Hospital as if he owned the place. The fallen-cop-turned-ruthless-businessman was throwing his weight around in his bid...

---

Under the Microscope

HIS JOB WAS TO PROTECT THE CLIENT, NOT FALL IN LOVE WITH HER...AGAIN Medical expert Raine Montgomery never dreamed the drug she created would be responsible for so many deaths. Suspicions on high alert, Raine was convinced someone was out to destr...

---

Prescription: Makeover

FROM SASSY TO CLASSY, THIS GIRL HID HER TRUE COLORS FROM ALL BUT ONE MAN Ike Rombout had to be in control-of her job, her life and especially her men. And with her intimidating look, including short, dark hair and a preference for tight black clot...

---

Classified Baby

A ONE-NIGHT STAND LED TO A BABY ON THE WAY...AND A KILLER ON HER TRAIL. Mom-to-be Nicole Benedict rarely cut loose. So when a one- night stand led to an unplanned pregnancy, she went to track down Ethan Moore and share the happy news. Too bad a cr...

---

Meet Me At Midnight

TALK ABOUT AN EXPLOSIVE FIRST DATE Secret Service agent Ty Jones had only one lead left to the madman who'd plunged Boston into a blackout, ambushed his teammates and kidnapped the vice president. Gabriella Solaro -- the woman who'd hacked...

---

---

Doctor's Orders

CASE: beautiful new doctor with soft touch -- and a target on her back RX: sexy, seasoned doctor with attitude -- and her best protection Dr. Parker Radcliffe thought his days of making love to Mandy Sparks had ended long ago...until she walked ...

---

Twin Targets

HE WAS A TRAINED AGENT WITH ONE NOTORIOUS CRIMINAL ON HIS AGENDA. SHE WAS A MUCH-TOO-ATTRACTIVE DISTRACTION WITH A TARGET ON HER BACK. FBI agent John Sharpe was closing in on a criminal he'd made his life's mission to put away for life. So rescuin...

---

Night Keepers

The end of time looms, and Mayan demons have surfaced from the underworld to trigger an apocalypse. But as the final day approaches, the descendants of ancient warrior-priests prepare to fight back.... As a Miami narcotics detective, Leah Daniels ...

---

With The M.D....At The Altar?

WOULD THEY GET THEIR OWN TRIP DOWN THE AISLE OR WOULD DEATH DO THEM PART? It had been two years since she'd last come face-to-face with Luke Freeman--and the heartache small-town doctor Roxanne Peters vividly recalled. Bringing in the medical expe...

---

Manhunt In The Wild West

THERE WAS NO ESCAPING THE KILLERS ON THEIR TRAIL...OR THEIR FORBIDDEN ATTRACTION He said he hadn't wanted to take Chelsea Swan hostage. Jonah Fairfax claimed it was the only way he could keep her safe from the terrorist cell he'd infiltrated. Chel...

---

Dawn Keepers

The countdown to the end of days has begun. According to ancient prophecy, on December 21, 2012, Mayan demons from the underworld will trigger an apocalypse. Only the Nightkeepers, mortal descendants of a race of magic-wielding warrior-priests, can p...

---

Snowed In With The Boss

A BLIZZARD HAD LEFT HIM TRAPPED -- WITH A BEAUTIFUL WOMAN AND A SHADOWY KILLER CEO Griffin Vaughn knew Sophie LaRue was trouble the moment he agreed to hire her. Still, he hadn't become one of the wealthiest men in the world by being distracted ...

---

Mountain Investigation

FBI special agent Michael "Gray" Grayson had an agenda...and it didn't include protecting a beautiful loner in the wilds of Colorado who probably knew more than she was sharing. Still, the fear in Mariah Shore's amber eyes after he rescued her from t...

---

Sky Keepers

Ancient prophecy holds that 12/21/2012 will bring a global cataclysm. Mankind's only hope lies with the Nightkeepers, modern magic-wielding warriors who must find their destined mates and fulfill old legends to defeat the rise of terrible Mayan demon...

---

Internal Affairs

THE LAST TIME SHE SAW HIM WAS AT HIS FUNERAL... Until he turned up on her living-room floor with injuries he couldn't remember sustaining and no memory of where he'd been for the past few months. But Detective Romo Sampson's biggest problem is that ...

---

---

Demon Keepers

According to Mayan doomsday prophecy, 12/21/12 marks the end of the world in a global cataclysm that can only be prevented by the Nightkeepers, magical warriors enlisted to fight the rise of the underworld demons. To fulfill the final prophecy the Ni...

---

Blood Spells

Mayan lore and modern science warn that 12/21/2012 could bring a global cataclysm -- a threat that is far more real than we imagine. Dark forces stand poised to crush mankind beneath a vicious rule of terror and blood sacrifice. Our only hope rests w...

---

Crystal Skull

Four hot authors come together in this steamy collection to tell new stories about shadow creatures, intoxicating magic, and hunters who know a little something about a good slay. In JESSICA ANDERSEN's Crystal Skull, archaeologist Natalie Albright...

---

Bear Claw Conspiracy

SHE DIDN'T WANT HIS HELP, BUT SHE NEEDED IT -- AND THE 24/7 PROTECTION HE WAS OFFERING Forensic analyst Gigi Lynd had an agenda. And it didn't include facing off against cop-turned-ranger Matt Blackthorn. But she'd do anything to help investigate a ...

---

Storm Kissed

Dark forces stand poised to crush mankind beneath a vicious rule of terror and blood sacrifice. Our only hope rests with a group living in secret among us: modern magic wielders called the Nightkeepers. Dez is no angel. The former gangbanger spent y...

---

Lord of the Wolfyn

Once upon a time...the Blood Sorcerer vanquished the kingdom of Elden. To save their children, the queen scattered them to safety and the king filled them with vengeance. Only a magical timepiece connects the four royal heirs...and time is running ou...

---

Bear Claw Bodyguard

A BODYGUARD'S JOB WAS TO KEEP THE ENEMY AT BAY -- NOT TAKE HIS CLIENT TO BED... Hot on the trail of a ruthless underground drug ring, homicide detective Jack Williams won't let anything interfere with his hunt. Not the dead-end leads, not the danger...

---

Magic Unchained

Cara Liu is determined to unite the forces under her leadership but when Nightkeeper Sven enters the scene, Cara has trouble separating her duty to her people from her desire for her ex-lover. Their secret affair will not only jeopardize a tenuous al...

---

Bear Claw Lawman

SHE COULD REMEMBER ALL BUT FOUR MINUTES OF HER LIFE. HE PROMISED TO MAKE UP FOR LOST TIME. When DEA agent Nick Lang came to town, even the toughest cases got closed. But his latest had become way too personal. He'd thought CSI Jennifer Prynne was ...

---

Spellfire

Imprisoned and tortured by the demoness who tricked him into betraying the Nightkeepers and the woman he loves, Rabbit must endure excruciating pain to protect the diminished Skywatch army as the end-time approaches. Although an ancient prophecy says...

---

---

On the Hunt

New York Times bestselling author Gena Showalter, Shannon K. Butcher, Jessica Andersen, and Deidre Knight present a steamy collection of all-new novellas featuring sexy paranormal hunters. With shadowy creatures, intoxicating magic, vividly imagined ...

---
Frequently Asked Questions (FAQ)
Jessica Andersen has published 40 books.
Jessica Andersen does not have a new book coming out soon. The latest book, On the Hunt, was published in March 2021.
The first book by Jessica Andersen, The Stable Affair, was published in April 2002.
Yes. Jessica Andersen has 4 series.