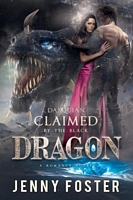 Newest Release
Bibliography:

6 Books - 1 Series

First Book:

August 2017

Latest Book:

August 2018

Rating:
Full Series List in Order
1 - The Captive (Aug-2017)
2 - The Prey (Jan-2018)
3 - The Human (Mar-2018)
4 - The Dragon (May-2018)
5 - The Beast (Jul-2018)
Book List in Order:
6

titles
---

The Prey

I will go off-mission. For her.I am a cyborg. Half-human, half-machine. My creator optimized me until I was exactly what he wanted. I have turned into an elite bounty hunter. My orders are simple. Anyone who endangers the certain survival of the huma...

---

The Human

My orders are simple. Bring the human female to my King. A routine job for me - Or so I thought.I am Talon Delkhari. I was the mightiest warlord of my people, until I dared to contradict my King. Instead of granting me an honorable death in the fight...

---

The Dragon

A merciless fighter with a lost past. A woman with the skill to awaken his memories. A kiss that might save the world.My name is Coran Burke.I'm unique among the fighters in the Black Squad. I'm more than human. I can fight longer than my comrade...

---

---

Dasquian - Claimed by the Black Dragon

A chosen dragon. A human female. An invincible creature that wants to possess her.Shor Dasquian is a man who has a fearless dragon's heart beating inside his chest. When he prepares to fight for the woman from Earth, he does not know what events he...

---
Frequently Asked Questions (FAQ)
Jenny Foster has published 6 books.
Jenny Foster does not have a new book coming out soon. The latest book, Dasquian - Claimed by the Black Dragon, was published in August 2018.
The first book by Jenny Foster, The Captive, was published in August 2017.
Yes. Jenny Foster has 1 series.