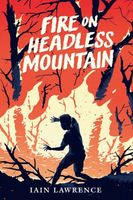 Newest Release
Bibliography:

17 Books - 2 Series

First Book:

May 1998

Latest Book:

August 2022

Rating:
Full Series List in Order
1 - The Convicts (Apr-2005)
2 - The Cannibals (Nov-2005)
3 - The Castaways (Nov-2007)
1 - The Wreckers (May-1998)
2 - The Smugglers (May-1999)
3 - The Buccaneers (Aug-2001)
Book List in Order:
17

titles
The Wreckers

here John Spencer's adventures first begin... There was once a village bred by evil. On the barren coast of Cornwall, England, lived a community who prayed for shipwrecks, a community who lured storm-tossed ships to crash upon the sharp rocks of t...

---

The Smugglers

"Steer clear of that ship," warns the mysterious gentleman who shares the coach to Dover with John Spencer and his father. "Death she'll bring you," says the gentleman. "It's the way of a ship that was christened with blood." This is an ominous in...

---

---

The Buccaneers

"There's pirates in the West Indies. Cannibals. They cook you alive," says Mr. Spencer to his son. These words will haunt seventeen-year-old John as he embarks on his first voyage to foreign lands. Carrying cargo destined for Jamaica, John and his cr...

---

Lord of the Nutcracker Men

Ten-year-old Johnny eagerly plays at war with the army of nutcracker soldiers his toymaker father whittles for him. He demolishes imaginary foes. But in 1914 Germany looms as the real enemy of Europe, and all too soon Johnny's father is swept up in...

---

The Lightkeeper's Daughter

Three years have passed since Squid McCrae last saw her parents and the remote island where she grew up. She returns now at seventeen, a young woman with a daughter in tow. The visit, she knows, will be rough. Lizzie Islandâ€"paradise to some, a stif...

---

B for Buster

Nicknamed after his hometown of Kakabeka, Canada, Kak dreams of flying with the Allied bombers in World War II. So at 16, underage and desperate to escape his abusive parents, he enlists in the Canadian Air Force. Soon he is trained as a wireless ope...

---

The Convicts

After seeing his father hauled off to debtor's prison, Tom Tin sets out to take revenge on Mr. Goodfellow, the man responsible for his family's misfortunes. But the fog-filled London streets are teeming with sinister characters. Tom encounters a ...

---

The Cannibals

As Tom Tin nears Australia, where he's to serve a lengthy sentence for a murder he didn't commit, he and his fellow convict, Midgely, plot their escape. No matter that the ship carrying them and the other juvenile criminals is captained by Tom's fath...

---

---

Gemini Summer

EACH MEMBER OF the River family pursues a dream. But when a tragedy befalls the Rivers, it brings a halt to everyone's dreams. Everyone but Danny. For he finally gets his dog. And not just any old dog, but a stray that he believes embodies the spir...

---

The Castaways

ADRIFT AT SEA, Tom Tin and his four convict companions are only too glad when they come upon a deserted ship. The boys clamber aboard, not knowing whether they've been saved or set on a course toward doom. But after rescuing two men stranded on a mel...

---

The Seance

SCOOTER KING UNDERSTANDS illusions. In the midst of the Roaring Twenties, he performs them behind the scenes at his mother's seances, giving the impression that Madam King communicates with the dead. Scooter also admires Harry Houdini and can hardly ...

---

The Giant-Slayer

"A girl's imagination transports polio-afflicted kids into a fantastic world." The spring of 1955 tests Laurie Valentine's gifts as a storyteller. After her friend Dickie contracts polio and finds himself confined to an iron lung, Laurie visits him ...

---

The Winter Pony

In the forests of Siberia, in the first years of the 20th century, a white pony runs free with his herd. But his life changes forever when he's captured by men. Years of hard work and cruelty wear him out. When he's chosen to be one of 20 ponies to a...

---

The Skeleton Tree

A modern-day adventure and classic in the making, in the vein of The Call of the Wild, Hatchet, and The Cay, by award-winning author Iain Lawrence. Less than forty-eight hours after twelve-year-old Chris sets off on a sailing trip down the Alaska...

---

Deadman's Castle

How would you feel if you and your family had to keep moving and changing names just to keep one step ahead of a man bent on revenge?

Ever since twelve-year-old Igor''s dad witnessed and reported a terrible crime, his family has been on the ru...

---

Fire on Headless Mountain

Separated from his siblings, 11-year-old Virgil must survive a dangerous forest fire using only his wits and the lessons his late mother taught him about the wilderness.Virgil is making his older siblings trek to a mountain lake on a trip unlike any ...

---
Award-Winning Books by Iain Lawrence
Gemini Summer
2007 Pacific Northwest Booksellers Association Award -- Regional Book
Frequently Asked Questions (FAQ)
Iain Lawrence has published 17 books.
Iain Lawrence does not have a new book coming out soon. The latest book, Fire on Headless Mountain, was published in August 2022.
The first book by Iain Lawrence, The Wreckers, was published in May 1998.
Yes. Iain Lawrence has 2 series.