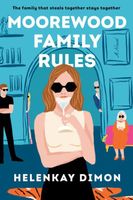 Newest Release
Bibliography:

75 Books - 18 Series

First Book:

April 2006

Latest Book:

May 2023

Rating:
About the Author
HelenKay Dimon is an award-winning author of more than a dozen novels and novellas. HelenKay's road to publication took a few turns. She tried international travel and journalism and enjoyed careers in politics and law first.

After twelve years as a divorce lawyer specializing in unhappy endings, HelenKay now writes romance for a living. She thinks of herself as a "recovering lawyer" and is grateful every day for the ability to write full time. She lives in California.
Full Series List in Order
0.5 - Running Hot (Dec-2014)
1 - Playing Dirty (Feb-2015)
2 - Falling Hard (Jun-2015)
3 - Facing Fire (Oct-2015)
4 - Under the Wire (Jul-2016)
1 - Waiting For Him (Nov-2019)
1 - Risque Business: A Novella (Jun-2011)
2 - Down To Business: A Novella (Jul-2012)
1 - Fearless (Jul-2013)
2 - Ruthless (Aug-2013)
3 - Relentless (Apr-2014)
4 - Lawless (May-2014)
5 - Traceless (Jun-2014)
6 - Cornered (Jun-2015)
7 - Sheltered (Jul-2015)
8 - Tamed (Aug-2015)
1 - Cornered (Jun-2015)
2 - Sheltered (Jul-2015)
3 - Tamed (Aug-2015)
1 - Dirty Deeds (Aug-2017)
2 - Dirty Games (Mar-2018)
1 - The Fixer (Jan-2017)
2 - The Enforcer (Apr-2017)
2.5 - The Negotiator: A Novella (Nov-2017)
3 - The Pretender (Jan-2018)
4 - The Protector (Aug-2018)
1 - Chain of Command (Mar-2015)
2 - Line of Fire (Oct-2015)
1 - No Turning Back (Mar-2013)
2 - A Simple Twist of Fate (Jul-2013)
3 - Long Way Home (Aug-2014)
4 - Too Far Gone (Dec-2014)
1 - It's Not Christmas Without You (Dec-2011)
2 - Lean on Me (Oct-2012)
3 - We'll Be Home for Christmas (Dec-2012)
4 - Just What He Wanted (Jun-2013)
1 - Mercy (May-2014)
2 - Only (Oct-2014)
2.5 - Taken: A Novella (Apr-2015)
3 - Mine (Oct-2015)
1 - Hardhats and Silk Stockings (Apr-2006)
2 - Hard As Nails (Jul-2008)
1 - Pregnant by the CEO (Jan-2018)
2 - Reunion with Benefits (Jun-2018)
3 - The Reluctant Heir (Sep-2018)
1 - Baby, It's Cold Outside (Feb-2014)
1 - Your Mouth Drives Me Crazy (Jul-2007)
2 - It's Hotter In Hawaii (Apr-2009)
3 - It's Hotter at Christmas (Oct-2009)
4 - Holding Out For A Hero (Oct-2009)
5 - Impulsive (Nov-2010)
1 - Under the Gun (Mar-2010)
2 - Guns and the Girl Next Door (Jan-2011)
3 - Gunning for Trouble (Feb-2011)
4 - Locked and Loaded (Aug-2011)
5 - The Big Guns (Sep-2011)
1 - Mr. and Mr. Smith (May-2016)
2 - The Talented Mr. Rivers (Sep-2016)
3 - Guarding Mr. Fine (Feb-2017)
1 - Her Other Secret (Jun-2019)
2 - The Secret She Keeps (Jan-2020)
Multi-Author Series List
Cosmo Red-Hot Reads
Everything You Need to Know
(Oct-2013)
6 -
Under the Gun
(Mar-2010)
9 -
Night Moves
(Jun-2010)
22 -
Under the Gun
(Mar-2010)
Book List in Order:
75

titles
Hardhats and Silk Stockings

in When Good Things Happen to Bad Boys

Hannah Bridges is the most infuriating woman architect Whit Thomas has ever met--and the sexiest. If he could just get the tough contractor to stop proving herself at very turn, they might have time to discuss more important things, like his hands on...

---

Viva Las Bad Boys

Welcome to Vegas's hottest spot--the Berkley Hotel and Casino--where a trio of bad boys are more than happy to put the "sin" in Sin City... Jackpot Jack McAllister is looking to get lucky on his vacation, and the jilted bride sitting at the slot...

---

Your Mouth Drives Me Crazy

Her mouth should be a dangerous weapon. So should his--but for different reasons. Thrown together by chance--and a pair of handcuffs--they're about to make Hawaii even steamier... Never Let Me Go Annie Parks came to Hawaii to gather information...

---

Right Here, Right Now

IT'S NOT YOU, IT'S ME... For Gabby Pearson, being dumped in public before the dessert course has to be the lowest of the low--especially when it's the old, "It's not you, it's me" speech. Honestly, how about something original: "I have five minut...

---

Hard As Nails

What's better than a man who's good with his hands? Try a trio of hard-bodied hunks who'll be happy to flip your house, your heart...and anything else you have in mind... This Old House Architect Cole Carruthers's mission is simple--visit his com...

---

Hot As Hell

She's mad as hell. He's the reason. The desert may not be big enough for both of them... Tell Me More... Lexy Stuart is nobody's fool...not since she wised up to the fact that her fiance, Noah Paxton, wasn't just sporting the hardest bod t...

---

It's Hotter In Hawaii

Aloha, Gorgeous... Cassie Montgomery was in no mood for messing around--until she got an eyeful of the sizzling-hot miscreant breaking into her half-brother Dan's Hawaii home. Turns out he's not a criminal, but a friend who's just as suspicious of ...

---

Holding Out For A Hero

Too Close For Comfort... Deana Armstrong needs a hero -- not for herself, but for the nephew all her money and time can't seem to get out of jail. Unfortunately, the best hero in all the Hawaiian Islands is set on turning in his badge and getting ...

---

Can You Hand Me the Tape?

in To All A Good Night

Natalie Pritchard is desperate. It's a week before Christmas and she's lost the naughty tape she made for her now-ex-boyfriend. She's so desperate, in fact, that she'll turn to her nemesis Spencer Donovan for help. The sexy criminal defense attorney ...

---

---

It's Hotter at Christmas

in Kissing Santa Claus

Hawaii's no paradise for Marissa, who, thanks to a series of unfortunate events, can't seem to get away from the sand to enjoy her Christmas East Coast style -- with plenty of snow and slush. But tall, dark, and serious police officer Ted's about to ...

---

Leave Me Breathless

PERMISSION TO APPROACH According to Judge Bennett Walker, trying to kill him is a dumb idea. They might make him wear a big black nightgown to work, but it covers a lot of muscles, and he's definitely packing beneath it. He's also an ex-prosecutor a...

---

Under the Gun

A GOOD AGENT NEVER LETS THE JOB BECOME PERSONAL... Who wanted her dead? That's what Claire Samson wanted to know. On the run and alone, there was only one man she trusted to find her. Recovery agent Luke Hathaway was the best at locating and saving,...

---

---

Night Moves

HE WAS JUST THE MAN TO PROTECT HER...ALL THROUGH THE NIGHT Noticing suspicious activity at her lab, Maura Lindsey used her smarts to dig into the actions of her boss. But when an explosion rocked their offices, the brainy beauty realized she was in ...

---

Impulsive

Trouble In Paradise... Katie Long was supposed to be undercover. She was just supposed to watch Deputy Prosecutor Eric Kimura at his ex's wedding and gather intel on his campaign for prosecutor. But he's a lot hotter in person, and the kind of int...

---

Guns and the Girl Next Door

BEFORE THE RECOVERY PROJECT WAS EVEN UP AND RUNNING, ITS FIRST CASE EXPLODED ON THE SCENE Agent Holden Price didn't have to go far to find his next case -- it crashed right into his living room! Not only had the beautiful blonde lost control of her ...

---

Gunning for Trouble

SHE MAY HAVE BEEN HIS BOSS, BUT NOW HE'S THE ONE TAKING CHARGE When he was recruited by the Recovery Project, Caleb Mattern found a new lease on life. Tracking missing persons. Protecting witnesses. But even after stretching his muscles and becoming...

---

Victoria's Got a Secret

Raised in a family of artists and intellectuals, the young Victoria-to-be was a bookworm who excelled in schoolas well as in the tutorials of her exotic grandmother who felt she should know how to hold court in a salon. The young Victoria's real educ...

---

---

---

Locked and Loaded

Nothing was as it seemed... Not even the protection Maddie Timmons was promised when she'd entered the Witness Security Program. One of her handlers was missing, the other had burned her, and now Maddie was at risk. ALL THAT STOOD BETWEEN HER AND CE...

---

The Big Guns

HE WAS A HERO... When he saw his mark being kidnapped, Recovery Project agent Zach Bachman had no option but to rescue her. Even if it endangered his assignment. After weeks of watching Sela Andrews from afar, he was now trapped with the blonde beaut...

---

It's Not Christmas Without You

Carrie Anders officially broke up with Austin Thomas when she accepted a dream job in the city. Unofficially, she misses him and is tempted to sneak back to her West Virginia hometown to see him. That's why this year, she's not going home for the...

---

When She Wasn't Looking

SHE WANTED TO TRUST HIM WITH HER SAFETY -- BUT NOT WITH HER HEART... No woman could deny the appeal of the sexy deputy sheriff Jonas Porter. But to Courtney Allen, Jonas has one major flaw -- his badge. Years ago, Courtney's father was wrongfully ...

---

---

Copy That

HE GAVE NEW MEANING TO THE TERM DOUBLE AGENT Returning from his latest Border Patrol assignment, Jeremy Hill seeks sanctuary in his twin brother's home. The last thing he expects to find is an armed man already inside, or Meredith Samms, a gorgeou...

---

Lean on Me

/ Contemporary Romance

Cassidy Clarke once climbed the world's highest mountains, but after an unexpected illness ends her career she's back in her hometown, broke and hoping for a little luck. But the townsfolk aren't exactly putting out a welcome mat for the woman who on...

---

Switched

A CASE OF MISTAKEN IDENTITY... For Aaron McBain, it was just another routine job, protecting his client at an office Christmas party. Until commandos stormed the place and took a hostage. But they had the wrong woman…the very woman Aaron had start...

---

We'll Be Home for Christmas

/ Contemporary Romance

No man likes having his bedroom skills described as forgettable, but that's just what Lila Payne does when she runs into Spencer Thomas again. When she discovers that he'd lied about his name during their brief three-day romp a few months before, she...

---

The Best Thing

in Romancing the Holiday

/ Contemporary Romance

We wish you a merry Christmas…and a happily ever after! A memorable three-night stand gets rekindled in a cabin in West Virginia. An office romance is sparked by an impulsive holiday kiss. And two best friends scout locations for a marriage prop...

---

---

Finding Home

/ Contemporary Romance

*REISSUE: Short story originally released as part of the SEAL Of My Dreams anthology*__________A daring rescue, a strong woman and the Navy SEAL who handles it all...After his four-day ordeal on the small island nation of Erites with his Navy Seal S...

---

No Turning Back

/ Contemporary Romance

The Hanover brothers inherited some bad behavior from their con artist father. Now three strong women will make honest men out of them. After ten years in the Army and four overseas deployments, Declan Hanover is ready for life away from a militar...

---

Just What He Wanted

/ Contemporary Romance

Travis Yardley thought he had everything he needed, but one look at Andrea Patterson shows him he was wrong. Andie is a gorgeous, curvy blonde who moves to town to manage a nearby campground. Seizing the chance to get close to her, Travis volunteers ...

---

A Simple Twist of Fate

/ Contemporary Romance

The Hanover brothers are doing their best to live down the legacy of their con artist father…but they still have a knack for getting in trouble where romance is concerned. As the lawyer of the family, Beckett Hanover ought to be sorting throu...

---

Fearless

HIS JOB HAD ONCE TORN THEM APART…BUT NOW IT WAS THE ONLY THING THAT COULD BRING THEM BACK TOGETHER Davis Weeks had a sterling reputation for high-priority, under-the-radar rescue missions. His role in the prestigious undercover agency Corcoran T...

---

Ruthless

What happens when the only man who can protect you is also your best customer? Find out in HelenKay Dimon's Corcoran Team series. Kelsey Moore looked forward to her daily visit from Paxton Weeks. Watching the broad-shouldered, quiet man led to so...

---

---

Baby, It's Cold Outside

/ Contemporary Romance

He usually gets what he wants. What he wants is her…and all that comes with her.

Men at Work, Book 1

Sex in the office? Lincoln Campbell knows better. His assistant, Thea Marshall, is off limits -- until her back hits the doo...

---

Relentless

The elite Corcoran Team has a new hero in HelenKay Dimon's Relentless! Branded a traitor for exposing high-level corruption, former NCIS agent Ben Tanner needs to redeem himself. When the hot new operative saves nurse Jocelyn Raine from a brutal ...

---

Mercy

After she infiltrated his business and betrayed his trust, a disavowed CIA agent must seek sanctuary in the bedroom of a man who will either help her, kill her, or bring her to her knees... Becca Ford is on her own. Eight months after she headed u...

---

---

Lawless

WHEN A CORPORATE RETREAT TURNS INTO CORPORATE SABOTAGE, THE CORCORAN TEAM SENDS IN THEIR BEST. Undercover agent Joel Kidd wasn't picked just for his risk-assessment and kidnap-prevention skills. He had inside knowledge of the mission's target: Ho...

---

Traceless

AN UNDERCOVER AGENT WILL TRAVEL TO THE UNFORGIVING UTAH DESERT TO RESCUE HIS WIFE IN HELENKAY DIMON'S LATEST CORCORAN TEAM NOVEL. Connor Bowen hasn't seen his wife since she left him seven months ago claiming he was more married to his job than h...

---

Long Way Home

/ Contemporary Romance

The Hanover brothers are trying to live down the con-man reputation of their late father. But they can't blame their father for all their problems in life -- or in love…Callen Hanover has led a tough life. But after years of roaming, he's final...

---

Only

He's a man who fixes difficult situations. She's the one thing he can't handle--and the one thing he can't resist... ONLY Sebastian Jameson negotiates for high-end clients who need problems taken care of quickly and discreetly. Accustomed to b...

---

Running Hot

HelenKay Dimon kicks off her hot new romantic suspense series, Bad Boys Undercover, featuring the fierce men of Alliance-- and the only women capable of taming their hearts Camped out at a resort bar in Fiji, CIA operative Ward Bennett may look li...

---

Too Far Gone

/ Contemporary Romance

The Hanover brothers inherited quite a legacy from their con-artist father, including a secret they never imagined…FBI Agent Walker Reeves came to Sweetwater, Oregon looking to settle a vendetta. His career is in shambles after years spent tracking...

---

Playing Dirty

As an elite Alliance agent -- the joint undercover operation of MI6, the British Secret Intelligence Service, and the CIA -- Ford Decker lives for the adrenaline. But when he befriends sexy property manager Shay Alexander in hopes of finding her cous...

---

Chain of Command

/ General Fiction

Book one of Greenway Range

Retired marine Sawyer Cain can't forget all he's seen and lost, but he can try to start over. Opening a gun range with his closest friends is the first step toward a new life -- one where he finally buries the guil...

---

Taken: A Novella

/ Contemporary Romance

Known for her "emotional, sexy and smart"* stories, now, HelenKay Dimon presents a bold new novella that takes readers to the edge…Wade Royer and Elijah Sterling are on shaky ground. While initially reluctant Eli is finally ready to take things...

---

Falling Hard

After a grueling assignment with the black ops force known as the Alliance, Weston Brown is craving downtime. Instead, he's pulled into his deadliest operation, in the one place he never wanted to see again. No-nonsense and so damn hot, Lexi Turner l...

---

---

Cornered

It was an assignment he was more than prepared for -- until an innocent beauty got caught in the cross fire Undercover agent Cameron Roth's hot on the trail of a drug-running crime cartel. The last thing he needs is to involve an innocent woman i...

---

Sheltered

She'd always preferred handling things on her own. Until a sexy undercover agent stepped in to protect her. Strong and silent Holt Kingston has one mission: to infiltrate a dangerous cult with more firepower than faith. But when the compound's ru...

---

Tamed

SHE WAS OFF-LIMITS UNTIL HER LIFE WAS ON THE LINE… Agent Shane Baker has denied his attraction to his best friend's younger sister for years. But when computer guru Makena Kingston's latest online investigation stirs up a series of break-ins, S...

---

Line of Fire

/ Contemporary Romance

Book two of Greenway Range

With his military career over and his ego bruised, Jason McAdams is ready to start over. As a founding partner in Greenway Range, his new life is everything he'd ever dared to dream about, but it also puts him in c...

---

Mine

She doesn't depend on anyone for anything. He intends to make her his completely. Natalie Udall thought her position at the CIA was secure -- until protecting her team earned her an armed escort into certain danger. Natalie can't stand the ide...

---

Facing Fire

When his uncle is brutally murdered, Josiah King knows that business just got personal. His uncle's ties to the Alliance can mean only one thing: Josiah and his black ops team are targets, along with everyone they love. Primed for vengeance, Josiah i...

---

---

One Night in Vegas

/ Contemporary Romance

JACKPOTJack McAllister is looking to get lucky on his vacation, and the jilted bride sitting at the slot machine next to him just might be his answer. Getting her up to his room is a breeze. Ditto getting her out of that formal, white dress. Laine Mo...

---

Mr. and Mr. Smith

/ Romantic Suspense

Secrets and seduction make for an explosive combination in HelenKay Dimon's edgy, thrilling new series, which kicks off with a novel about two men who can handle any threat -- except the one posed by desire.   Fisher Braun knows how to keep a secr...

---

Under the Wire

The Bad Boys of the Alliance -- a top-secret military security agency -- are back for more in HelenKay Dimon's sexy, action-packed series Only one thing could pull Reid Armstrong away from a vacation he's earned with every muscle in his finely...

---

The Talented Mr. Rivers

/ Contemporary Romance

HelenKay Dimon's suspenseful, provocative series of double agents and dark desire continues with a novel featuring two men bound by a dangerous job -- and by the cravings they feel for each other.   As the son of an international crime lord, Will ...

---

The Fixer

He's known only as Wren. A wealthy, dangerously secretive man, he specializes in making problems disappear. A professional fixer, Wren hides a dark past, but his privacy is shattered when Emery Finn seeks him out -- and what she wants from him is v...

---

Guarding Mr. Fine

/ Contemporary Romance

In this steamy novel of seduction and international intrigue, two brave men are stripped of their defenses -- and exposed to dangers and desires that simmer below the surface. As an agent with the CIA's special activities division, Seth Lang lives ...

---

The Enforcer

Security expert Matthias Clarke hunts down people who don't want to be found. His latest prey: the sole survivor of a massacre that killed his brother years ago. Kayla Roy claimed she was a victim of the carnage. Then she disappeared. Matthias thin...

---

Dirty Deeds

/ Contemporary Romance

No dirty deed goes unnoticed in a seductive game of cat and mouse. But for Alec and Gaige, the wrong move could get them killed. Alec Drummond didn't make his billions by playing nice -- or by playing much at all. When it comes to pleasure, Alec on...

---

The Negotiator: A Novella

Lauren Gallagher's life changed almost three years ago. After her husband disappeared at sea, she was left with a failing pleasure boat company and more than a few secrets. Now, after years spent rebuilding the business and paying off the pile of d...

---

The Pretender

They say it takes a thief to catch a thief, and Harrison Tate is proof. Once a professional burglar, he now makes a lawful living tracking down stolen art. No one needs to know about his secret sideline, "liberating" artifacts acquired through un...

---

Pregnant by the CEO

His pretend bride-to-be is pregnant! How to keep control of the family business, bring his estranged siblings together and save his sullied reputation? Step one for billionaire businessman Derrick Jameson involves pretending to be engaged to his e...

---

Dirty Games

/ Contemporary Romance

Sometimes, to get what you want in business or in love, you have to get your hands dirty. Luckily for Finn and Justin, dirty comes naturally.Finn Drummond is the baby in a family of sharks -- which means he's worked twice as hard to make a name for...

---

Reunion with Benefits

There are two sides to every scandal. His side…and the truth. After Spence Jameson's betrayal, Abby Rowe won't be in the same room with her former boss. Now he's returned to Jameson Industries, and Abby is running out of ways to avoid h...

---

The Protector

Salvation, Pennsylvania. The commune located in the small town was advertised as a modern Utopia: a place to live, share, and learn with other like-minded young people. Cate Pendleton's sister was one of them. Now she's dead -- and Cate won't r...

---

The Reluctant Heir

One person knows the truth that could ruin his family. And he's just brought her home. Find Hanna Wilde. The order from Carter Jameson's father will ensure Carter's inheritance. Though reluctant to do the man's bidding, Carter needs to ...

---

Her Other Secret

Is it the perfect escape? Whitaker Island is more than a getaway. For Tessa Jenkins, the remote strip of land in Washington state is a sanctuary. Fleeing from a shattering scandal, she has a new name, a chance at a new beginning, and a breathtaki...

---

---

The Secret She Keeps

No matter where you run to… Connor Rye seeks solace on remote Whitaker Island. When his first quiet evening ends with a blow to the head, it's clear that nothing -- and no one -- is as it seems. Still haunted by his sister's murder, he's b...

---

Moorewood Family Rules

Knives Out and Ocean's 8 meets The Nest in this hilariously twisty novel by award-winning author HelenKay Dimon, about a woman who returns home from prison to her dysfunctional con artist family and tries to get them to go ...

---
Award-Winning Books by Helenkay Dimon
The Fixer
2016 RT Reviewers Choice Award -- Romantic Suspense
2018 Rita Award -- Romantic Suspense
Frequently Asked Questions (FAQ)
Helenkay Dimon has published 75 books.
The next book by Helenkay Dimon, Moorewood Family Rules, will be published in May 2023.
The first book by Helenkay Dimon, Hardhats and Silk Stockings, was published in April 2006.
Yes. Helenkay Dimon has 18 series.