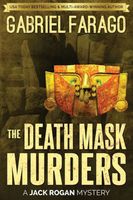 Newest Release
Bibliography:

10 Books - 1 Series

First Book:

November 2013

Latest Book:

December 2021

Rating:
Full Series List in Order
0.05 - The Forgotten Painting (Sep-2016)
0.06 - The Kimberley Secret (Sep-2018)
1 - The Empress Holds the Key (Nov-2013)
2 - The Disappearance of Anna Popov (Nov-2014)
3 - The Hidden Genes of Professor K (Jul-2016)
Book List in Order:
10

titles
The Empress Holds the Key

If you enjoy current best-selling thriller novels by authors such as Clive Cussler, James Rollins, Steve Berry and Brad Thor, if you like high adventure, exotic locations and action thrillers with a historical twist, then this is page-turner for you!...

---

The Disappearance of Anna Popov

Celebrated author and journalist Jack Rogan cannot resist a challenge. When he stumbles across a mysterious clue pointing to the tragic disappearance of two girls from Alice Springs, Rogan decides to investigate. Joining forces with Rebecca Armstron...

---

Letters From The Attic

/ Thriller

What you always wanted to know ... Step into the attic where the Jack Rogan Mysteries were conceived and created, and discover the intriguing world of the best selling and multi award-winning historical thriller writer.As a young boy, Gabriel Farago ...

---

---

The Forgotten Painting

/ Historical Mystery

Far more than meets the eye - a must read for art lovers - historical novel lovers - and those into mystery and intrigueWhen celebrated author Jack Rogan stumbles upon a hidden diary, he can't resist investigating. Honouring the last wish of a dyin...

---

The Kimberley Secret

/ Historical Mystery

When celebrated war correspondent Jack Rogan receives a phone call during abloody battle in Afghanistan, he knows something is wrong; his father is dying. Withhis last breath, Rogan's father makes a disturbing revelation that rocks his son to theco...

---

The Final Quest

A desperate plea from the Vatican. A kidnapped chef. An ambitious mob boss. One perilous game. When Professor Alexandra Delacroix is called in to find a cure for the dying pope, she follows clues left by her mentor and friend, the late Professor K, w...

---

The Curious Case of the Missing Head

A headless body on a boat. An international conspiracy. Can he survive a controversial scientific discovery?Esteemed Australian journalist Jack Rogan is on a mission to solve the disappearance of his mother in the 70s. But when a friend needs help re...

---

The Lost Symphony

A murdered tsarina. A lost musical masterpiece. A stolen Russian icon. Can Jack honour a promise made a long time ago, and solve an age-old mystery?When acclaimed Australian journalist and author Jack Rogan inherits an old music box with a curious le...

---

---

The Death Mask Murders

Seven brutal murders. A cursed Inca burial mask. A lost treasure. One deadly game.Drawn into a web of hidden clues pointing to an ancient mystery, celebrated author Jack Rogan decides to investigate.When convicted killer Maurice Landru reaches out fr...

---
Frequently Asked Questions (FAQ)
Gabriel Farago has published 10 books.
Gabriel Farago does not have a new book coming out soon. The latest book, The Death Mask Murders, was published in December 2021.
The first book by Gabriel Farago, The Empress Holds the Key, was published in November 2013.
Yes. Gabriel Farago has 1 series.