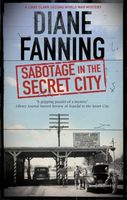 Newest Release
Bibliography:

28 Books - 3 Series

First Book:

September 2000

Latest Book:

April 2019

Rating:
Full Series List in Order
1 - Scandal in the Secret City (Nov-2014)
2 - Treason in the Secret City (Aug-2016)
3 - Sabotage in the Secret City (Jul-2018)
1 - The Trophy Exchange (Jul-2008)
2 - Punish the Deed (Mar-2009)
3 - Mistaken Identity (May-2010)
4 - Twisted Reason (Jan-2011)
5 - False Front (Apr-2012)
6 - Wrong Turn (Jan-2013)
7 - Chain Reaction (Mar-2014)
Bite the Moon (Jul-2007)
Book List in Order:
28

titles
The Windwalkers

In The Windwalkers, a psychologist battles her inner demons to find the strength she needs to eliminate a new form of dependency that has permeated every facet of society. It is an intriguing blend of satisfying story line and a serious social consci...

---

Red Boots & Attitude

RED BOOTS & ATTITUDE speaks to every Texas woman. It echoes her spirit, her strength and her indomitable will. This unique collection, edited by Texas authors Diane Fanning and Susie Kelly Flatau, showcases the fiction, creative non-fiction and poetr...

---

Written in Blood

Accident or Murder? The Petersons seemed like the ideal couple: well-respected, prosperous and happy. All that came crashing down December 2001, when Kathleen apparently fell to her death in their secluded home. But blood-spattered evidence and a...

---

---

Gone Forever

/ Suspense

Susan McFarland was a vivacious, successful mother of three young sons. On November 25, 2002, she disappeared. Three days later, her car was found, keys in the ignition. Later that day, her husband reported her missing—and a desperate search began....

---

Into the Water

/ Suspense

To authorities she spilled the shocking details of a night of horror. It was the lead they'd been desperate for in a multi-state manhunt for an elusive serial killer. Where the witness took them was to the last man anyone would have suspected.Richard...

---

---

Bite the Moon

When Molly Mullet's husband dies from a gunshot wound inflicted right before her eyes, she abandons her work as a high school chemistry teacher and joins the police force. Now she faces another crossroad in her life. She follows a trail of blood into...

---

The Trophy Exchange

/ Police/Detective/Law Enforcement

A fast-paced thriller introducing an unforgettable heroine - Homicide Investigator Lucinda Pierce is physically and emotionally scarred by her job. She is angry and bitter, but her life is her work. Lucinda gets sent to investigate the brutal killing...

---

---

Punish the Deed

/ Police/Detective/Law Enforcement

A Lucinda Pierce Investigation - When childrens charity worker Sharon Flemming is brutally murdered and a note found by her mutilated body bears the words I was left behind, Lucinda Pierce must track down this violent killer before he strikes again. ...

---

---

---

Mistaken Identity

/ Police/Detective/Law Enforcement

When Homicide Investigator Lucinda Pierce has to break the news to a 13-year-old boy that his parents have been murdered, his reaction comes as a shock: he claims that his father is not only still alive but also immortal, having sold his soul to the ...

---

Twisted Reason

/ Police/Detective/Law Enforcement

A new mystery for Homicide Investigator Lucinda Pierce - When a missing elderly man shows up dead on his son's front porch, Homicide Detective Lucinda Pierce isn't certain if she's investigating a murder or one of the strangest natural deaths she's e...

---

Her Deadly Web

Raynella Dossett Leath said she came home one morning in 2003 and found her husband's body in bed—covered in blood, a Colt .38 by his side. But authorities were suspicious of Raynella's story. Why would her husband of ten years sudd...

---

False Front

/ Police/Detective/Law Enforcement

Candace Eagleton was brutally murdered, and Homicide Lieutenant Lucinda Pierce is determined to find her killer. Meanwhile, Charles Rowland tells FBI agent Jack Lovett vague details about a murder linked to someone at the heart of the US government. ...

---

Black Widow

/ Suspense

Black Widow is a 10,000 word true crime short about Betty Neumar and her five deceased husbands and the death of her only biological son. Was Betty Neumar unlucky with men? Or does a sinister thread run through this woman's life....

---

Wrong Turn

/ Police/Detective/Law Enforcement

The gripping sixth title in the popular Lucinda Pierce series sees the homicide investigator's own judgment put under serious scrutiny . . . When the landlady of Brad Loving's vacated house rings pest control over what she suspects is a dead rat,...

---

Sleep My Darlings

This is the shocking true story of motherhood, mental illness, and two charges of murder in the first degree. On January 28, 2011, the Tampa Police Department received a phone call from a woman who was worried about her daughter, Julie Schenecker. A...

---

---

Chain Reaction

/ Police/Detective/Law Enforcement

One quiet Sunday morning, homicide investigator Lucinda Pierce is called out to a bomb blast at a local high school. It seems the caretaker has been fatally wounded in the explosion and there is one other unidentified body. A bomb blast points toward...

---

Under Cover of the Night

/ Suspense

It was planned to look like a suicide.But even in the best-laid plans, evidence is left behind…Jocelyn Branham Earnest was found dead on the floor of her living room in Forest, Virginia. By her side was a gun and a suicide note—typed, lacking a s...

---

Scandal in the Secret City

From the author of the Lucinda Pierce series, comes a thrilling new mystery, set during the Second World War... Oak Ridge, Tennessee, otherwise known as the Secret City, rose seemingly overnight in 1942, built by the US Government. No one was quit...

---

---

Bitter Remains

/ Suspense

The bestselling true crime author of Under Cover of the Night recounts Laura Ackerson's disappearance and murder in North Carolina, the discovery of her remains in Texas, and the aftermath…   On July 13, 2011, Laura Jean Ackerson of Kinsto...

---

---

Treason in the Secret City

30th May 1944. In the middle of the night, Libby Clark is roused from sleep by a colleague in distress. Marvin's cousin Frannie has been charged with treason, and he hopes that Libby, with her clear-headed scientific mind, can find a way to help pr...

---

Sabotage in the Secret City

Research chemist-sleuth Libby Clark must uncover the traitor within in this gripping World War II mystery. May 1945. Harry S. Truman has become president, the Allied Forces are closing in on Berlin and the research scientists at the secret facili...

---

---
Frequently Asked Questions (FAQ)
Diane Fanning has published 28 books.
Diane Fanning does not have a new book coming out soon. The latest book, Death on the River, was published in April 2019.
The first book by Diane Fanning, The Windwalkers, was published in September 2000.
Yes. Diane Fanning has 3 series.