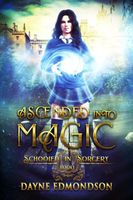 Newest Release
Bibliography:

13 Books - 3 Series

First Book:

August 2013

Latest Book:

June 2021

Rating:
Full Series List in Order
1 - Emergence (Dec-2016)
2 - Eclipse (Jun-2017)
3 - Ruin (Jun-2017)
1 - Mageborn (Mar-2018)
2 - The Cursed Tower (May-2018)
3 - Halls of Light (May-2019)
1 - Blood and Shadows (Aug-2013)
2 - Time of Shadows (Feb-2014)
3 - Shadows Fall (Jul-2016)
Book List in Order:
13

titles
Blood and Shadows

They came from the shadows. They came to destroy us. Twenty years ago, bloodthirsty assassins turned an innocent girl into a monster. Most of her humanity perished. She fell into darkness. Now she steps from the shadows. Now she destroys the light. N...

---

Time of Shadows

A flash of light. In one moment, the lives of three college students from Earth are changed forever. They find themselves on the fantasy world of Tar Ebon. There they uncover their destiny. As John, Ashley and Jason traverse the world of Tar Ebon the...

---

Shadows Fall

In the epic conclusion to the first trilogy in the Saga of the Seven Stars the Krai'kesh, quadruped aliens possessing devastating speed and strength, have surrounded the magical city of Tar Ebon. They have nullified the magic of the mages of the ci...

---

Emergence

/ Science Fiction

The galaxy is a dangerous placeIt's about to become even more dangerousFor millennia, the Krai'kesh waited. They plotted. And now they are ready to strike. Now they emerge.The worlds of the Milky Way galaxy enjoy a tenuous peace, unaware and ill-pr...

---

Eclipse

/ Space Opera

The Federation burns.

The alien are called the Krai'kesh. Creatures of claws, pincers and endless malice, they ravage the galaxy.

As the war flares, as planets crumble, Admiral Martin Rigsby and his fleet blast into battle. They won o...

---

Ruin

The Federation lies in ruin - facing the seemingly endless and brutal Krai'kesh on one front and traitors in the form of the Cult of Rae on the other front. All hope seems lost.

Admiral Martin Rigsby must lead the Federation fleet in a despe...

---

Mageborn

Emma was a normal teenage girl before her twin nearly burned her to death. 

When Emma and her brother discover they have magic, they are visited by an archmage of a school for mages. They embark on a journey, but it becomes fraught with pe...

---

The Cursed Tower

The Cult of Rae have infiltrated the Tower of the Seven Stars and doom could follow them.

Emma and her brother and friends have arrived at the Tower of the Seven Stars to begin their formal magical training. But their training is cut short w...

---

Ghost Ranger

My name is Rachel. I died and rose again.

I was an ordinary high school girl when a viral plague spread across my planet. Those that died rose again as mindless zombies. Fortunately, science came to the rescue and gave me back my mind. As a ...

---

---

Halls of Light

The Cult of Rae have been dealt a blow, but they are far from defeated.

Now, as the summer break approaches and Tar Ebon is attacked, Emma embarks on a desparate journey with new allies.

But things do not go as planned, for the Cult o...

---

Madelyn and the Unicorn Beach

What if you could travel to an island where unicorns lived?Imagine a world where unicorns and fairies and all sorts of magical creatures exist. When 8-year-old Maddie travels to the Unicorn Isles alone, she meets five fantastic unicorns that must hel...

---

Space Commando

On the run from her past, Rachel Darklance, under the false name Reina, embarks on a new adventure among the non-aligned planets in the far edge of the Milky Way. Penniless and alone, Rachel is captured by the Crimson Marauders, an infamous pirate g...

---

Ascended into Magic

Anna is a teenage girl pulled from our world into a world of magic, myth, and mystery by a warlock who intends to sacrifice her to the demon lords. Rescued in the nick of time by a powerful sorceress, she discovers that she possesses magical powers a...

---
Frequently Asked Questions (FAQ)
Dayne Edmondson has published 13 books.
Dayne Edmondson does not have a new book coming out soon. The latest book, Ascended into Magic, was published in June 2021.
The first book by Dayne Edmondson, Blood and Shadows, was published in August 2013.
Yes. Dayne Edmondson has 3 series.