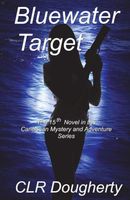 Newest Release
Bibliography:

28 Books - 2 Series

First Book:

December 2010

Latest Book:

July 2018
Full Series List in Order
1 - Bluewater Killer (Nov-2011)
2 - Bluewater Vengeance (Apr-2012)
3 - Bluewater Voodoo (Aug-2012)
4 - Bluewater Ice (May-2013)
5 - Bluewater Betrayal (Sep-2013)
6 - Bluewater Stalker (Mar-2014)
7 - Bluewater Bullion (Sep-2014)
8 - Bluewater Rendezvous (Feb-2015)
9 - Bluewater Ganja (Sep-2015)
10 - Bluewater Jailbird (Feb-2016)
11 - Bluewater Drone (Aug-2016)
12 - Bluewater Revolution (Dec-2016)
13 - Bluewater Enigma (Jun-2017)
14 - Bluewater Quest (Dec-2017)
15 - Bluewater Target (Jul-2018)
1 - Love for Sail (Jun-2014)
2 - Sailor's Delight (Dec-2014)
3 - A Blast to Sail (Jul-2015)
4 - Storm Sail (Nov-2015)
5 - Running Under Sail (Apr-2016)
6 - Sails Job (Sep-2016)
7 - Under Full Sail (Apr-2017)
8 - An Easy Sail (Oct-2017)
9 - A Torn Sail (Apr-2018)
Book List in Order:
28

titles
Deception in Savannah

Connie Barrera is ready to move on.  She's the business partner and mistress of a married doctor who runs a weight loss clinic, but she wants out.  He's not willing to buy her shares, so she resorts to extortion.  The doctor has recently killed a ...

---

Bluewater Killer

A serial killer is roaming from Florida to the Eastern Caribbean. His victims are women who hitchhike on his sailing yacht. He hides his crimes by disposing of their bodies at sea. Picking Dani Berger as his next victim is his big mistake. 

---

Bluewater Vengeance

Dani Berger is at loose ends after her rescue from a human trafficking ring. Still angry from her brush with fate, she's trying to figure out the next step in her life. She greets the world with a chip on her shoulder until she meets another young wo...

---

Bluewater Voodoo

Sail aboard the luxury yacht Vengeance with Dani and Liz as their charter guests explore Voodoo and the factual basis for the zombie myth. Trouble begins when two rival factions uncover rumors of a real-life zombie kept by illegal refugees from Haiti...

---

Life's a Ditch

When my wife and I decided to run away to sea, we thought we knew what we were doing. Our first few months on the Atlantic Intracoastal Waterway, or the Ditch, disabused us of that notion. Our seamanship was adequate, but our expectations weren't rea...

---

Twisted Love

In his twisted mind, he's offering Becky salvation, but she's only interested in escape. If she doesn't repent soon, he'll be forced to kill her, just like he killed the others. A psychotic, driven by the voice of God, he's determined to fr...

---

Bluewater Ice

Dani Berger and Liz Chirac's new charter guest is hiding something. Connie Barrera brought more aboard Vengeance than just her luggage, but they don't know that. Connie's on the run. Connie booked Vengeance under an assumed name to escape the Bahamas...

---

Bluewater Betrayal

When an old boyfriend cons Liz Chirac into helping him start an all-inclusive charter business, she takes a break from her own luxury charter boat to give their romance another try. She's acting against her better judgment, but Robert Delorme is a ...

---

Bluewater Stalker

Dani and Liz and their guests are one step ahead of a serial killer as they sail through the Eastern Caribbean. Murder follows in the wake of the yacht Vengeance.A series of killings matches their landfalls, and there'...

---

---

Love for Sail

Join Connie Barrera as she makes her first ocean passage as captain of Diamantista, her new charter yacht. Experience her anxiety; feel her fear. Watch her survive by her wits.
Connie has recruited her friend, Paul Russo, to serve as cook and fir...

---

The Redemption of Becky Jones

Bobby McCrea is determined to save Becky's soul. After spending his formative years in mental institutions, Bobby has been on a mission to bring the word of the Lord to wayward women. Becky isn't receptive, and she's terrified of his brother. Jimmy M...

---

Bluewater Bullion

Bluewater Bullion is the seventh book in the Bluewater Thriller series. Gerald Yates and Nick Thompson are an odd pair. Although the two men deny it, it's clear to Dani and Liz that they've chartered Vengeance to search for sunken treasure. Besid...

---

Sailor's Delight

Sailor's Delight is the second book in the Connie Barrera Thrillers, a romantic thriller series from the author of the best-selling Bluewater Thrillers. Connie and her First Mate and fiancé, Paul Russo, have just completed their first charter. Paul ...

---

Bluewater Rendezvous

Bluewater Rendezvous is the eighth book in the Bluewater Thriller series. Dani and Liz have a new charter guest aboard Vengeance who is too mysterious to suit Dani. The guest's fiance fails to make their rendezvous in Antigua, and they find themselve...

---

A Blast to Sail

The yacht Diamantista II is as stunning as her captain, Connie Barrera. Both attract attention everywhere they go. Having just taken delivery of Diamantista II, Connie and her fiancé, Paul Russo, are on a shakedown cruise when trouble begins. Connie...

---

Bluewater Ganja

Drugs and greed plague Dani and Liz as they entertain their latest charter guests on Vengeance. Ed Savage, a single parent and a trial lawyer, is taking a break from a class-action suit. Cynthia, his daughter, is a spoiled, dope-smoking teenager. Ed'...

---

Storm Sail

What's the worst that can happen when a sailing yacht sets out to cross 1,600 miles of open ocean? Connie Barrera and her fiance, Paul Russo, were in high spirits when they left Annapolis. All their friends would be in Martinique to celebrate their a...

---

Bluewater Jailbird

Dani Berger has vanished in St. Lucia. After a trip to Europe, Liz Chirac returns to the charter yacht she owns with Dani and finds it abandoned. The people on the adjacent boat tell Liz that the police picked up Dani from her yacht a few hours befor...

---

Running Under Sail

Connie Barrera resorts to tricks she'd rather forget when a stalker pursues her charter guest. Determined to break from her past, Sadie Storm has chartered Diamantista II. She's running from her ex, Jonas Pratt, while she focuses ...

---

---

Bluewater Drone

Dani Berger and Liz Chirac have new charter guests aboard the yacht Vengeance. Blaine and Mindy Wilkes booked the charter to make an adventure travel video for their TV series. Upon arrival, they confess to be paparazzi in pursuit of a movie star nam...

---

Sails Job

Connie Barrera's in trouble. The mob and the FBI are monitoring her email, and her charter guests are trying to defraud her. A husband and wife team of investment advisors have chartered Diamantista II. While they're sailing the Caribbean, they're do...

---

Bluewater Revolution

Fidel's dead, Raul's old, and Cuba's in play. Viva Cuba Libre! Dani Berger and Liz Chirac are caught up in a plot to invade Cuba. They're in Miami for a gathering of family and friends when Phillip Davis encounters a mercenary he knows from his days ...

---

Under Full Sail

When Connie and Paul find an amnesia victim stranded on a deserted island, their vacation is spoiled. They were excited about exploring the isolated spot by themselves until the castaway appeared. Who is he? How did he get there? Will he recover his...

---

Bluewater Enigma

Dani Berger and Liz Chirac return to Miami from a vacation to discover that their yacht, Vengeance, has been stolen. Then their charter broker calls. She has a client for them. The client refuses to accept any yacht other than Vengeance. The charter ...

---

An Easy Sail

Connie Barrera is a dangerous woman. She's running a cartel that smuggles drugs into Florida and Europe. At least, that's the rumor in the Caribbean. She's fed that rumor over the years, but now she regrets it. Guillermo Montalba, a ruthless gangster...

---

Bluewater Quest

Did the Moors discover America 600 years before Columbus? Rick Everett is on a quest to prove they did. He and his wife have chartered Vengeance to search for evidence in the Caribbean. He's enlisted Dani Berger and Liz Chirac to help him hunt for ar...

---

A Torn Sail

Who snatched her? Why? Paul and Connie each have their suspicions, but neither is right.Connie's disoriented when she wakes up in the cabin of a strange yacht. She and Paul had quarreled after dropping off their charter guests in St. Lucia. Connie ha...

---

Bluewater Target

Marie LaCroix is planning an assassination in Washington. She expects to use the yacht Vengeance as her base. Marie has approached Dani Berger, who runs the charter yacht with Liz Chirac. Dani is an adrenalin junky; she's ready for action and adventu...

---
Frequently Asked Questions (FAQ)
C.L.R. Dougherty has published 28 books.
C.L.R. Dougherty does not have a new book coming out soon. The latest book, Bluewater Target, was published in July 2018.
The first book by C.L.R. Dougherty, Deception in Savannah, was published in December 2010.
Yes. C.L.R. Dougherty has 2 series.