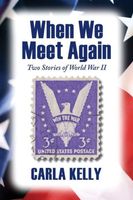 Newest Release
About the Author
Carla has always said that she only writes the books that she wants to read, which has made this whole writing business extra fun.

Yes, Carla likes to write, but she does other stuff, too. She likes to read and crochets baby afghans while she watches television or rides shotgun in cars, and she's well on her way to making a gazillion. Years ago, one of Carla's friends and fellow authors made the perceptive observation that Carla is only writing herself in her books: someone practical, down-to-earth, not Too Stupid To Live, who solves her own problems. And she writes about stalwart, caring men and women because she personally knows a lot of stalwart, caring people.
Full Series List in Order
1 - Marrying The Captain (Jan-2009)
2 - The Surgeon's Lady (Jun-2009)
3 - Marrying the Royal Marine (Jun-2010)
1 - Borrowed Light (Feb-2011)
2 - Enduring Light (Jan-2012)
1 - My Loving Vigil Keeping (Aug-2012)
2 - One Step Enough (Jun-2018)
1 - Libby's London Merchant (Apr-1991)
2 - One Good Turn (Dec-2001)
1 - Double Cross (Aug-2013)
2 - Marco and the Devil's Bargain (Sep-2014)
3 - Paloma and the Horse Traders (Sep-2015)
4 - The Star in the Meadow (Feb-2017)
1 - The Unlikely Master Genius (May-2018)
2 - Unlikely Spy Catchers (Jun-2019)
3 - The Unlikely Heroes (Aug-2020)
Book List in Order:
66

titles
---

Daughter of Fortune

Born into Old-World elegance, beautiful Maria Espinosa lost her parents and her fortune when plague ravaged Mexico City. Now she lay in the blazing heat of the Santa Fe trail, sole survivor of a brutal Apache raid. Rescued by Diego Masferrer, Maria c...

---

Summer Campaign

Major Mischief Miss Onyx Hamilton was on the verge of making what everyone agreed was a perfect marriage. The overwhelmingly respectable Andrew Littletree was so taken by her virtue and beauty that he was willing to overlook the scandal clouding h...

---

Miss Chartley's Guided Tour

THE BETRAYED BEAUTY When lovely young Omega Chartley was left at the altar by the man she loved, her life turned from a dream into a nightmare. Penniless, she had to find employment far below her station. Heartbroken, she could not think of ever...

---

Marian's Christmas Wish

A VOW NOT TO LOVE Miss Marian Wynswich had not been raised to be a proper young lady. Instead she had been educated to be as good as any man in everything from reading Greek to playing chess. Thus it was with dismay that she saw what falling in l...

---

Mrs. McVinnie's London Season

MISCHIEF IN THE MARRIAGE MART Jeannie McVinnie was young and lovely -- but she was also a widow with no intention of marrying again. And if she ever did, it certainly would not be to the high-handed, hot-tempered Captain William Summers. The sw...

---

The Three Kings

This warm and delightful collection brings together five all-new stories of Christmas by some of the most beloved and highly acclaimed Regency authors. Written especially for the new edition, these delightful tales capture the spirit of Christmas ri...

---

Libby's London Merchant

Man of Mystery Beautiful Miss Elizabeth Ames, better known as Libby, knew little about the man who invaded her country manor. Only that he was Mr. Nesbitt Duke, a London Merchant who had had an accident on the road. Soon she knew even less. Fo...

---

The Light Within

Spirited ladies...dashing gentlemen ... notorious rakes...scandalous lovers ... all the romance and intrigue of St. Valentine's Day in an exquisitely beautiful collection of stories by five of the most beloved and highly acclaimed Regency authors. He...

---

Miss Grimsley's Oxford Career

School For Scandal Beautiful and brilliant Miss Ellen Grimsley considered it a scandal and a shame that she as a female could not attend Oxford, while a dashing dunderhead like her older brother Gordon could. On the other hand, society would reel ...

---

---

Miss Billings Treads the Boards

Playing a Perilous Part Miss Katherine Billings was cast in a most unlikely role for a vicar's daughter. But beautiful Kate was an impoverished orphan--and her only escape from a lecherous employer's embraces was to go upon the stage. It was dange...

---

Miss Whittier Makes a List

A Heart at Sea Miss Hannah Whittier was a most proper young lady, but now she found herself in a most improper position. Not only was she the sole female on a British man-of-war, but the ship's commander, Captain Sir Daniel Spark, seemed to feel s...

---

Mrs. Drew Plays Her Hand

Playing with Fire Young widow Roxanna Drew was fair game in the sport of cads. Her suddenly impoverished state made her as vulnerable as her beauty made her tempting to men with more money than morals. Lord Marshall Whitcomb, who held her purse st...

---

Reforming Lord Ragsdale

The Rake's Progress Emma Costello owed a debt of honor to one of the most dishonorable lords in the realm. The infamous Lord Ragsdale was as rich as sin, as sinful as he was rich, and as heartless as he was handsome. But he had saved Emma from a f...

---

Something New

A widow is surprised by two unexpected visitors at her sister's wedding - one breaks her heart and the other captures it forever....

---

The Lady's Companion

A Compromising Position Miss Susan Hampton was a lady born and bred. She never imagined that she would have to make her own way in the world. But that was before her feckless father gamed away the family estate. That was before her odious aunt tur...

---

With This Ring

Major Disaster It was clear to Lydia Perkins from the first that she was courting scandal when she became involved with Major Samuel Reed. This outrageously impudent officer kept deplorable company in dismal surroundings beyond the boundaries of p...

---

Make a Joyful Noise

Hark, the herald angels sing as five of Signet's favorite Regency authors bring you a melodious collection of stories to make the season even brighter. Lush with the magic of the holiday, the stories in this Christmas Regency collection capture the t...

---

The Christmas Ornament

Make the season bright with these original stories of Christmas love, written by five award-winning Regency authors. Heartwarming, celebratory, and romantic, each delightful story captures the essence of the Yuletide spirit - its loving good will and...

---

Miss Milton Speaks Her Mind

A Wealth of Love Lovely Jane Milton was seen as a "charity" case, even though her wealthy relatives on the Denby estate couldn't manage without her. Her one joy was her cousin's son, Andrew, whom she had cared for since his parents' death, and lov...

---

---

An Object of Charity

The gifts of Christmas are priceless -- good cheer, warm hearts, and happy times with friends. And now five bestselling Regency authors have made a special present to you--five brand-new stories. High-spirited and humorous, heartwarming and romantic ...

---

The Background Man

THE GRAND HOTEL... The most fashionable place to rest your head -- and warm your heart Brand-new and breathtakingly stylish, London's Luxurious Grand Hotel is the perfect setting for romantic rendezvous, glittering celebrations -- and Cupid...

---

One Good Turn

A Second Chance Benedict Nesbitt, the Seventh Duke of Knaresborough, has resigned himself to a life of solitude. The woman he'd loved for years just married one of his best friends. And so, in the noble tradition of resignation, he is heading back...

---

No Room at the Inn

Have Yourself a Regency Christmas Spend the holidays in Regency England this Christmas, courtesy of five beloved and bestselling authors who deliver heartwarming tales that will make you feel as if you've just been kissed beneath the mistletoe. ...

---

The Wedding Journey

Luck Follows Love Captain Jesse Randall has never expressed his intense love for Nell Mason--not even as she blossoms into glorious womanhood before his eves. Her beauty is a treasure as rare and welcome as roses in January. But if Jesse were to t...

---

Here's to the Ladies

Carla Kelly wants to tell the truth, to discard myths about the U.S. Army during the Indian Wars. This collection of nine stories set in the era of the frontier army gives an entertaining and educational glimpse into a world not often explored in fic...

---

Let Nothing You Dismay

A confirmed bachelor cannot forgive himself for a long-ago sin--that is, until his niece's governess teaches him a thing or two about Christmas in Carla Kelly's "Let Nothing You Dismay."...

---

A Hasty Marriage

In Carla Kelly's "A Hasty Marriage," a young spinster with a wild streak runs away from home--and from the pressure to marry. But she soon happens upon a ship's captain who shares her appetite for adventure and who will dash her ideas about men....

---

Beau Crusoe

Shipwrecked! Stranded alone on a desert island, he had lived to tell the tale. A triumphant return to the ton saw James Trevenen hailed as Beau Crusoe--a gentleman of spirit, verve and action. But only he knew the true cost of his survival! Scand...

---

Marrying The Captain

THE CAPTAIN AND THE COMMONER Ever since her father tried to sell her as a mistress to the highest bidder, Eleanor Massie has chosen to live in poverty. Her world changes overnight when Captain Oliver Worthy shows up at her struggling inn. Despite ...

---

---

The Surgeon's Lady

MARRYING THE SURGEON As a surgeon in the Royal Navy, Lieutenant Philemon Brittle has proved his bravery countless times. But he's never known the thrill that comes with falling in love. Until he meets the beautiful Lady Laura Taunton, who has turn...

---

A Regency Christmas: Christmas Promise

Now that peace has broken out, Captain Jeremiah Faulk is at odds over what to do this Christmas, let alone with his life. Until a simple act of charity reunites him with his lost love -- Ianthe Mears....

---

Marrying the Royal Marine

FROM UGLY DUCKLING TO BEAUTIFUL SWAN Illegitimate Polly Brandon has never felt like more than an ugly duckling. So she's amazed when Hugh Philippe Junot pays her such close attention as they sail for Portugal. Under ordinary circumstances she knows...

---

The Admiral's Penniless Bride

IT'S MARRIAGE -- OR THE WORKHOUSE! Sally Paul is down to her last penny. As she spends it on a cup of tea -- to stave off being at the mercy of the workhouse -- the last thing she expects is an offer of marriage...from a complete stranger! Admiral ...

---

Borrowed Light

Julia Darling never expected to cook for some cowboys in Wyoming, but when she breaks off her engagement in Salt Lake City, it s the perfect opportunity for her to escape. Determined to stick the job out, Julia faces her biggest challenge yet letting...

---

Coming Home for Christmas

THREE SOLDIERS. THREE GENERATIONS. FINDING LOVE AT CHRISTMAS. 1812: A Christmas in Paradise To save nurse Laura Ortiz from destitution, British naval surgeon Thomas Wilkie has made her an offer this Christmas -- a marriage of convenience.... 1...

---

Enduring Light

Julia Darling is finally able to marry her Paul for eternity. But it's a harsh world for a rancher in turn-of-the-century Wyoming, especially a Mormon rancher. When alienation and threats start coming, Julia must prove she's her husband's equal in st...

---

Marriage of Mercy

MARRYING THE WRONG GROOM... From riches to rags, Grace has had to swallow her pride and get a job as a baker. But everything changes when she's the beneficiary of a surprise inheritance. Her benefactor's deal comes with a catch: give up...

---

My Loving Vigil Keeping

Della's giving up all the comforts of bustling Salt Lake City to teach school in a rural coal mining camp. Little does she know, she may soon be giving up her heart as well. But when tragedy strikes in the Scofield Mine, Della's life is changed fore...

---

Her Hesitant Heart

ON THE FRONTIER OF A NEW LIFE... Tired and hungry after two days of traveling, Susanna Hopkins is just about at the end of her tether when her train finally arrives in Cheyenne. She's bound for a new life in a Western garrison town. Then she disc...

---

---

Double Cross

The year is 1780, and Marco Mondragón is a brand inspector in the royal Spanish colony of New Mexico. A widower and rancher, Marco lives on the edge of Comanchería, the domain of the fierce Comanche. Each autumn, he takes cattle and wool, and his d...

---

Safe Passage

It's 1912, the beginning of the Mexican Revolution---and the Mormon colonists must flee to the United States. When Addie, his estranged wife is mistakenly left behind, Ammon Hancock goes back to rescue her. But when he finds her, he must coax her to ...

---

The Wedding Ring Quest

Searching for a ring…finding a family! Penniless Mary Rennie knows she's lucky to have a home with relatives in Edinburgh, but she does crave more excitement in her life. So when her cousin's ring is lost in one of several fruitcakes heading ar...

---

Marco and the Devil's Bargain

The year is 1782. Marco Mondragón, brand inspector in Spanish New Mexico, and his wife Paloma Vega have settled happily into married life on the Double Cross. And yet Paloma is convinced their joy will not be complete until she has a child. She long...

---

Softly Falling

Lily looked at the vastness of the plains, full of cattle, and then up at the sky without a cloud in sight. "What's going to happen, Mr. Sinclair?" she asked. "What do you know?" Fresh off the train from New York City, Lily Carteret arrives in ...

---

Regency Christmas Gifts: Three Stories

In the first of these stories set in Regency England, "The Lasting Gift" an impoverished war widow returns a misdelivered parcel and attracts the interest of a well-to-do retired sailing master and his sister. In story 2, "Faithfully Yours" a sel...

---

Paloma and the Horse Traders

As the eighteenth century draws to a close, the Kwahadi Comanches seem to be making their peace with the settlers of the Spanish Colony of New Mexico. No one is as relieved as Marco Mondragón and his adored wife Paloma Vega, whose ranch, the Double ...

---

Doing No Harm

WHEN WAR-WEARY SURGEON DOUGLAS Bowden, recently retired from the Royal Navy, decides to set up a country practice, he wants to be far away from the ocean. But upon seeing a seriously injured boy in Edgar, Douglas rushes to help and finds himself in a...

---

---

For This We Are Soldiers

From master storyteller Carla Kelly comes this collection of frontier tales that take you behind typical army lines and into the hearts of ordinary men and women who perform extraordinary acts of bravery. From handsome hospital stewards and dashing s...

---

---

---

The Star in the Meadow

Marco Mondragón and his wife Paloma are living hectic but happy lives at the Double Cross, on the edge of Comanchería. Five years after the death of Comanche leader Cuerno Verde, cautious diplomacy between the tribe and the colonists is underway to...

---

Courting Carrie in Wonderland

Struggling through college and balancing her summer job in Yellowstone Park with the Wylie Camping Company, Carrie McKay simply doesn't have time to consider romance. Spanish American War Veteran Sergeant Major Ramsay Stiles also isn't looking for lo...

---

A Season of Love

At Christmastime, love is just a wish away! Join master romance writer Carla Kelly in this joyful celebration of the most wonderful time of the year. Set in regency England, these Christmas tales will take you from dangerous adventures on snowy roads...

---

Regency Christmas Wishes: Captain Grey's Christmas Proposal

Captain Grey had been fighting malarial fever in Savannah when he met Theodora Winnings. He proposed by letter -- but it's taken ten years to receive her reply. The answer was "yes!" -- but is she still free to become his Christmas bride? ...

---

The Unlikely Master Genius

Sailing Master Able Six, Royal Navy, is a man like no other. To call him a mere polymath is to sell him short. Someone with his extraordinary gifts should rise to the top, unless it is the 1800s, where pedigree and money govern Regency society, as su...

---

One Step Enough

Now that she's married, Della believes she and Owen will live happily ever after, but he can't keep his promise to stay out of the mines. Meanwhile, Della's wishing for a baby, but her arms remain empty. Together they must face the secrets of her pas...

---

Calico Ball

THE KEEPER OF THE WESTERN DOOR by Carla KellyWhen Mary Blue Eye travels to Wyoming Territory with her friend to help her settle into her new married life at Fort Laramie, Mary is treated more like a servant than the friend she thought she was. Thankf...

---

Convenient Christmas Brides: The Captain's Christmas Journey

A convenient arrangement Three festive Regency romances… In The Captain's Christmas Journey by Carla Kelly, Captain Everard is escorting Verity to her governess job -- and for propriety's sake that means a convenient engagement! In Louise...

---

Unlikely Spy Catchers

The Unlikely Spy Catchers is a novel about friendship and love, an unusual school for workhouse boys training for the Royal Navy, and the ever-present danger of life in a seafaring town at a time of grave national emergency, as Napoleon considers ...

---

Regency Royal Navy Christmas: Anthology

Even the squared away, efficient Royal Navy must surrender to the joys and misadventures of a Regency Christmas. Four stories shine a light on Christmas during the Napoleonic Wars on land and sea... In Boxing the Compass, a homesick frigate captai...

---

The Unlikely Heroes

The year is 1805. Napoleon is determined to invade England. Angus Ogilvie, spy catcher, has learned more of Napoleon's plans. He relays them to Master Able Six, instructor at St. Brendan the Navigator School, where workhouse boys of promise are tra...

---

Christmas by the Sea

/ Historical Romance

---

The Necklace

Santiago Gonzalez needs the army that his bride's dowry will raise. But with the dowry comes a bride who is Santiago's match for shrewdness, courage and love, in this story of conquest in 13th century Spain....

---

---

---

When We Meet Again

If you must fight a war, make it good one, so you can entertain admiring children and grandchildren years in the future. What if your World War II stories are nothing more glamorous than an aircraft factory in boring Kansas, or a sugar beet farm in S...

---
Award-Winning Books by Carla Kelly
Beau Crusoe
2007 All About Romance Reader Award -- Most-Hanky Read
A Hasty Marriage
2004 All About Romance Reader Award -- Best Short Story
Here's to the Ladies
2003 All About Romance Reader Award -- Best American Historical
The Lady's Companion
1997 Rita Award -- Regency Romance
Marian's Christmas Wish
1990 RT Reviewers Choice Award -- Regency Novel
Marrying The Captain
2009 All About Romance Reader Award -- Best Series Romance
Marrying the Royal Marine
2010 All About Romance Reader Award -- Best Series Romance
Mrs. Drew Plays Her Hand
1995 Rita Award -- Regency Romance
No Room at the Inn
2002 All About Romance Reader Award -- Best Short Story
One Good Turn
2001 All About Romance Reader Award -- Best Regency
2001 All About Romance Reader Award -- Most-Hanky Read
2001 Romance Readers Anonymous Award -- Best All-Around Romance
2001 Romance Readers Anonymous Award -- Best Regency Romance (Traditional)
The Wedding Journey
2002 All About Romance Reader Award -- Best Regency
2002 Romance Readers Anonymous Award -- Best Regency Romance (Traditional)
Frequently Asked Questions (FAQ)
Carla Kelly has published 66 books.
Carla Kelly does not have a new book coming out soon. The latest book, When We Meet Again, was published in October 2022.
The first book by Carla Kelly, Daughter of Fortune, was published in June 1985.
Yes. Carla Kelly has 6 series.