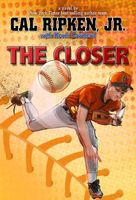 Newest Release
Bibliography:

7 Books - 1 Series

First Book:

March 1999

Latest Book:

March 2016

Rating:
Full Series List in Order
1 - Hothead (Mar-2011)
2 - Super-sized Slugger (Mar-2012)
3 - Wild Pitch (Mar-2013)
4 - Squeeze Play (Mar-2014)
5 - Out at Home (Mar-2015)
6 - The Closer (Mar-2016)
Book List in Order:
7

titles
---

Hothead

Connor Sullivan is an All-Star shortstop on his Babe Ruth team, the Orioles. He can hit and field with the best of them, but he's got one big problem: his temper. When he strikes out or makes an error, he's a walking Mt. Vesuvius, slamming batting he...

---

Super-sized Slugger

Cody Parker is the new kid in school. He's overweight, scared and hates his new life in Dullsville, Maryland, aka Baltimore, where he's a target -- okay, a big target -- for brutal teasing. But he loves baseball. And despite his size, he plays third ...

---

Wild Pitch

Robbie Hammond is the hardest throwing pitcher in the Babe Ruth League. But what good is all that heat when he can't seem to find the plate? With Robbie struggling, the Orioles are suffering through a nightmare season, still looking for their first w...

---

Squeeze Play

Corey Maduro should be thrilled about the Orioles going to the big Grand Slam Tournament. But whenever he thinks about playing, he feels sick. For one thing, he's in a monster hitting slump, which shows no signs of ending. Then there's Katelyn Moss, ...

---

Out at Home

Mickey Labriogla is the best catcher in the league. He's got a cannon for an arm, calls a great game, and blocks the plate like a bulldozer with shin guards. But when a hotshot new pitcher joins the Dulaney Orioles, Mickey wonders if it isn't time to...

---

The Closer

Danny Connolly is a back-up pitcher with the Dulaney Orioles. He knows that "back-up" means "not good enough to start." When he has gotten a chance to pitch, he hasn't exactly been the shut-down reliever the team needs. To make matters worse, he's pl...

---
Frequently Asked Questions (FAQ)
Cal Ripken Jr. has published 7 books.
Cal Ripken Jr. does not have a new book coming out soon. The latest book, The Closer, was published in March 2016.
The first book by Cal Ripken Jr., Play Ball!, was published in March 1999.
Yes. Cal Ripken Jr. has 1 series.