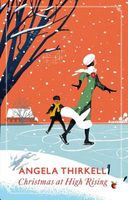 Newest Release
Bibliography:

32 Books - 1 Series

First Book:

January 1934

Latest Book:

November 2013

Rating:
Full Series List in Order
1 - High Rising (1951)
2 - Wild Strawberries (1934)
3 - The Demon in the House (1934)
4 - August Folly (1937)
5 - Summer Half (1938)
6 - Pomfret Towers (1938)
7 - The Brandons (1939)
8 - Before Lunch (1939)
9 - Cheerfulness Breaks In (1941)
10 - Northbridge Rectory (1941)
11 - Marling Hall (1942)
12 - Growing Up (1943)
13 - The Headmistress (1944)
14 - Miss Bunting (1945)
15 - Peace Breaks Out (1946)
16 - Private Enterprise (1947)
17 - Love Among the Ruins (1948)
18 - The Old Bank House (1949)
19 - County Chronicle (1950)
20 - The Duke's Daughter (1951)
21 - Happy Returns (1952)
22 - Jutland Cottage (1953)
23 - What Did It Mean? (1954)
24 - Enter Sir Robert (1955)
25 - Never Too Late (1956)
26 - A Double Affair (1957)
27 - Close Quarters (1958)
28 - Love at All Ages (1959)
29 - Three Score and Ten (1961)
Book List in Order:
32

titles
The Demon in the House

This is the frightfully frustrating story of Tony Morland who first appeared in "High Rising." A sweeter demon doesn't exist than this 12-year old with a gift for disconcerting remarks and getting what he wants from his mother. Boys will be boys, and...

---

Wild Strawberries

A witty romp through English Country-house life at its most delightfully absurd. At Rushwater House in West Barsetshire, Lady Emily Leslie and her family are entertaining an assortment of house guests, hangers-on, and French monarchists. Amid a perfe...

---

August Folly

It''s August in the Barsetshire village of Worsted, and Richard Tebben, just down from Oxford, is contemplating the gloomy prospect of a long summer in the parental home. But the numerous and impossibly glamorous Dean family - exquisite Rachel, her c...

---

Pomfret Towers

Pomfret Towers, Barsetshire seat of the earls of Pomfret, was constructed, with great pomp and want of concern for creature comforts, in the once-fashionable style of Sir Gilbert Scott''s St Pancras station. It makes a grand setting for a house party...

---

Summer Half

The denouement of Philip Winter's ill-begotten engagement to featherbrained Rose Birkett is enacted in full view of Southbridge School's extended family during a holiday break. Everyone, including her parents, is rooting for Philip's escape which occ...

---

The Brandons

An enthralling novel of family secrets and fated love LAVINIA BRANDON was a strikingly beautiful widow who privately adored attracting men of all ages while being perfectly pleased to avoid any trips to the altar. She was comfortably wealthy, com...

---

Before Lunch

Jack Middleton likes to imagine himself a country squire. At weekends he retires to Laverings Estate with his wife, Catherine. He may be pompous, and they may seem ill-matched, but the couple are devoted to each other.

When Jack''s widowed ...

---

Cheerfulness Breaks In

'You read her, laughing, and want to do your best to protect her characters from any reality but their own' New York TimesIt is summer 1939 and the social event of the year is about to take place: Rose Birkett, a flighty beauty with a penchant for br...

---

Northbridge Rectory

Bartsetshire during wartime finds Mr. Downing, Miss Pemberton, and Mrs. Turner engaged in a love triangle; a chorus of officers raucously quartered at the rectory; and village ladies with violent leanings. In Mrs. Major Spender, Thirkell offers a dev...

---

---

Marling Hall

''You read her, laughing, and want to do your best to protect her characters from any reality but their own''New York Times

Mr Marling, of Marling Hall, has begun to accept - albeit reluctantly - that he will probably never be able to pass h...

---

Growing Up

As war drags on, Beliers Priory in East Barsetshire, home to Sir Harry and Lady Waring, becomes a convalescent hospital for soldiers as well as home to their niece Leslie, and Capt. Noel and Lydia Merton from West Barsetshire. In the meantime, Philip...

---

The Headmistress

Barsetshire in the latter years of the Second World War is a peaceful and gossipy place, but there has been one lively change. A girls' school, evacuated from London, has taken over Harefield Park. Miss Sparling seems to be the perfect headmistress: ...

---

Miss Bunting

The carefully observed separation of the old and the new social strata is upset when representatives of each come together in the sphere of Miss Bunting- the governess who has molded most of the country's upper class. Under Miss Bunting's tutelage, A...

---

Peace Breaks Out

Even drama settles into circumstance, as the denizens of Barsetshire have learned through the private and public worries the Second World War has delivered to the home front. When peace breaks out, it surprises and unsettles familiar wartime routines...

---

Private Enterprise

With these latest releases of two of Angela Thirkell's novels, eager fans can return to the playful, aristocratic personalities of Barsetshire, England. In these stories of the post-World War II era, the characters of the imaginary county adjust to l...

---

Love Among the Ruins

A cast of characters quickly gathers around the Winters, including many faces familiar from Thirkell's earlier Barsetshire chronicles. Among the young and unattached are Charles Belton, newly-hired school master at the Priory School, and his elder br...

---

The Old Bank House

A continuation of Thirkell's modern Barsetshire chronicles. The old bank house is a large and beautiful dwelling belonging to Miss Sowerby, the last of the Barsetshire line, finally decides to sell her house to the leery Mr. Sam Adams. I must tell yo...

---

County Chronicle

As readers of Angela Thirkell's enticing chronicles of Barsetshire are well aware, the county itself - a fictional but familiar stretch of English countryside inhabited by infatuation, endearments, and cross purposes - can seem the primary character ...

---

High Rising

In this lively social satire, Thirkell's quintessential British humor captures the foibles and worth of gentry and villager alike. Lovely, vague, and widowed, Mrs. Morland writes rather sensational novels to support herself and her infuriating son. A...

---

---

The Duke's Daughter

In THE DUKE'S DAUGHTER, ordinary country pleasures provide the happenstance for the hopes and hesitations of young love. Family names familiar from earlier installments of Barsetshire series- Marling and Adams, Winter and Waring, Belton and Dale- pop...

---

---

Jutland Cottage

Local gossip takes center stage with the romance between a new rector and "The incredibly beautiful and even more incredibly silly" Rose Fairweather. The impoverished and unmarried Margot Phelps leads her female neighbors in a dramatic and hilarious ...

---

What Did It Mean?

"...A fictional stretch of English countryside in which a large and recurring cast of characters play out-in stylish and comic comfort-the conversations.that determine the destiny of a community."The plot is set spinning when the forthright and capab...

---

Enter Sir Robert

In her modern Barsetshire chronicles, the author returns to her familiar haunts to concoct another lively tale of village society and family life, spiced with the yearnings and hesitations of a characteristically cross-purposed cast of lovers. Thirke...

---

Never Too Late

Lemonade or port ? That this delicious dilemma is of such importance in Angela Thirkell's NEVER TOO LATE - it is the subject of a spirited exchange among the guests when Lord Stoke convenes a luncheon at Rising Castle - is just one indication of how ...

---

A Double Affair

The characteristically charming 1957 installment in Angela Thirkell's beloved series of Barsetshire novels, picks up where its predecessor, NEVER TOO LATE, leaves off. The community is all abuzz with news of the impending marriage of Herbert Choyce (...

---

Close Quarters

"When in doubt the answer's always tea," sister Chiffinch sagely remarks in this penultimate novel in the Angela Thirkell series, and what reader would disagree with her? For like everything else in Thirkell's world, even the summer is very British: ...

---

Love at All Ages

The last novel in Angela Thirkell's beloved series of modern Barsetshire chronicle is a happy concoction indeed, returning readers - in stylish and comic comfort - to pleasant haunts in the company of a large and familiar cast of gentry and clergy. T...

---

Three Score and Ten

Finished posthumously by her close friend, C. A. Lejeune, Three Score and Ten concludes the Barsetshire series with the birthday party of the heroine of the first novel, Laura Morland, now seventy years old, surrounded by her grown family, her litera...

---

---

Coronation Summer

A rarity in the Thirkell canon, this charming and witty historical novel is set in the coronation summer of 1838, when the young Victoria, scarcely older than the tale's narrator, Fanny Harcourt, assumes the throne of England.

The seventeen-yea...

---

O, These Men, These Men

O, THESE MEN, THESE MEN!, first published in 1935 and long out of print, is one of Angela Thirkell's few non-Barsetshire novels. Believed to be something of a roman-a-clef, it deftly chronicles the sorrows and renewals, the heartbreak and graduation ...

---

Christmas at High Rising

An exclusive, never-before-collected selection of sparkling stories by Angela Thirkell that will charm, delight, and entertain Originally published in the 1930s and 1940s and never before collected, these stories by the incomparable Angela Thirke...

---
Frequently Asked Questions (FAQ)
Angela Thirkell has published 32 books.
Angela Thirkell does not have a new book coming out soon. The latest book, Christmas at High Rising, was published in November 2013.
The first book by Angela Thirkell, Wild Strawberries, was published in January 1934.
Yes. Angela Thirkell has 1 series.