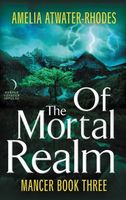 Newest Release
Bibliography:

25 Books - 4 Series

First Book:

May 1999

Latest Book:

August 2018

Rating:
Full Series List in Order
1 - In the Forests of the Night (May-1999)
2 - Demon in My View (Sep-2001)
3 - Shattered Mirror (Sep-2001)
4 - Midnight Predator (May-2002)
5 - Persistence of Memory (Dec-2008)
6 - Token of Darkness (Feb-2010)
7 - All Just Glass (Jan-2011)
1 - Hawksong (Jul-2003)
2 - Snakecharm (Oct-2004)
3 - Falcondance (Sep-2005)
4 - Wolfcry (Sep-2006)
5 - Wyvernhail (Sep-2007)
1 - Bloodwitch (May-2014)
1.5 - The Rebel (Feb-2015)
2 - Bloodkin (Apr-2015)
3 - Bloodtraitor (Apr-2016)
1 - Of The Abyss (Sep-2016)
2 - Of the Divine (Oct-2017)
3 - Of the Mortal Realm (Aug-2018)
Book List in Order:
25

titles
In the Forests of the Night

By day, Risika sleeps in a shaded room in Concord, Massachusetts. By night, she hunts the streets of New York City. She is used to being alone. But someone is following Risika. He has left her a black rose, the same sort of rose that sealed her fate ...

---

Demon in My View

Though nobody at her high school knows it, Jessica is a published author. Her vampire novel, Tiger, Tiger, has just come out under the pen name Ash Night. Now two new students have just arrived in Ramsa, and both want Jessica's attention. She has n...

---

Shattered Mirror

To the casual observer, Christopher Ravena and Sarah Vida look like normal high school students. But he's a vampire who has sworn off human blood, and she's a witch, a daughter of the most powerful vampire-hunting dynasty in history. Slowly, with...

---

Midnight Predator

Midnight, the ancient evil sanctuary of vampires and their human slaves that was burned to the ground centuries ago, has risen from the ashes to open its dark doors once more. And it's up to Turquoise Draka, famed human vampire hunter of the Bruja gu...

---

Hawksong

DANICA SHARDAE IS an avian shapeshifter, and the golden hawk's form in which she takes to the sky is as natural to her as the human one that graces her on land. The only thing more familiar to her is war: It has raged between her people and the ser...

---

Snakecharm

ZANE COBRIANA, COBRA shapeshifter, thanks the gods every day for Danica, his hawk pair bond, and the peace their union has brought to the avian and serpiente. Soon, Danica will have a child to carry on their royal line. But what should be a happy tim...

---

Falcondance

Nicias has never felt completely at home among the avians and serpiente in Wyvern's Court, despite his loyalty to Oliza Shardae Cobriana, the heir to both thrones. He is a falcon, the son of two exiles from Anhmik -- and images of this distant island...

---

Wolfcry

Oliza Shardae Cobriana is heir to Wyvern's Court, home of the avians and serpiente, whose war with each other ended just before Oliza was born. But hatred is slow to die, and not everyone likes the expressive way in which Urban, a serpiente dancer, i...

---

Wyvernhail

HAI HAS ALWAYS been an outsider. With a falcon mother and a deceased cobra father, she is considered a mongrel by most, an ally by some, and a friend by few. Hai's broken falcon wings are a painful reminder of the life she once led on the island of A...

---

---

Number Of The Beast

Will you dare to be scared? This chilling new collection of terrifying stories from today's top horror writers is sure to keep you up at night!This anthology brings together the best of today's horror writers in one spine-tingling collection. All of ...

---

Persistence of Memory

Sixteen-year-old Erin Misrahe just wants to be like everyone else in her new school. But Erin has more to worry about than passing AP Chemistry or making friends. In times of stress, she has always been overcome by her alter ego, Shevaun, whose viole...

---

The Den of Shadows Quartet

/ General Fiction

FOUR COMPLETE NOVELS—ONE CAPTIVATING WORLDIn the Forests of the NightThree hundred years ago Risika had a family—a brother and a father who loved her. Three hundred years ago she was human. Now she is a vampire, a powerful one. And her past has c...

---

The Shapeshifters

/ Fantasy

Five shapeshifter novels—one fascinating read!HawksongDanica Shardae, an avian shapeshifter, will do anything in her power to stop the war that has raged between her people and the serpiente—even pretend to be in love with Zane Cobriana, the terr...

---

Token of Darkness

Cooper Blake has everything going for him--until he wakes from a car accident with his football career in ruins and a mysterious, attractive girl by his side. Cooper doesn't know how Samantha got there or why he can see her; all he knows is that she'...

---

All Just Glass

Sarah Vida has given up everything for love. From a legendary family of vampire-hunting witches, Sarah was raised to never trust a vampire, to never let her guard down, and to avoid all tricky attachments of the heart. But now Sarah IS a vampire--cha...

---

Poison Tree

The rich stew of the author's creations -- SingleEarth, vampires, shapeshifters, Tristes, the Bruja Guilds -- are at full boil here in the story of two 20-ish young women trying to out run their very different pasts, and figure out where they fit in ...

---

Promises to Keep

The compendium of creations (SingleEarth, the Bruja guilds, the Midnight empire) intertwine in an exciting, unsettling plot featuring happenings both accidental and deliberate that will forever change the alternate landscape inhabited by vampires, Tr...

---

Bloodwitch

Vance Ehecatl was raised with every luxury he could imagine in a beautiful greenhouse within the powerful empire of Midnight. Vampires are the only guardians Vance has ever known since he was abandoned by his shapeshifter family as a baby quetzal, an...

---

The Rebel

/ General Fiction

In this rich, compelling prequel to Bloodkin, sixteen-year-old Kadee is haunted by the memories she has fought so long to keep bottled up inside. This short story is set in the alternate-reality world of THE MAEVE'RA, Amelia Atwater-Rhodes's tri...

---

---

Bloodkin

How much is one life worth, and when is the price too much to pay? Some lines should never be crossed. Sixteen-year-old Kadee is proud to be a part of the Obsidian guild, whose members refuse to bow to anyone in Midnight -- including the vampi...

---

The Prophet

/ Paranormal Romance

The second exclusive digital original short story by the author of Bloodwitch and Bloodkin.Narrated by Malachi, one of the powerful leaders of the Obsidian guild, readers will learn all about his past and the events that lead Malachi to the actions a...

---

Bloodtraitor

In this unforgettable finale to the Maeve'ra trilogy, Amelia Atwater-Rhodes has crafted a heart-pounding story about destiny, loyalty, and the many shades of betrayal. Malachi Obsidian has been his guild's prophet ever since he was a child. Y...

---

Of The Abyss

After decades of strife, peace has finally been achieved in Kavet -- but at a dark cost. Sorcery is outlawed, and anyone convicted of consorting with the beings of the other realms -- the Abyssi and the Numini -- is put to death. The only people who ...

---

Of the Divine

The second novel in Amelia Atwater-Rhodes's dazzling Mancer trilogy, Of the Divine takes place seventy-one years before Of the Abyss, in a world where sorcery is still practiced freely -- but at what cost? Henna is one of the most powerful sorcere...

---

Of the Mortal Realm

The gripping conclusion to Amelia Atwater-Rhodes's Mancer trilogy, OF THE MORTAL REALM finds the city of Kavet cast into the middle of the final showdown between the infernal Abyssi and the divine Numini. It is battle that could reshape the world ....

---
Frequently Asked Questions (FAQ)
Amelia Atwater-Rhodes has published 25 books.
Amelia Atwater-Rhodes does not have a new book coming out soon. The latest book, Of the Mortal Realm, was published in August 2018.
The first book by Amelia Atwater-Rhodes, In the Forests of the Night, was published in May 1999.
Yes. Amelia Atwater-Rhodes has 4 series.