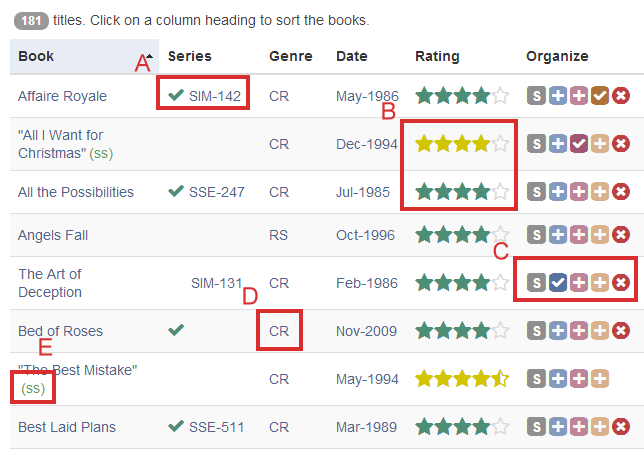 A - Series information

** If a green check mark is present, this book is part of an author series or a multi-author series
** Clicking on the green check mark will pop up a list of the series associated with this title

** The text to the right of check mark denotes publisher series, primarily Harlequin
** Clicking on the series code will take you to the full list for that series
B - Your rating for this title
To rate a book just click the stars

** After you click, the stars will turn green and your status will be changed to R - read
** Clicking on the red X will delete this title from your list and will also delete your rating
C - Your details for this title
You can use your lists any way you'd like. Many people use them as shelves: Own, Wishlist, Read
If this book is not on your lists:

** To add a book to one of your lists, click the corresponding + icon
** To add a book a book to List 1 click on the blue +
Here is an example of a book on List 2:

** The gray square represents book status. Click on the button to change the status. The available status levels are want to read, currently reading, read, loaned, ordered
** The C indicates you are currently reading this book
** The check mark indicates the list where this book resides.
** Clicking on the check mark will remove this book from your list.
** You can add a book to 1 or more lists by clicking the + sign.
** Clicking on the red X will delete this title from your list
D - Primary genre information

** These codes refer to the primary genre. Other genres can be found on the book detail page
** Hovering your mouse over the code will reveal the full text
** Clicking the code will take you to full list of codes used on the site
E - Short story indicator

** The (ss) following a title indicates it is a short story included in an anthology or collection
** Hovering your mouse over the code will reveal the primary anthology name
** Clicking the code will take you to full list of stories included in that anthology