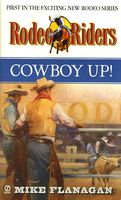 Length:

5 Books

First Book:

December 1999

Latest Book:

December 2002

Genres:

Western, Historical

Rating:
Rodeo Riders Series in Order (5 Books)
Book Descriptions for series: Rodeo Riders
Cowboy Up!

Book - 1


LIFE CAN BE A WILD RIDE....SOMETIMES ALL YOU CAN DO IS JUST KEEP HANGING ON. THE OLD BULL Ex-rodeo champ Jack Lomas is a stubborn old rancher of the ornery sort. He does things only one way... his. A lifetime of hard work and regret has taught him s...

---

Rigged to Ride

Book - 2


FALLING ISN'T A PROBLEM, AS LONG AS YOU CAN GET BACK UP... Under the guidance of veteran cowboy Jack Lomas, young rodeo rider Clay Tory has slowly but steadily risen in the ranks. Everything is coming together for this unlikely partnership. But the ...

---

Final Ride

Book - 3


IT'S ALL ABOUT HOLDING ON... For two years, Clay Tory has been tearing up the rodeo circuit under the guidance of veteran rancher Jack Lomas. Unfortunately, things aren't going so well back home at the ranch. Years of hard work and stress have taken...

---

Busted Ride

Book - 4


Texas, 1872. Looking to make enough money to start his own ranch, Will rode wild horses until they were fit for sale. But when folks started placing bets on who would be tamed-man or beast, Will discovered a gold mine that would become an American in...

---

---
Frequently Asked Questions (FAQ)
There are 5 books in the Rodeo Riders series.
The Rodeo Riders series does not have a new book coming out soon. The latest book, Busted Ride (Book 4), was published in December 2002.
The first book in the Rodeo Riders series, Cowboy Up!, was published in December 1999.
The Rodeo Riders series primarily falls into the Western and Historical genres.