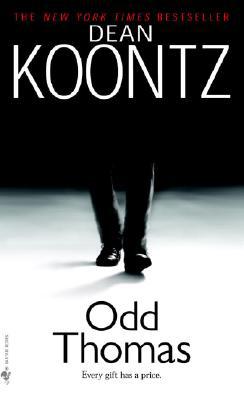 Length:

9 Books

First Book:

December 2003

Latest Book:

January 2015

Genres:

Horror

Setting:

Pico Mundo, California

Rating:
Odd Thomas Series in Order (9 Books)
Book Descriptions for series: Odd Thomas
Odd Thomas

Book - 1


"The dead don't talk. I don't know why." But they do try to communicate, with a short-order cook in a small desert town serving as their reluctant confidant. Odd Thomas thinks of himself as an ordinary guy, if possessed of a certain measure of talent...

---

Forever Odd

Book - 2


I see dead people. But then, by God, I do something about it. Odd Thomas never asked for his special ability. He's just an ordinary guy trying to live a quiet life in the small desert town of Pico Mundo. Yet he feels an obligation to do right by his ...

---

Brother Odd

Book - 3


Loop me in, odd one. The words, spoken in the deep of night by a sleeping child, chill the young man watching over her. For this was a favorite phrase of Stormy Llewellyn, his lost love, and Stormy is dead, gone forever from this world. In the haunte...

---

---

Odd Apocalypse

Book - 5


Once presided over by a flamboyant Hollywood mogul during the Roaring '20s, the magnificent West Coast property known as Roseland is now home to a reclusive billionaire financier and his faithful servants. And, at least for the moment, it's also ...

---

Odd Interlude

Book - 6


THERE'S ROOM AT THE INN. BUT YOU MIGHT NOT GET OUT. Nestled on a lonely stretch along the Pacific coast, quaint roadside outpost Harmony Corner offers everything a weary traveler needs--a cozy diner, a handy service station, a cluster of cottages...

---

Deeply Odd

Book - 7


The pistol appeared in his hand the way a dove appears in the hand of a good magician, as if it materialized out of thin air. "You think I won't do it right here in the open. But you'd be surprised. . . . You'll drop before you get the breath...

---

You Are Destined to Be Together Forever

Book - 7.5


The singular journey of Odd Thomas is approaching its unforgettable conclusion in Saint Odd. But before Odd's destiny is revealed, this exclusive eBook short story looks back -- way back -- to where it all began for Odd Thomas and Stormy Llewellyn,...

---

---

---
Awards
Saint Odd
2015 Goodreads Choice Award -- Horror
Frequently Asked Questions (FAQ)
There are 9 books in the Odd Thomas series.
The Odd Thomas series does not have a new book coming out soon. The latest book, Saint Odd (Book 8), was published in January 2015.
The first book in the Odd Thomas series, Odd Thomas, was published in December 2003.
The Odd Thomas series primarily falls into the Horror genre.