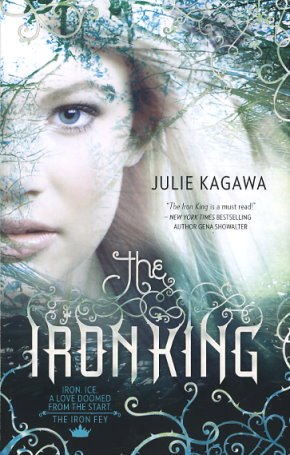 Length:

14 Books

First Book:

February 2010

Latest Book:

May 2023

Genres:

Fantasy

Age Level:

Young Adult (12-17)

Rating:
Iron Fey Series in Order (14 Books)
Book Descriptions for series: Iron Fey
The Iron King

Book - 1


MEGHAN CHASE HAS A SECRET DESTINY -- ONE SHE COULD NEVER HAVE IMAGINED... Something has always felt slightly off in Meghan's life, ever since her father disappeared before her eyes when she was six. She has never quite fit in at school...or at home....

---

Winter's Passage

Book - 1.5


Meghan Chase used to be an ordinary girl...until she discovered that she is really a faery princess. After escaping from the clutches of the deadly Iron fey, Meghan must follow through on her promise to return to the equally dangerous Winter Court wi...

---

The Iron Daughter

Book - 2


Half Summer faery princess, half human, Meghan has never fit in anywhere. Deserted by the Winter prince she thought loved her, she is prisoner to the Winter faery queen. As war looms between Summer and Winter, Meghan knows that the real danger comes ...

---

The Iron Queen

Book - 3


In less than twenty-four hours I'll be seventeen. Although, technically, I won't actually be turning seventeen. I've been in the Nevernever too long. When you're in Faery, you don't age. So while a year has passed in the real world, agewise I'm prob...

---

Summer's Crossing

Book - 3.5


A Midsummer's Nightmare? Robin Goodfellow. Puck. Summer Court prankster, King Oberon's right hand, bane of many a faery queen's existence -- and secret friend to Prince Ash of the Winter Court. Until one girl's death came between them, and another gi...

---

The Iron Knight

Book - 4


My name -- my True Name -- is Ashallayn'darkmyr Tallyn. I am the last remaining son of Mab, Queen of the Unseelie Court. And I am dead to her. My fall began, as many stories do, with a girl... To cold faery prince Ash, love was a weakness for mort...

---

Iron's Prophecy

Book - 4.5


Before she ever knew what she might become, Iron Queen Meghan Chase was warned by the oracle that her firstborn child would bring nothing but grief. And even as Meghan and Ash celebrate their long-awaited union, the prophecy stirs.......

---

The Lost Prince

Book - 5


Don't look at Them. Never let Them know you can see Them. That is Ethan Chase's unbreakable rule. Until the fey he avoids at all costs -- including his reputation -- begin to disappear, and Ethan is attacked. Now he must change the rules to protec...

---

The Iron Traitor

Book - 6


IN THE REAL WORLD, WHEN YOU VANISH INTO THIN AIR FOR A WEEK, PEOPLE TEND TO NOTICE After his unexpected journey into the lands of the fey, Ethan Chase just wants to get back to normal. Well, as "normal" as you can be when you see faeries every da...

---

---

The Iron Warrior

Book - 7


The Iron Prince -- my nephew -- betrayed us all. He killed me. Then, I woke up. Waking after a month on the brink of death, Ethan Chase is stunned to learn that the Veil that conceals the fey from human sight was temporarily torn away. Al...

---

Shadow's Legacy

Book - 7.5


A new novella set in the world of the New York Times bestselling Iron Fey series! This magical short story is the prelude to a new trilogy in Julie Kagawa's brilliant faery world, The Iron Fey: Evenfall. A royal wedding, a mysterious assassin, a...

---

The Iron Raven

Book - 8


Wicked faeries and fantastic danger… Welcome to book one of the new trilogy in New York Times bestselling author Julie Kagawa's Iron Fey fantasy series, as infamous prankster Puck finally has a chance to tell his story and stand with allies new a...

---

The Iron Sword

Book - 9


As Evenfall nears, the stakes grow ever higher for those in Faery… Banished from the Winter Court for daring to fall in love, Prince Ash achieved the impossible and journeyed to the End of the World to earn a soul and keep his vow to always stan...

---

The Iron Vow

Book - 10


The extraordinary finale to Julie Kagawa's New York Times and internationally bestselling Iron Fey series is here…and the fate of the Nevernever and all the world hangs in the balance. Join Meghan, Ash, Puck, Grimalkin, and the entir...

---
Awards
The Iron King
2011 Rita Award -- Young Adult Romance
Frequently Asked Questions (FAQ)
There are 14 books in the Iron Fey series.
The next book in the Iron Fey series, The Iron Vow (Book 10), will be published in May 2023.
The first book in the Iron Fey series, The Iron King, was published in February 2010.
The Iron Fey series primarily falls into the Fantasy genre. This young adult series was written for ages 12-17, but can be enjoyed by adults too.