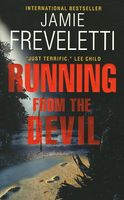 Length:

6 Books

First Book:

May 2009

Latest Book:

February 2013

Genres:

Thriller

Rating:
Emma Caldridge Series in Order (6 Books)
Book Descriptions for series: Emma Caldridge
Running from the Devil

Book - 1


A chemist for a cosmetics company and an ultramarathon runner, Emma Caldridge is en route from Miami to Bogota when her plane goes down in the mountains near the Venezuelan border. Thrown unhurt from the wreckage, she watches in horror as guerrillas ...

---

Running Dark

Book - 2


From internationally bestselling author Jamie Freveletti comes a riveting new thriller featuring brilliant biochemist Emma Caldridge, except this time there's nowhere to run. . . . Emma Caldridge is on mile thirty-six of the fifty-five-mile Comrade...

---

The Ninth Day

Book - 3


In less than nine days, terror crosses the border . . . Hiking in Arizona, biochemist Emma Caldridge inadvertently interrupts the operations of dangerous traffickers in human cargo -- and is chased south into the arms of millionaire drug merchants...

---

---

---

---
Frequently Asked Questions (FAQ)
There are 6 books in the Emma Caldridge series.
The Emma Caldridge series does not have a new book coming out soon. The latest book, Run (Book 3.7), was published in February 2013.
The first book in the Emma Caldridge series, Running from the Devil, was published in May 2009.
The Emma Caldridge series primarily falls into the Thriller genre.