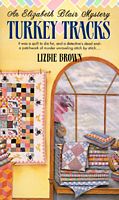 Length:

3 Books

First Book:

January 1993

Latest Book:

June 1995

Genres:

Mystery

Rating:
Elizabeth Blair Series in Order (3 Books)
Book Descriptions for series: Elizabeth Blair
Broken Star

Book - 1


Ed McBain meets Jane Austen in this witty and sharp-edged introduction to the sleuthing duo of Elizabeth Blair and Max Shepard. Wry and down-to-earth Elizabeth is a widow who has forsaken her native Turkey Creek, Virginia, for a genteel English exist...

---

Turkey Tracks

Book - 2


When the Animal Liberation Front places a poster in the Martha Washington quilt shop window reading SUPPORT TURKEY'S LIB.  STOP THE SHAMEFUL SLAUGHTER, shopkeeper Elizabeth Blair is incredulous that she has been singled out.  A quick-witted widow...

---

Cat's Cradle

An actress dies with shocking suddenness while preparing to tread the boards at the famous Theatre Royal in Bath. Her ex-lover insists that she was murdered. And perhaps he was right. Bitchy and manipulative, Flora Messel had enemies and she had alwa...

---
Frequently Asked Questions (FAQ)
There are 3 books in the Elizabeth Blair series.
The Elizabeth Blair series does not have a new book coming out soon. The latest book, Turkey Tracks (Book 2), was published in June 1995.
The first book in the Elizabeth Blair series, Broken Star, was published in January 1993.
The Elizabeth Blair series primarily falls into the Mystery genre.