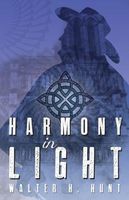 Newest Release
Bibliography:

8 Books - 2 Series

First Book:

December 2001

Latest Book:

November 2018

Rating:
Full Series List in Order
1 - The Dark Wing (Dec-2001)
2 - The Dark Path (Feb-2003)
3 - The Dark Ascent (Aug-2004)
4 - The Dark Crusade (Aug-2005)
Irresistible (Jun-1989)
Madness in Harmony (Apr-2009)
Book List in Order:
8

titles
The Dark Wing

The zor is just one of the alien races that humanity encounters when it travels to the stars, and from the very first meeting it has been all-out war. For many years the conflicts have been sporadic, usually ending with an Earth concession and a trea...

---

The Dark Path

Walter Hunt's debut novel, The Dark Wing was favorably compared to Ender's Game, Babylon 5, Honor Harrington, and C. S. Forester . . . and the story isn't over yet!

Man and zor, once sworn enemies engaged in a mutual campaign of xenocide, now...

---

The Dark Ascent

"The human-zor war is long over, and the now-allied former foes face the shape-changing vuhl, who enjoy their share of devastating victories. Still, the zor and humans were warned and don't entirely lack resources. But something is going on that isn'...

---

The Dark Crusade

The Dark Path introduced a new alien force into the delicate balance of power. This force was the actual puppetmaster of the human-zor war and now wishes to bring both worlds under its madness inducing shadow. The Dark Ascent brought into focus a sec...

---

A Song in Stone

There is a mystery in a chapel, and a man who must find the answer. A Song in Stone begins with the premise that Rosslyn Chapel in Scotland is part of an unfinished larger church - and that it contains a mystery, one clue of which is found in the ...

---

---

Elements of Mind

A doctor in Victorian India who performs surgery using mesmerism and drawing power from an artifact commits suicide before delivering the artifact to Rev. William Davey at the Committee of English Mesmerists, prompting Davey on a quest. Davey uncover...

---

Harmony in Light

"a compelling and immersive novel in which every word feels authentic and every chapter draws the reader deeper into the dark and terrifying power of the mind." -- New York Journal of BooksIn 1880s Paris, a doctor encounters a statuette that can dr...

---
Frequently Asked Questions (FAQ)
Walter H. Hunt has published 8 books.
Walter H. Hunt does not have a new book coming out soon. The latest book, Harmony in Light, was published in November 2018.
The first book by Walter H. Hunt, The Dark Wing, was published in December 2001.
Yes. Walter H. Hunt has 2 series.