Description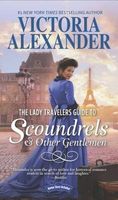 Embark on the breathtaking romantic adventures of The Lady Travelers Society in the brand-new series by #1 New York Times bestselling author Victoria Alexander

Really, it's too much to expect any normal man to behave like a staid accountant in order to inherit the fortune he deserves to support the lifestyle of an earl. So when Derek Saunders's favorite elderly aunt and her ill-conceived -- and possibly fraudulent -- Lady Travelers Society loses one of their members, what's a man to do but step up to the challenge? Now he's escorting the world's most maddening woman to the world's most romantic city to find her missing relative.

While India Prendergast only suspects his organization defrauds gullible travelers, she's certain a man with as scandalous a reputation as Derek Saunders cannot be trusted any farther than the distance around his very broad shoulders. As she struggles not to be distracted by his wicked smile and the allure of Paris, instead of finding a lost lady traveler, India just may lose her head, her luggage and her heart.
Full Synopsis
What Readers Are Saying
What do you think? Write your own comment on this book!
Write a Comment
I wasn't sure at first if I would enjoy this book. But I found it quite entertaining, especially the witty back and forth between Derek and India. India is a spinsterish 29 year old woman who works as a secretary for a gentleman, handling every aspect of his life with competence and no-nonsense. Derek has lived a scoundrel's life and only recently has tried to reform in order to prove to his uncle, the Earl of Danby that he will be a responsible heir.

India's aunt Heloise has embarked on a tour of the continent utilizing the Lady's Traveler's Club which is run by Derek's aunt Guinevere and her two friends. Recently Derek has been tasked with looking after his aunt and discovers that she and her friends may be defrauding older ladies through the Lady's Traveler's Club. India becomes concerned that her aunt Heloise is missing and embarks on an investigation of the Club and its owners.

After confronting Derek about her concerns for her aunt, India and Derek, travel to Paris to investigate the last known place Heloise is known to have stopped. Hilarity ensures with these two go head to head, as each think they are right in their opinions.

The supporting characters in this book are interesting and witty and I'm thinking at least one of those characters will reappear in a future book.

The book was a little slow in the beginning, but picked up speed and all in all it was a very enjoyable read.
This book is filled with humor, intrigue, and the characters are so interesting. Example: Mother of the male lead, Female lead is complicated, This is a romance, of course, but the story has twists and turns that keep you engaged.
I highly recommend.