Description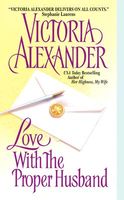 Distressed over the current widespread disinterest in matrimony among their eminently marriageable offspring, the formidable matriarchs of the ton have taken matters into their own meddling hands with the formation of The Ladies' Society for the Betterment of the Future of Britain. Their first challenge: the Earl of Pennington.

Miss Gwendolyn Townsend has seen her late father's estate go to a distant cousin she can't abide ... leaving her well-educated, able to make a perfect curtsy -- and penniless. So imagine her shock when it's discovered that a match had been arranged between herself and Marcus Holcroft, the Earl of Pennington -- one of the most eligible members of London society. Marcus constantly leaves her breathless and confused ... and though she's hesitant to marry a man she's just met, in the end she has no choice. But she makes some conditions first ...

Marcus cannot believe that the bride who has been foisted upon him is insisting on rules to their wedding ... and bedding! He's a man who has never had to tempt any woman into his arms. But even more surprising is that Gwendolyn is clearly hiding something -- and it shocks him to think that their exquisite kisses -- followed by his lessons in passionate lovemaking -- wouldn't be enough to make his wife tell him her every secret. After all, he's promised to be a proper husband -- isn't it fair to also expect a proper wife?
Full Synopsis
About the Book
Published:

Mar-2003

Formats:

Print / eBook

Pages:

384

Purchase:
What Readers Are Saying
What do you think? Write your own comment on this book!
Write a Comment

I love Victoia Alexander Books
Partial review from The Romance Reader:

Gwendolyn ran away to America when she was 16 to avoid becoming a penniless relation after her father dies. In British tradition, since her father had no male heirs, his estate was left to Gwendolyn's cousin. In America, Gwendolyn becomes a governess, albeit not a very good one. Five years later, she is summoned back to England to find out there has been a mistake. Seems her father left her a small inheritance that will become a significantly larger one should she marry the Earl of Pennington.

Gwen has no interest in being married. Marriage and love are traps, and men are stupid imbeciles not to be trusted. She bases this attitude on the fact that her mother died trying to hve a male heir, she got disinherited because she was a female offspring and the married fathers of her charges used to hit on her. A stretch, but one a reader is willing to go with for sake of the plot.

The Earl of Pennington turns out to be Marcus Holcroft, who himself has just found ou that he will have to forfeit his entire fortune should he not marry Miss Townsend by his thirtieth birthday, an event only three months away. Marcus has never been in love, but he doesn't despise the idea. It's just the few times he's actually felt himself going over the brink, the woman in question picked someone else. Rather than become a bitter love sucks type of hero, Marcus just figures that's his luck and still holds out hope that it may happen some day.

At first, Gwen refuses Marcus' offer, but when she suddenly finds herself with three young nieces to take care of, she realizes she needs the money the marraige will bring her. After exacting a number of self-centered conditions from Marcus, they marry. Of course Gwen does not tell Marcus about the girls. She can't trust him because he's a man.

Never mind that Marcus has treated her with nothing but fairness and respect. Here is a man who agrees to every selfish condition and rule she demands. Marcus even goes so far as to agree that they have a solicitor put it all in writing so it's legal. At one point Marcus jokes about what's hers being hers alone, but whatever is is must be shared. It's the honest truth and he still agrees to it all.
An earl's mother forges an inheritence document and forces her son to marry a woman who had to become a governess when she was orphaned. At the same time she finds out she has orphaned nieces. Entertaining but shouldn't her revelation regarding childr