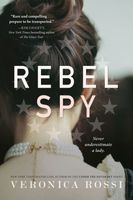 Newest Release
Bibliography:

8 Books - 2 Series

First Book:

January 2012

Latest Book:

June 2020

Rating:
Full Series List in Order
1 - Under the Never Sky (Jan-2012)
2 - Through the Ever Night (Jan-2013)
2.5 - Brooke (Nov-2013)
3 - Into the Still Blue (Feb-2014)
1 - Riders (Feb-2016)
2 - Seeker (May-2017)
Book List in Order:
8

titles
Under the Never Sky

Since she'd been on the outside, she'd survived an Aether storm, she'd had a knife held to her throat, and she'd seen men murdered. This was worse. Exiled from her home, the enclosed city of Reverie, Aria knows her chances of surviving in the oute...

---

Roar and Liv

/ Dystopian

Before Perry and Aria, there was Roar and Liv. After a childhood spent wandering the borderlands, Roar finally feels like he has a home with the Tides. His best friend Perry is like a brother to him, and Perry's sister, Liv, is the love of his lif...

---

Through the Ever Night

It's been months since Aria learned of her mother's death. Months since Perry became Blood Lord of the Tides, and months since Aria last saw him. Now Aria and Perry are about to be reunited. It's a moment they've been longing for with countless...

---

Brooke

/ Science Fiction Romance

Set just before the events of Into the Still Blue, the conclusion to Veronica Rossi's "masterpiece" Under the Never Sky trilogy (Examiner.com), this breathtaking novella is a satisfying stand-alone for new readers as well as an exciting glimpse at fa...

---

Into the Still Blue

/ Science Fiction Romance

The earth-shattering conclusion to Veronica Rossi's epic Under the Never Sky trilogy, and sequel to the New York Times and USA Today bestselling Through the Ever Night. Their love and their leadership have been tested. Now it's time for Perry and ...

---

Riders

For eighteen-year-old Gideon Blake, nothing but death can keep him from achieving his goal of becoming a U.S. Army Ranger. As it turns out, it does. Recovering from the accident that most definitely killed him, Gideon finds himself with strange ne...

---

Seeker

When Daryn claimed she was seeing "visions" during her sophomore year of high school, no one believed the truth. She wasn't losing her mind, she was gaining the Sight―the ability to see the future. If she just paid attention to the visions, t...

---

---
Frequently Asked Questions (FAQ)
Veronica Rossi has published 8 books.
Veronica Rossi does not have a new book coming out soon. The latest book, Rebel Spy, was published in June 2020.
The first book by Veronica Rossi, Under the Never Sky, was published in January 2012.
Yes. Veronica Rossi has 2 series.