Description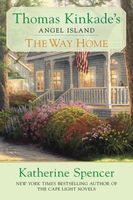 Welcome to Angel Island…Its captivating spirit can be felt from the shores of its windswept beaches to the heights of the spectacular Angel Wings Cliffs. The island is said to harbor angels who help guide the lost, delivering them from despair and darkness into the golden light of love and faith.

From end to end, Angel Island's shores are awash with love.

Claire North understands how Angel Island sets the rhythm for her own serenity and ease. But a visitor to the island has disturbed her peaceful heart. She knew him as a troubled boy who came to her soup kitchen in Boston, full of half-truths but brimming with trust and seeking nourishment for body and soul. She wasn't able to say good-bye to him then. Now, miraculously, a second chance to help him has come.

Jamie Carter, now a young man, is more in need of Claire's wisdom than ever. She is elated over the reunion but soon suspects he is back to his old ways. She wants to believe in the possibility of change but her faith is truly put to the test...

On the other side of the island, Avery Bishop is also working hard to make a fresh start. Newly single, she pours her independent spirit into opening a new café. Her culinary school training and stylish taste are scoffed at by Mike Rossi, who owns the cozy café across the street. But Avery is determined to show this burger-flipping hero a real cook has arrived. If only Mike's charming smile and laughing eyes didn't make her forget so easily that he is her fiercest competitor…
Full Synopsis
About the Book
Published:

Formats:

Print / eBook

Pages:

422

Age Level:

18 & up

Purchase:
What Readers Are Saying
What do you think? Write your own comment on this book!
Write a Comment
This was the first Book I have read by Katherine Spencer and the first Angel Island book. Maybe it is because I am a man, but I felt there could have been a bit more adventure and suspense to it. When Jamie left the Inn, I felt that that was the end of the story. I didn't pick the book up for days! Then there was the fire at the Tuna and the book sort of abruptly ended after that! If you want to capture more MALE readers, your gonna have to do better! Jamie should have gone to court and Claire should have been a key witness in the trial. If there HAD to be a fire at the Tuna, it should have happened earlier in the story, not at the end! Will I read another Angel Island book? Probably not. But I can see why women love them. Guess it's just a "guys" opinion.