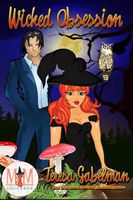 Newest Release
About the Author
Teresa lives in Bethel, Ohio with her husband, son, two dogs and her son's snake, Steve Irwin. She is a third degree black belt in Taekwondo, is a huge Mixed Martial Arts fan and follows her husbands MMA fight team, G-Force, which her son fights for. When not writing she is either screaming like a crazy woman at MMA fights or reading in some quiet corner with her Kindle. She loves books that are fast reads filled with romance, humor, sexy alpha men and the women who drive them crazy.
Full Series List in Order
1 - Forbidden Hunger (Mar-2015)
2 - Forbidden Seduction (Aug-2016)
3 - Forbidden Desire (Apr-2017)
1 - Damon (Jan-2012)
2 - Jared (Jan-2013)
3 - Duncan (Jul-2013)
4 - Sid (Jan-2014)
5 - Adam (Jun-2014)
6 - Slade (Jan-2015)
7 - A Warrior Wedding (Aug-2015)
8 - Jax (Jan-2016)
9 - Sloan (Sep-2016)
10 - Blaze (Mar-2017)
11 - Invisible Warrior (Sep-2017)
12 - Ronan (Jul-2018)
1 - Sanctuary (Aug-2017)
2 - Refuge (Mar-2018)
1 - Wicked *itch (Sep-2018)
2 - Sinfully Wicked (Oct-2018)
3 - Blissfully Wicked (Jun-2019)
4 - Wicked Chaos (Oct-2019)
5 - Faithfully Wicked (Jun-2020)
6 - Wicked Relations (Oct-2020)
7 - Charmingly Wicked (Jun-2021)
8 - Wicked Obsession (Jun-2022)
9 - Wicked Endings (Oct-2022)
Multi-Author Series List
Wicked *itch
(Sep-2018)
Sinfully Wicked
(Oct-2018)
Blissfully Wicked
(Jun-2019)
Wicked Chaos
(Oct-2019)
Wicked Series Collection
(Apr-2020)
Faithfully Wicked
(Jun-2020)
Wicked Relations
(Oct-2020)
Charmingly Wicked
(Jun-2021)
Wicked Obsession
(Jun-2022)
Wicked Endings
(Oct-2022)
Book List in Order:
32

titles
---

Damon

Damon DeMasters is a vampire warrior who has taken an oath to not only protect his own kind, but humans as well. Crimson Rush is the new drug and it's their duty to find who is behind the selling of vampire blood and stop it. As a social worker, Ni...

---

Jared

The VC Warriors are an elite group of vampire who protect innocents, whether human or those of their own race. Jared Kincaid, along with other Warriors, are shocked when a fiery red head with a gun and attitude, bring news of young teens being turned...

---

Duncan

Leader of the VC Warriors Cincinnati branch, Duncan Roark, has devoted his long life to the Warriors he calls brothers and the Vampire Council, protecting innocents of both the vampire and human race. Things change suddenly when it is ordered that he...

---

Sid

Renowned for his playboy lifestyle and wisecrack remarks, Sid Sinclair knows he is the last pick for the lead investigator of human/half-breed trafficking. Never one to play by the rules, Sid takes his new position seriously, but not without driving ...

---

Cody the Catfish Hunter

Cody has been fishing since he was old enough to hold a fishing pole. Deciding to start his own club, he invites his two best friends to join. During their first day out Cody wonders if teaching his friends how to fish was a good idea. Come and join ...

---

Adam

Half-breed vampire, Adam Pride, has an almighty chip on his broad shoulders. Trying to move on after finding Angelina married to another, Adam has a decision to make. Remove the chip and move on or kill the man who took what he wanted most in the wor...

---

Slade

Highly trained VC Warrior, Dr. Slade Buchanan's, role between lifesaver and lifetaker has been a constant battle, but nothing prepared him for half-breed VC Warrior trainee, Jill Nichols. Slade realizes his struggles from the past were nothing comp...

---

Forbidden Hunger

A shifter without a pack, Janna Lawson goes in search of the man who her mother died trying to protect. What she finds is Garrett Foster, a man who has the power to decide her fate and causes a hunger inside her that is forbidden to them both....

---

---

---

A Warrior Wedding

After a devastating blow, the VC Warriors find themselves fighting, but not an enemy they can see. Their power and expertise alone cannot save the ones they love. Breaking new and old laws, one Warrior is determined to save his mate no matter the con...

---

Jax

Jax Wheeler has been fighting his own demons for as long as he can remember. One of those demons is from his past, a brother who wants nothing more to see Jax suffer. Working closely with the Cincinnati Branch of the VC Warriors Jax never thought he ...

---

Forbidden Seduction

Hunter Foster single-handedly exposed the shifter community after shifting in front of humans to protect a Vampire Council Warrior. With no regrets, he heads home to answer for his crime of breaking an outdated law. Back in his town, he is faced with...

---

Sloan

Not only does VC leader, Sloan Murphy, have to keep the peace between the human and vampire race, but he also wrangles VC Warriors in his spare time. It's a job that could drive a saint insane, and Sloan is no saint, but insane he may be. While his...

---

The Enforcer

Becky Adams is living life one day at a time as best she can in a world gone crazy. Maverick Wilder had walked away from the woman he loved above everything. He had no choice. When their worlds collide, will true love heal a broken heart and a life a...

---

Blaze

Haunted by a past he's struggling to forget, Blaze once again finds himself a VC Warrior -- something he swore would never happen. Confident he could easily walk away again, his connection to a certain redhead makes that decision harder than he ima...

---

Forbidden Desire

/ Paranormal Romance

From the moment Marcus Foster saw Roxy Patel, he knew she was his mate. Remaining patient because of her troubled past, he was determined to build her trust. She was his and nothing would change that, not even time.Leaving her past behind, Roxy refus...

---

---

Sanctuary

Drowning in debt, the owner of Stone's Wolf Sanctuary, Gemma Stone, is as exhausted as she is determined. Not only does she have to win over frightened, injured wolves daily, but she's tired of those threatening to close her sanctuary down. It'...

---

Invisible Warrior

Steve, the self-proclaimed Invisible Warrior, has not had a typical life. Trained by the VC Warriors, he still has to prove his worth, but with humor and sheer will, he refuses to give up. In one afternoon, his life changes, as do the lives of three ...

---

---

Refuge

Consumed with a need for revenge, Cole Jackson becomes blind to all he should hold dear. It's not until vengeance has been carried out that he realizes what he's almost lost. After being brutally attacked, Leeza Snow, has kept her head up with he...

---

Karma's Revenge

/ Paranormal Romance

In a world where humans are hunted, a woman with a feared name and a score to settle has a hefty price on her head. Meet Karma, the Slayer of Vampires. She has a mission, revenge, and will not let anything or anyone get in her way.Axel "Assassin"...

---

Claiming Jade

Jade Wilder finds herself standing in the office of Elite Crime Unit because pixies are after her brother. Yes, you heard right. Pixies! Mean, ruthless, evil pixies. Her house has been ransacked, her brother is now missing, and she needs help. As Jad...

---

Ronan

Most think that newest VC Warrior, Ronan McDonald, is just a laid-back cowboy. What they don't see is the inner turmoil that only his small ranch and horses can tame. At least that is until a witch with a beauty none could deny walks into his life....

---

Wicked *itch

/ Paranormal Romance

What do tattoos, witches, vampires, a sexy shifter, and an earring-wearing cat have in common…? Definitely something WICKED!  

Being a woman in the tattoo business isn't easy, but Wicked makes it work. But being a witch with a headbanging...

---

Sinfully Wicked

/ Paranormal Romance

Wicked is still tattooing, with her rock n' roll familiar, Bruce. The difference now is she is happily mated to a sinfully wicked and sexy panther, Thorne.

As the past comes back into Thorne's life, misunderstandings and danger are in the mi...

---

Blissfully Wicked

/ Paranormal Romance

Pregnant with twins Wicked is trying to adjust to her new life. Her magic is unpredictable so she is weary of using it to make herself more comfortable. Even her passion of tattooing has been put on hold.

Having nothing to occupy her ...

---

Wicked Chaos

/ Paranormal Romance

With the twins, Jamison and Rose, taking up most of Wicked and Thorne's time their lives have become crazy and unpredictable.

After a altercation with Jack Crow, alpha of the Crow Shifters, Wicked is not only the talk of the town, but fines ...

---

Faithfully Wicked

/ Paranormal Romance

Twins, a sexy panther Shifter, a Rock n' Roll cat with major issues, a tattoo shop and now add a bakery in the works means Wicked is a little on edge. The last thing she needs is a past, she thought had forgotten her, coming to Assjacket with one...

---

Wicked Relations

/ Paranormal Romance

Wicked was finally content or as content as a witch with twins, a sexy panther Shifter mate and crazy cat familiar could be. Or so she thought. The twist and turns of her past have come back to haunt her again, but this time her dreams may come true ...

---

---

Charmingly Wicked

/ Paranormal Romance

After spending years searching for her sister and taking care of her sick father, Angel takes a step out of her comfort zone to do something for herself. She buys a house, but not just any house. Not only does it come with a leaky roof, wood siding t...

---

Wicked Obsession

/ Paranormal Romance

With the past behind her, Ember is ready to live a normal life once again. Searching for the one person who can help her, she finds herself in the town of Assjacket. Because of a spell, Ember has been living in a world where she has faced nothing but...

---

Wicked Endings

/ Paranormal Romance

Once upon a time Dani was a vivacious woman who fought through self-doubt but came out on top. Then she fell for the wrong man and just as her world is flipped upside down, she is betrayed by a friend in the worst way. Digging deep within herself, sh...

---
Frequently Asked Questions (FAQ)
Teresa Gabelman has published 32 books.
Teresa Gabelman does not have a new book coming out soon. The latest book, Wicked Endings, was published in October 2022.
The first book by Teresa Gabelman, Damon, was published in January 2012.
Yes. Teresa Gabelman has 4 series.