Description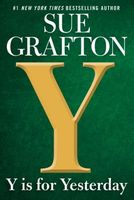 The darkest and most disturbing case report from the files of Kinsey Millhone, Y is for Yesterday begins in 1979, when four teenage boys from an elite private school sexually assault a fourteen-year-old classmate -- and film the attack. Not long after, the tape goes missing and the suspected thief, a fellow classmate, is murdered. In the investigation that follows, one boy turns state's evidence and two of his peers are convicted. But the ringleader escapes without a trace.

Now, it's 1989 and one of the perpetrators, Fritz

McCabe, has been released from prison. Moody, unrepentant, and angry, he is a virtual prisoner of his ever-watchful parents -- until a copy of the missing tape arrives with a ransom demand. That's when the McCabes call Kinsey Millhone for help. As she is drawn into their family drama, she keeps a watchful eye on Fritz. But he's not the only one being haunted by the past. A vicious sociopath with a grudge against Millhone may be leaving traces of himself for her to find…
Full Synopsis
About the Book
Published:

Aug-2017

(Hardcover)

Jul-2018

(Paperback)

Formats:

Print / eBook / Audio

Pages:

416

Purchase:
What Readers Are Saying
What do you think? Write your own comment on this book!
Write a Comment

I am a long-time fan of Sue Grafton's Kinsey Millhone. In this the 25 entry in the series, I can say that I didn't enjoy this one nearly as much as all the other 24. First it was about 200 pages too long, and it dragged quite a bit, especially in the first 1/2 of the book. It was also one of the only books in this series that I can remember where the two separate storylines did not ever converge. Sue Grafton uses the dual and sometimes more storylines in her book regularly, and in most cases, it has been very succesful. In this one, not so much. I had seen enough of Ned Lowe in the previous book, but he was in this book too throughout, interspersed with the cold case that Kinsey is working.The characters involved with the cold case are a despicable bunch as a whole. Kinsey finds herself dislikig the case and the people involved, but she does persevere to try to uncover all the shocking backstory that brought the four or five people involved in the earlier crime still together after 10 years. Each is trying to move on from what they were involved in when they were teenagers in high school, but their lives seem to still be stuck in the past. This also wasn't the Kinsey that i know and love either. She has always been forceful, dogged, and very good at her job. The scare that Ned put her through in the last book is still haunting her throughout this whole book. Her former deductional skills and her resourcefulness are not there for her this time. She makes a few mistakes that she never would have previously. Still the book has some bright lights in it. I loved Kinsey's friend Pearl and Killer the dog. Even Ed the cat plays a key role in the book. I can't believe there is only one more book to expect in this very beloved and long-running series. It makes me sad.