Description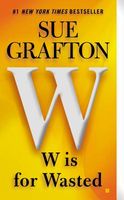 Of the #1 New York Times -- bestselling Kinsey Millhone series, NPR said, "Makes me wish there were more than 26 letters."

Two dead men changed the course of my life that fall. One of them I knew and the other I'd never laid eyes on until I saw him in the morgue.

The first was a local PI of suspect reputation. He'd been gunned down near the beach at Santa Teresa. It looked like a robbery gone bad. The other was on the beach six weeks later. He'd been sleeping rough. Probably homeless. No identification. A slip of paper with Millhone's name and number was in his pants pocket. The coroner asked her to come to the morgue to see if she could ID him.

Two seemingly unrelated deaths, one a murder, the other apparently of natural causes.

But as Kinsey digs deeper into the mystery of the John Doe, some very strange linkages begin to emerge. And before long at least one aspect is solved as Kinsey literally finds the key to his identity. "And just like that," she says, "the lid to Pandora's box flew open. It would take me another day before I understood how many imps had been freed, but for the moment, I was inordinately pleased with myself."

In this multilayered tale, the surfaces seem clear, but the underpinnings are full of betrayals, misunderstandings, and outright murderous fraud. And Kinsey, through no fault of her own, is thoroughly compromised.

W is for . . . wanderer . . . worthless . . . wronged . . .

W is for wasted.
Full Synopsis
About the Book
Published:

Sep-2013

(Hardcover)

Aug-2014

(Paperback)

Formats:

Print / eBook / Audio

Pages:

716

Age Level:

18 & up

Purchase:
What Readers Are Saying
What do you think? Write your own comment on this book!
Write a Comment

After 22 books in this wonderful series, Ms. Grafton might be forgiven if her heroine and her storylines got a teeny bit stale. But that hasn't happened yet, and I don't expect it ever will with this series. This book is quite a bit different than the normal Kinsey fare because for a good part of the book Kinsey didn't realize she even had a case. But as things played out after she received a very startling piece of news, she began to realize that there was more to the whole thing than she realized. We are also treated to a really up close and personal look at the lives of the homeless in this book. The book is set in 1988, and Kinsey is taking a little break from her PI business. Being Kinsey, that doesn't mean a holiday somewhere sunny, but it means a chance for her to do her own thing and follow her own agenda. Then something wierd happens when she's asked to idenify a man who was found dead in his sleeping bag in his usual living space by the beach and under the stars. She's sure she's never seen him before, but why does he have her name and phone number in his pocket? She has to find out who this homeless man was. On the way she meets some truly delightful friends of the dead man who are also street people. The book is quirky and fun just like Kinsey herself. I am a true fan and I always can't wait for the next additon to this alphabet mystery series. What gives me pause is that we are now on W and that leaves only three more letters in the alphabet. Maybe Ms. Grafton can start on the Greek alphabet after this because I sure don't want to put away Kinsey Millhone.