Description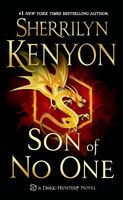 In Son of No One, next in the blockbuster The Dark-Hunters series by Sherrilyn Kenyon, it's not easy being life's own personal joke, but Josette Landry has made an unstable peace with the beast. Completely down on her luck, Josette takes a job with a local paranormal group as a photographer and camerawoman. Yeah, they're even crazier than she is. The only paranormal thing she believes in is the miracle that keeps her rusted-out hoopty running. But when something truly evil is released into the world, they are forced to call in reinforcements.
/>
From the moment Josette meets Cadegan, she knows something about him isn't quite right.? Mysterious and armed with lethal sarcasm, he seems a lot older than his age.

Centuries ago, Cadegan was viciously betrayed into an immortal prison by the only person he'd ever trusted and was cast into an immortal prison. Forced against his will to do good, he hates everything in life. All he wants is a way out. But for the damned there is only eternal suffering. And yet there is something about Josette that intrigues him. Something he can't seem to fight and the last time he felt this way about a woman, it cost him everything.

He knows he has to stay away from her, but the unleashed demon is hell-bent on consuming her soul. If one more innocent is taken, he will be sent back to an unimaginable prison that makes his current hell look like paradise. But how can he keep her safe when his being with her is the greatest threat of all?
Full Synopsis
About the Book
Published:

Sep-2014

(Hardcover)

Mar-2015

(Paperback)

Formats:

Print / eBook / Audio

Pages:

368

Purchase:
What Readers Are Saying
What do you think? Write your own comment on this book!
Write a Comment

The last time he trusted a woman, it cost Cadegan his soul but there's something about Josette that intrigues him as much as it irritates and frustrates him in this spectacular paranormal romance.
If Josette wasn't having bad luck she wouldn't have any luck at all and the reader can't help but get caught up in the story as Josette lands in a hell dimension with a knight and accidentally unleashes something truly evil into the world. The attraction between Josette and Cadegan heats up the pages and the sex scenes are steamy but the relationship is a hot bed of trouble as forces are definitely out to get them. Strong, compelling characters demand your attention as they draw you into their story and the fast paced, smooth flowing plot thrills readers with lots of suspense, action and romance with surprising twists that keeps readers guessing throughout.
Lots of excitement builds adrenaline pumping tension throughout the story as Josette accidentally finds herself in a world full of myths and legends which according to her should not exist with danger escalating as Cadegan's many enemies decide Josette may be the ticket to controlling Cadegan. There's also enough emotional distress from Cadegan and his past that the reader can't help but lose their heart to the sexy knight and the well written scenes and details paint vivid images that capture the imagination and make it easy for the reader to get completely absorbed in the story while the well-orchestrated events ensure that there is never a dull moment to be found.
The New Orleans Dark-Hunters are back with some new and fascinating characters and I was completely enthralled with this story as the Dark-Hunter world escalates to include new enemies and of course old enemies and another world ending reign is about to be set loose and I can't wait to read the next book to find out what happens next…of course I've been wanting to read Maxis' book since he first appeared besides I can never get enough of the Dark-Hunter world.