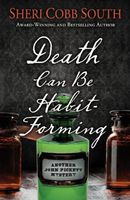 Newest Release
Bibliography:

33 Books - 2 Series

First Book:

January 1991

Latest Book:

January 2022

Rating:
Full Series List in Order
1 - In Milady's Chamber (Jan-2006)
2 - A Dead Bore (Dec-2008)
3 - Family Plot (Dec-2014)
4 - Dinner Most Deadly (Sep-2015)
4.5 - Waiting Game (Mar-2016)
5 - Too Hot to Handel (Jun-2016)
6 - For Deader or Worse (Feb-2017)
6.5 - Finders Weepers: A Short Story (Dec-2017)
7 - Mystery Loves Company (Jan-2018)
8 - Peril by Post (Oct-2018)
9 - Into Thin Eire (Sep-2019)
10 - Brother, Can You Spare a Crime? (Jun-2020)
10.5 - Nowhere Man (Oct-2020)
11 - Death Can Be Habit-Forming (Aug-2021)
12 - In the Family Way (Jan-2022)
Pickpocket's Apprentice (Mar-2015)
1 - The Weaver Takes a Wife (Jan-1999)
2 - Brighton Honeymoon (Aug-2000)
3 - French Leave (Sep-2001)
4 - The Desperate Duke (Dec-2018)
Book List in Order:
33

titles
Wrong-Way Romance

Crash course in love... If there's one boy at Maplesville High that Darby Haynes can't stand, it's Bruce Edwards. Darby first met him when his car plowed into hers at a busy intersection. She's been running into him - literally - ever since. It...

---

That Certain Feeling

To pass her initiation into Pressler High's most exclusive sorority Penny Collier must steal a rival school's basketball playbook. Thought she's not crazy about the idea, she is crazy about basketball star Brandon Phillips. Hoping to impress Brand...

---

The Cinderella Game

When Wendy Miller lands a summer job as a seamstress for America's Teen Beauty Pageant she is thrilled. Then handsome Spencer Fife mistakes her for one of the contestants and sweeps her off her feet. Though Wendy wants to tell him the truth, she can'...

---

---

Blame It on Love

Caitlin is obsessed with Brad and enters a beauty pageant to get him to notice her --- and the plan works! Soon, Caitlin is dating Brad, despite her best boy friend's criticism of her romance. However, Caitlin knows what she feels for Brad is love --...

---

The Weaver Takes a Wife

Beautiful, haughty Lady Helen Radney is the daughter of a duke who has gambled away his fortune. The duke's plan is to marry her off to recoup his losses, but the only one interested in this sharp-tongued lady is Mr. Ethan Brundy. Once a workhouse or...

---

Miss Darby's Duenna

Sir Harry Hawthorne thought he was making a marriage of convenience to a childhood friend -- until his fiancée captures the fancy of the dashing and dangerous Lord Mannerly. Suddenly Sir Harry's jealousy is roused to the point that he assumes the ...

---

Brighton Honeymoon

When the Brundys' seaside wedding trip is interrupted by a young woman claiming to be Mr. Brundy's sister, Sir Aubrey promises to do what he can in order to relieve his friend of an imposter. But golden-haired Polly Hampton proves to be more than...

---

French Leave

Lord Waverly, forced by bankruptcy and scandal into exile in France, encounters a young novice escaping from a convent. Lisette asks him to escort her to England, promising him that her English grandfather will reward him handsomely for her safe conv...

---

---

The Cobra and the Lily

THE COBRA AND THE LILY Egyptian nobleman Ra-Met is convinced nothing will cure his headaches--until he meets Lila, a Hebrew shepherdess, in the wilderness. Her singing does what Pharaoh's most skilled physicians have failed to do. When he discovers L...

---

In Milady's Chamber

Estranged from her aristocratic husband through her failure to produce an heir, Lady Fieldhurst resolves to repay his neglect by taking a lover. Fate takes a hand when she and her paramour enter her bedchamber and find Lord Fieldhurst lying on the fl...

---

Of Paupers and Peers

Curate James Weatherly expects only genteel poverty until he learns of his inheritance. But on the way to claim his title he's set upon by footpads and suffers a memory loss. Margaret Darrington believes he's the new tutor for her younger brother...

---

---

A Dead Bore

Eager to escape London following the scandal of her husband's death, Lady Fieldhurst accepts an invitation to spend the summer in rural Yorkshire as the guest of Sir Gerald and Lady Hollingshead. She soon discovers, however, that country life is not ...

---

Babes in Tinseltown

Frankie Foster is the sheltered daughter of a proper Southern lady and a prominent judge, but she really wants to be a movie star. In spite of her family's misgivings, she boards a train and heads for Hollywood in search of fame and fortune. Franki...

---

---

Family Plot

The third installment of the John Pickett series of humorous Regency mysteries finds Bow Street Runner Pickett in Scotland investigating a woman found unconscious on the beach--a woman who bears a striking resemblance to the local laird's daughter, a...

---

Pickpocket's Apprentice

When magistrate Patrick Colquhoun orders a habitual thief and ne'er-do-well transported to Botany Bay, he doesn't realize a fourteen-year-old boy has been left behind to follow in his father's footsteps—not until young John Pickett is hauled ...

---

Baroness in Buckskin

Richard, Lord Ramsay, has been brought up from the cradle with a consciousness of his duty to his family and his name. His sense of responsibility has led him to install two elderly aunts in the Dower House; educate his cousin Peter Ramsay and employ...

---

---

Dinner Most Deadly

When Julia, Lady Fieldhurst, returns from Scotland restless and out of sorts, her friend Emily Dunnington plans a select dinner party with half a dozen male guests from whom Julia may choose a lover. But Emily's dinner ends in disaster when one of he...

---

Waiting Game

Bow Street Runner John Pickett and Julia, Lady Fieldhurst seem to have reached an impasse as they wait for the annulment of their accidental marriage to come before the ecclesiastical court. In the meantime, Pickett is summoned to investigate the the...

---

Too Hot to Handel

When a rash of jewel thefts strikes London, magistrate Patrick Colquhoun deploys his Bow Street Runners to put a stop to the crimes. The Russian Princess Olga Fyodorovna is to attend a production of Handel's Esther at Drury Lane Theatre, where she ...

---

For Deader or Worse

After a modest wedding ceremony, Bow Street Runner John Pickett and his bride Julia, the former Lady Fieldhurst, set out for a wedding trip to Somersetshire, where Pickett must face his greatest challenge yet: meeting his in-laws. Sir Thaddeus and La...

---

Moon Over the Mediterranean

In 1961, young schoolteacher Robin Fletcher is delighted to accompany her widowed aunt on a cruise from Barcelona to Venice—a voyage whose ports of call include some of the great cities of Europe. On her first night at sea, Robin is awakened by the...

---

Finders Weepers: A Short Story

What happens when the honeymoon is over? Newlyweds John and Julia Pickett have returned to London following their honeymoon. When John Pickett returns to his Drury Lane flat to clean out his belongings, he finds something that might have changed h...

---

Mystery Loves Company

John Pickett discovers wedded bliss is not without its pitfalls, as he finds it galling to be financially dependent on Julia. Summoned to the home of Lady Washbourn, Pickett finds they have something in common: like himself, she has married above her...

---

Peril by Post

The eighth book in the series finds John Pickett bound for England's scenic Lake District, where an unsigned letter has summoned him for an unspecified reason. Posing as a honeymoon couple, Pickett and his wife Julia, the former Lady Fieldhurst, take...

---

The Desperate Duke

A duke in disguise . . . a damsel in distress . . . a match made in -- Manchester? When 23-year-old Theodore Radney becomes the Duke of Reddington after his father dies, the weight of his new responsibilities is enough to send him into a panic. T...

---

Into Thin Eire

Now you see her... Still haunted by memories of his last case, in which an innocent woman was accidentally killed, Bow Street Runner John Pickett welcomes the challenge of a new assignment in the West Country. Unfortunately, this time he'll hav...

---

---

Brother, Can You Spare a Crime?

/ Historical Mystery

When one of his colleagues witnesses a robbery in which one of the participants, a child, bears a striking resemblance to a certain Bow Street Runner, John Pickett realizes he has a young half-brother who has been "apprenticed" to a criminal gang...

---

Nowhere Man

Having resigned his position at Bow Street, John Pickett waits in vain for someone-anyone!-to engage his services as a private inquiry agent. As weeks go by with no responses to his newspaper advertisement, he has taken to spending his days wandering...

---

Death Can Be Habit-Forming

/ Mystery

Having resigned his position at Bow Street in disgrace (at least in his own mind) and failed in his attempt to establish himself as a private agent, John Pickett toils away at a tedious job as a clerk in the City. When he is approached by a man wishi...

---

---
Frequently Asked Questions (FAQ)
Sheri Cobb South has published 33 books.
Sheri Cobb South does not have a new book coming out soon. The latest book, In the Family Way, was published in January 2022.
The first book by Sheri Cobb South, Wrong-Way Romance, was published in January 1991.
Yes. Sheri Cobb South has 2 series.