Description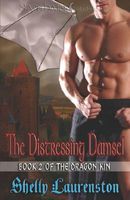 For Nolwenn witch Talaith, a bad day begins with being dragged from bed by an angry mob intent on her crispy end and culminates in rescue by--wait for it--a silver-maned dragon. Existence as a hated outcast is nothing new for a woman with such powerful secrets. The dragon, though? A tad unusual. This one has a human form to die for, and knows it. According to dragon law, Talaith is now his property, for pleasure...or otherwise. But if Lord Arrogance thinks she's the kind of damsel to acquiesce without a word, he's in for a surprise...

/> Is the woman never silent? Briec the Mighty knew the moment he laid eyes on Talaith that she would be his, but he'd counted on tongue-lashings of an altogether different sort. It's embarrassing, really, that it isn't this outspoken female's magicks that have the realm's greatest dragon in her thrall. No, Briec has been spellbound by something altogether different--and if he doesn't tread carefully, what he doesn't know about human women could well be the undoing of his entire race...
Full Synopsis
About the Book
Published:

Aug-2006

Formats:

Print / eBook / Audio

Pages:

375

Purchase:
What Readers Are Saying
What do you think? Write your own comment on this book!
Write a Comment

Mystical gods, witches and dragons, fighting for love and power.I loved the smart mouth strong and independent warrior women, fight along side their dragons/men. No pretty pampered princesses in this book. The men/dragons are of course very handsome alpha males, who have a lot to learn when dealing with strong women. Which of course they had problems doing.
I only had a few hiccups with this book..Hot, graphic scenes between the sheets and other places between several characters got a bit too much at times. It seemed like the story was stopped dead for their sex scenes a few times. I missed the world details the back ground was vague and disappointing.
I still gave it 4 stars, the characters had me laughing and cheering for them. It was a good story and I would have liked more work put into it.